By the time we get to March, it might start to feel like spring is in the air. We should at least be able to enjoy longer days and much improved light levels, and you might be starting to think about your garden.
When it comes to growing plants from seed, timing is important. By starting early, you can get ahead and make the most of the growing season. From beautiful flowers to tasty veggies, in this post, we're looking at 10 seeds to start in March – what to plant in early spring.
First up, some flower seeds for summer blooms…
1. Sunflowers
I love Sunflowers. They're big, they're bold and they're bright and cheerful. They're a great thing to grow with kids, as they're pretty easy to do and some grow incredibly tall – some like to have a competition to see who can grow the tallest! You're probably familiar with the usual warm, sunny yellow flower heads but I've also seen other colours including pinks and red.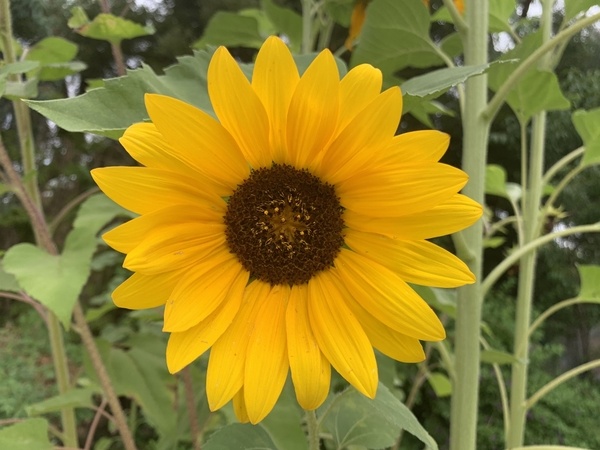 The seeds are usually edible and very nutritious. The birds and bees also love them, just watch out for slugs when the plants are very young as they're also rather partial. You can grow sunflowers in beds, borders or pots – either sow them directly in the soil in spring or you can sometimes start them early on a windowsill indoors.
2. California Poppies
California Poppies are another cheerful option and will add splashes of colour in your summer garden. They come from Mexico and Southern parts of America and are particularly well suited to hot, dry spaces.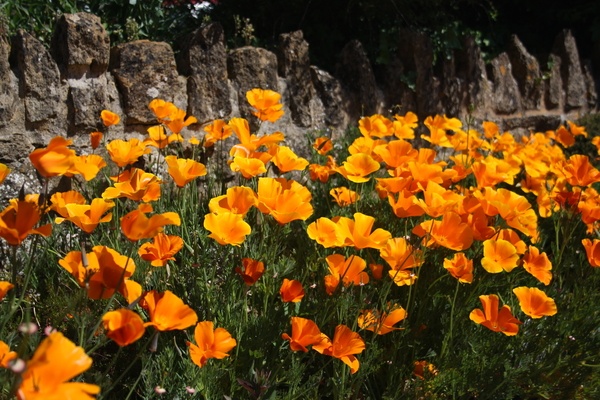 They're very easy to grow and will even do well in poor soil. There are various colours on offer including yellow, white, reds, pinks…and the delicate flowers are known for opening when the sun shines. Sow them directly into beds and borders and you should find that they self seed very easily, so you may only need to sow them once and then enjoy them year after year.
3. Cornflowers
Cornflowers are native to Europe and another very easy summer flower to grow. So easy in fact, that in years gone by they were considered weeds that grew in cornfields – hence the name. There are different colours available, but they're usually recognised for their striking indigo blue flowers, which often last all summer.
They grow quite tall (up to a metre) and look great in a wild flower meadow or at the back of a border. They also make very good cut flowers – put them in a vase and enjoy them indoors as well.
4. Petunias
These stunning flowers from South America will add some colourful flare to any garden. They come in many colours – pinks, reds, white, blues, purple and some varieties have patterns. Technically they are perennials, although in colder climates like here in the UK, they're generally grown as annuals, planted in spring for a burst of colour through the summer months.
Be sure to protect them from frosts, but once the weather warms up they're pretty easy to look after and are known for their abundant blooms.
5. Nasturtium
These cheerful and easy-to-grow flowers are a great choice for beds, hanging baskets and other containers. They come in many colours and should provide plenty of vibrant colour from mid-summer right through until thee autumn.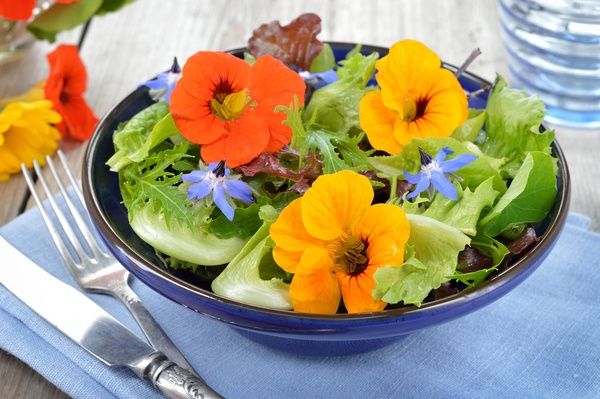 Besides brightening up your garden, Nasturtiums are also edible – even the coloured petals. You could use them in salads or even as a garnish to add some exotic flare in the kitchen.
And now for some ideas to grow your own veg…
6. Sweet Peppers
Also known as Bell Peppers or Capsicums, these brightly coloured veggies are fun and tasty. They do like the warmer weather, originating from Mexico and the Americas. They tend to grow best under cover in a cold frame or greenhouse but there are varieties that will do ok outside in the British summer. They come in a variety of bright colours – most commonly green, red and yellow and bring a sweet crunchiness to salads or as a pizza topping. You can also add them to curries or stir-fries and there are some great stuffed pepper recipes to try.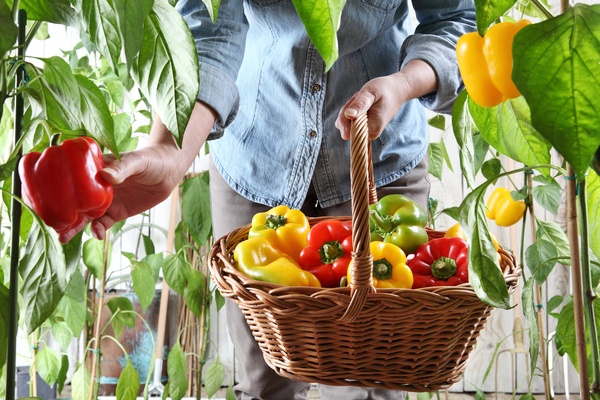 7. Tomatoes
We've already included Tomatoes in our list of seeds to start in February, but in that post we talked about those headed for the greenhouse. By March, we can also start to look at outdoor tomato varieties – of which there are plenty these days. The thing about tomatoes, is that they're so useful, and not always cheap to buy in the shops – at least for fresh 'on the vine' tomatoes.
Use them in salads, sauces, pasta, curries, soups or stuffed as a healthy meal. Beyond those you'll find in the supermarket, you'll be amazed to discover just how many varieties there are, in terms of sizes, colours and tastes.
8. Potatoes
The staple of so many meals and recipes here in the UK, potatoes are a great option for growing your own. As with many vegetables, you're spoiled for choice when it comes to varieties. Have a think about how you use potatoes in your cooking – some are best roasted, others are better boiled or used in salads. Some are chosen for unique colour or flavour and you might also choose varieties depending on when they crop. For early varieties, 'Casablanca' or 'Rocket' are good to try. For crops later on in the growing season, try 'Maris Piper' or 'Sarpo Mira'.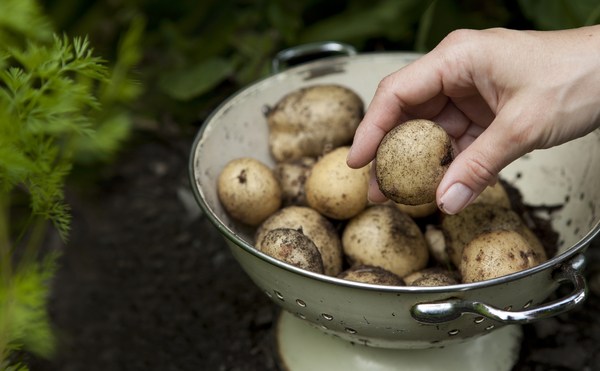 Rather than packets of seeds, potatoes are usually grown from 'seed potatoes'. Most people like to 'chit' them before planting. Basically, you need to store them somewhere light and cool but free from frost for two or three weeks. Once they start 'chitting'  (showing some green shoots – usually 1 or 2cm long), then they're ready for planting.
9. Lettuce
There are many types of lettuce to try, and it's generally pretty easy to grow. You'll just need a sunny spot and perhaps a little protection from slugs and snails. From seed to crop, you can sometimes be enjoying fresh lettuce in your salad within as little as 6 weeks.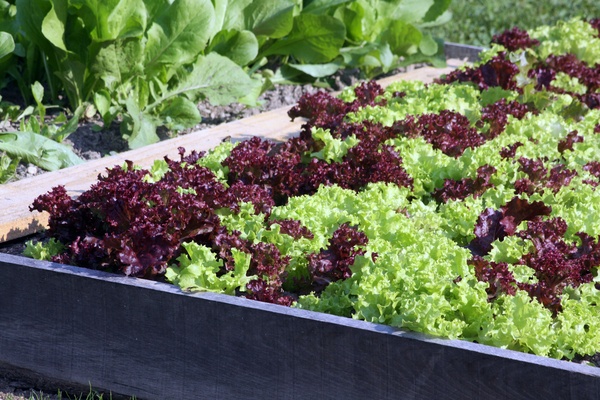 There are two main types of lettuce… Firstly, loose leaf varieties such as 'Salad Bowl' or 'Navara'. These are less dense and ideal for picking leaves off as and when you need them – 'cut and come again', as some might call it. The other type is 'Hearting' lettuce, which grow into a more compact plant, around a central 'heart', as the name might suggest. Good varieties to try are 'Diana', 'Little Gem' or 'Roseale'.
10. Peas
Peas are another garden great, being easy to grow and much tastier than what you'll get in the shops. They don't take up too much room either and some will grow over 2m tall to make good use of vertical space. Peas are great boiled or steamed and can be added to soups, curries, stir fries or even pasta dishes.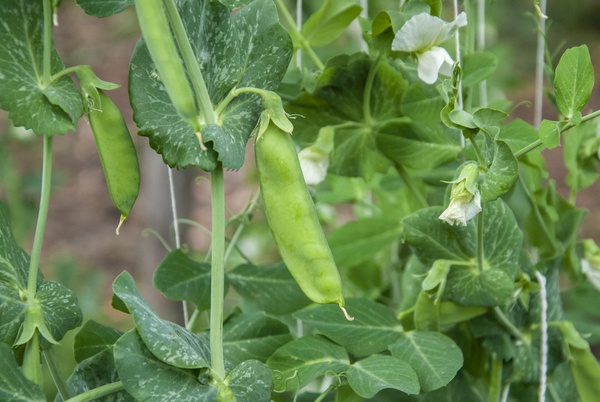 They taste great when fresh, but if you have a bumper crop then of course, you can also freeze them for later. Try 'Greensage', as they're known to be sweet and tasty, and produce heavy crops. If you want something more compact, then 'Kelvedon Wonder' is a good option – another heavy cropper. For something a bit unusual, try 'Capucijner', with its dark, purplish pods and ornamental flowers.
Final Thoughts
So hopefully you'll be inspired to get planting and have your garden off to a great start this year. March is a great time to get busy in the garden and by growing from seed, you can save a lot of money when compared to buying young plants in garden centres.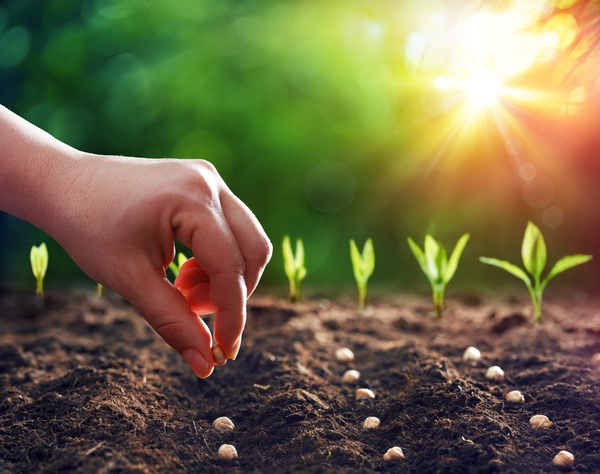 Let us know what you'll be growing this year in the comments below. Any good varieties that you'd like to recommend? We'd love to hear about your own gardening trials and successes. Happy planting!