If you're looking for garden seating area ideas, then you've come to the right place. In this article, we'll discuss how to create the perfect outdoor seating areas for your garden, in 8 simple steps.
We'll cover everything, from furniture and style to planting and decorations. Whether you're looking for a rustic country feel or a sleek contemporary look, we've got you covered. And if bad weather is an issue where you live, don't worry – we have some ideas for that too! So what are you waiting for? Let's get started!
---
1. Decide on the purpose and style of your seating area?
When it comes to creating a seating area in your garden, it's important to think about what you want to use the space for. Do you want a place to relax and unwind after a long day, or do you want a stylish spot to entertain guests? Or maybe you want a bit of both?
Will you use the space to kick back and catch some rays? Or is it al fresco dining that you have in mind?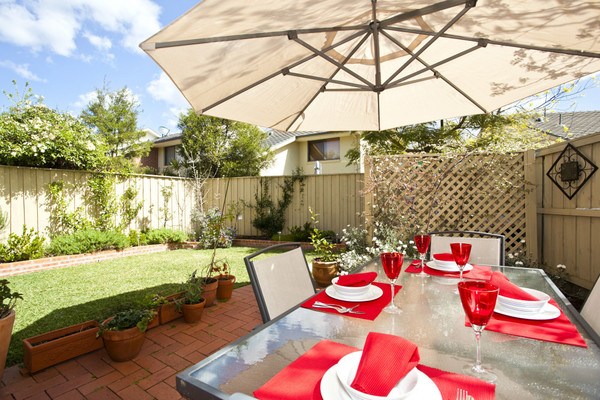 Perhaps you'd just like somewhere comfy to perch with a cup of tea and read, or admire your surroundings?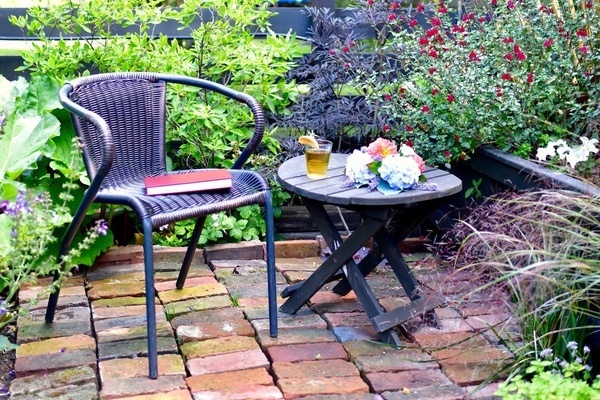 Once you've decided on the purpose of your seating area, you can start thinking about the style and atmosphere you want to create. Do you prefer a cool and relaxed vibe, or are you going for something more contemporary?
Will it be intimate and secluded or do you prefer open and airy?
And how many people will the space need to accommodate? A private space just for you, or for guests as well?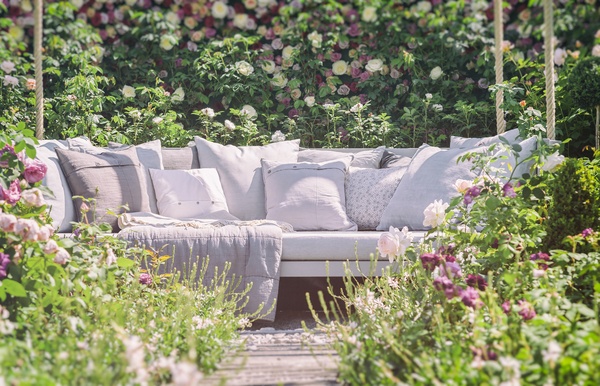 ---
2. Choose your location
Thinking about how you'll use your seating area should help guide your decision when choosing the best spot. Of course, if you only have a small space to work with, then your options might be more limited.
While you might instinctively have a feel for the best spot already, it's worth stepping back and thinking through some of the practicalities.
For example, where are the sunny spots in your garden? If you enjoy sitting in the sunshine, then you'll want to avoid setting up camp in a shady part of the garden.
And what about the view? Do you want to be able to see the garden as a whole, or do you prefer a more intimate setting?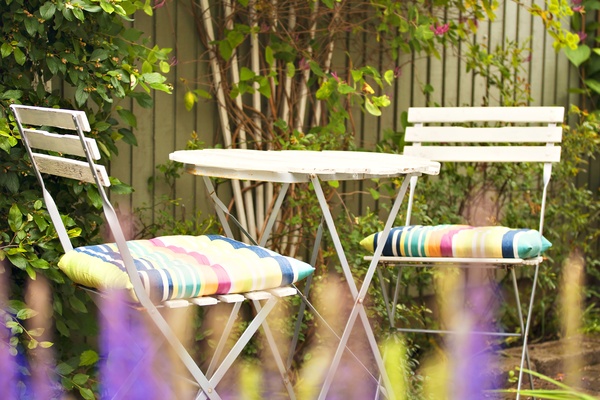 Consider things like privacy, wind, and noise. You might love the idea of being surrounded by nature, but if your garden backs onto a busy road then there may be work to do.
It might be that the ideal spot just needs some tweaking. Will you need to add paving or decking? Perhaps you could add screening of some kind or use planting to divide the space?
How about dining? If you have your heart set on eating out every evening or entertaining guests, then perhaps you'll want to stay relatively close to the kitchen. You don't want to be running back and forth every time you need something!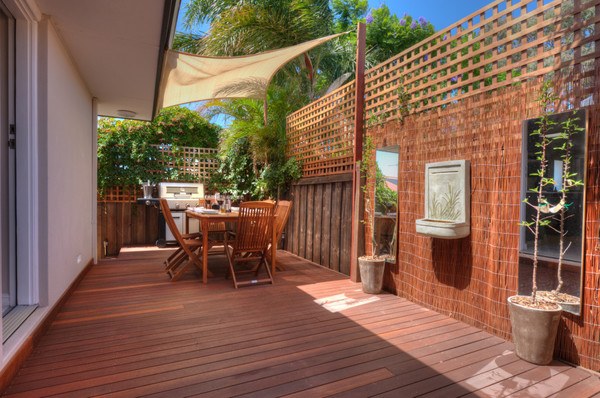 And finally, think about garden maintenance. If you're planning on using your seating area a lot, then it might be worth choosing a spot that's easy to keep tidy. After all, the last thing you want is to be moving furniture out of the way whenever it's time to mow the lawn or get the bike out of the shed.
---
3. Add comfortable seating
Once you've found the perfect garden spot, it's time to start thinking about seating. And comfort is key!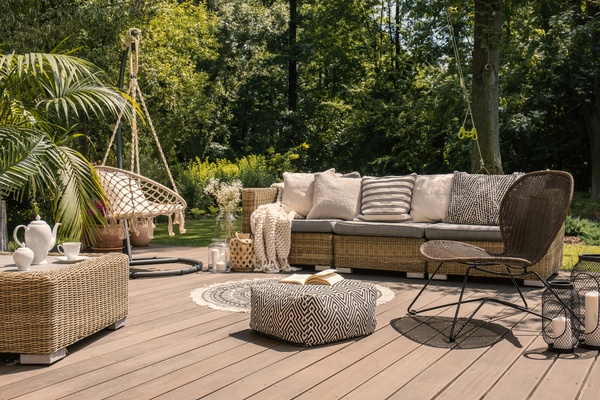 So what kind of seating should you go for? Well, that all depends on how you want to use the space.
For dining, consider a garden table and chairs.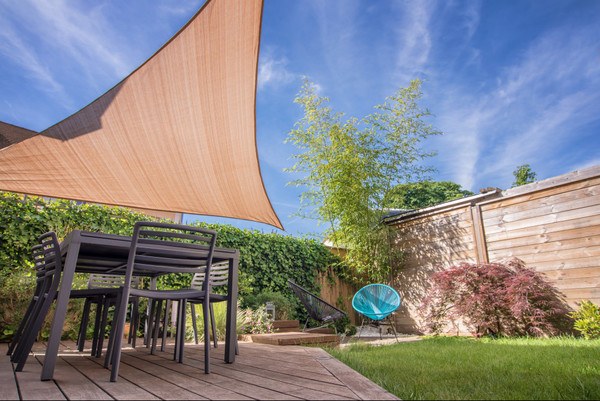 If it's a place for relaxing and taking in the view, then perhaps some comfy armchairs or a garden sofa would be ideal. A daybed or hammock is perfect for reading or taking a nap in the sunshine.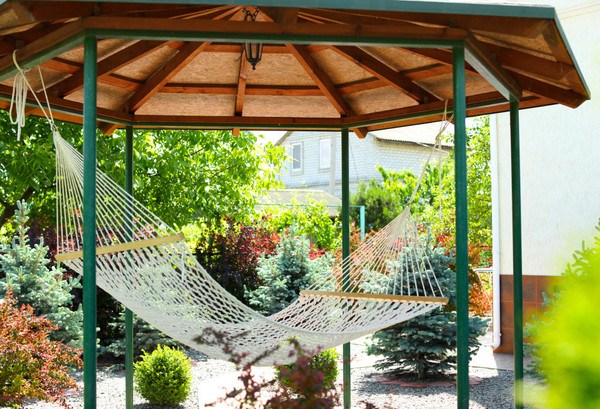 And if you're short on space, then garden stools and foldable chairs are always a good option.
And if you're entertaining guests around the fire pit, then outdoor bean bags or floor cushions might be just the thing.
Don't forget that you can always mix and match too. If you really want to make the most of your outdoor space, why not invest in some multi-functional furniture? A garden bench can be a great addition to any seating area and can double up as extra storage space too. While a garden table with built-in seats is ideal for entertaining guests.
Just remember to choose garden furniture that's durable and weatherproof. After all, you don't want your beautiful new garden seating area to become a victim of the British weather!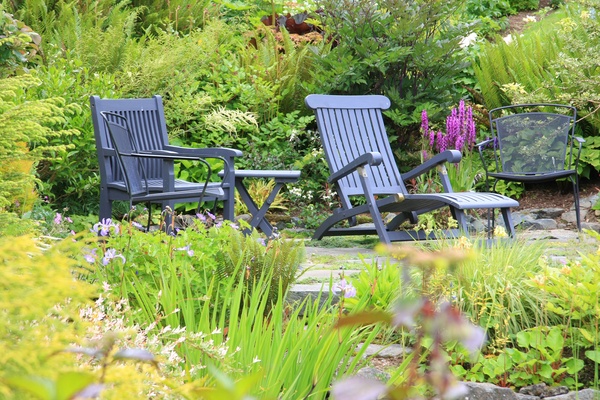 Finally, whatever you choose, just make sure it's comfortable!
Shop for Outdoor Garden Furniture Deals on Amazon
---
4. Add a dining table and/or coffee table for drinks and snacks
If you're planning on using your garden seating area for dining, then a table is an essential piece of furniture. But even if you're not planning on eating every meal outside, it's still nice to have a place to rest your drinks and snacks. So why not add a garden coffee table or side table?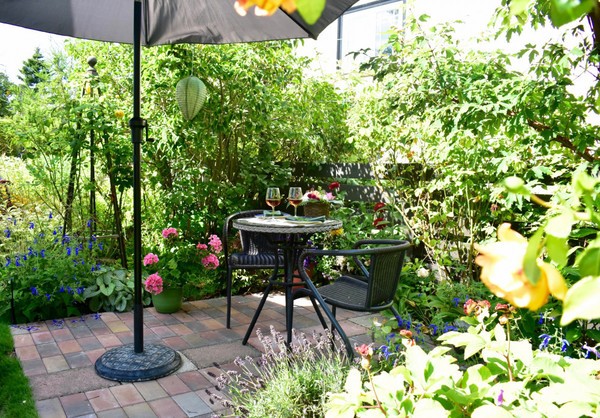 When choosing a garden table, there are plenty of things to consider. Again, it will need to be durable and weatherproof. Wood is always a popular choice, but it will need some regular maintenance to keep it looking its best. Metal or rattan furniture is low-maintenance and easy to care for, making it ideal for busy households.
---
5. Accessorise with plants, flowers, and other decorations
Now it's time to add the finishing touches! Plants and flowers are a great way to inject some color and life into your garden seating area.
A few potted plants or hanging baskets can make all the difference, turning a bland space into a beautiful oasis. You might add plants for fragrance, such as hyacinths for a sweet springtime aroma or the calming scent of lavender for those long summer days.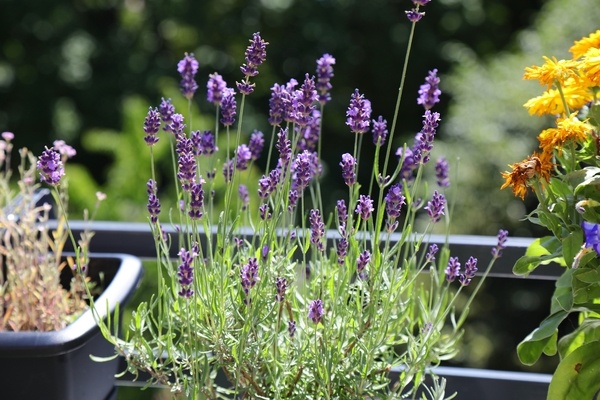 If you're not much of a gardener, then consider adding some artificial plants instead. They're easy to care for and will last for years with no upkeep required.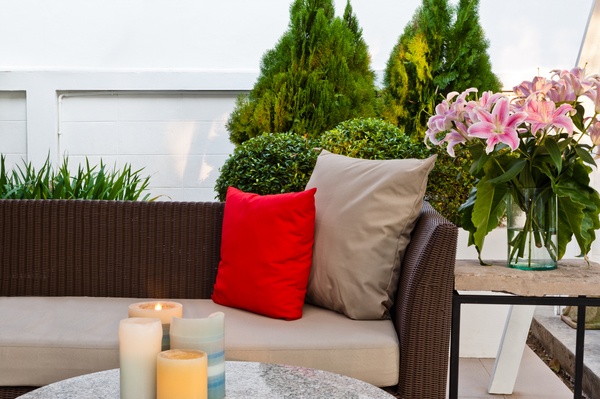 And don't forget about garden decorations! Wind chimes, solar lights, and birdbaths are all perfect for accessorizing your garden seating area. Or how about some outdoor wall art? It's an easy way to add personality and style, without taking up too much space.
You might like to think about your seating area as an outdoor room – kind of like an extension of your home.
---
6. Make it cosy – add pillows, throws, and rugs for extra comfort and style
If you want to make your garden seating area extra cosy, then consider adding some cushions and throws. They're perfect for snuggling up on a cool evening or for protecting you from the sun on a hot day.
And don't forget about garden rugs! They can help to define a space and add an extra touch of style. Outdoor rugs are available in all sorts of different designs, so it's easy to find one that suits your taste.
It's worth remembering that you might not need to spend out on new furniture if you can simply make the best of what you already have. Just be sure to choose materials that are durable and easy to clean. After all, they'll be spending a lot of time outdoors!
---
7. Add lighting to create an atmosphere after dark
One of the best things about garden seating areas is that they can be enjoyed long into the evening. But if you want to use your outdoor space after dark, then garden lighting is a must.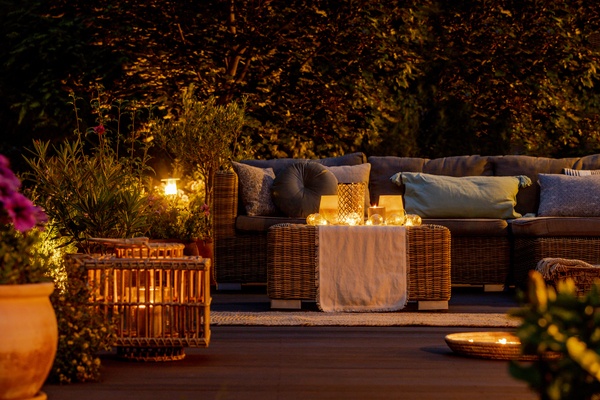 There are lots of different garden lighting options to choose from. Solar lights are a popular choice, as they're easy to install and don't require any wiring. But if you want something a little more permanent, then wired garden lights are also an option.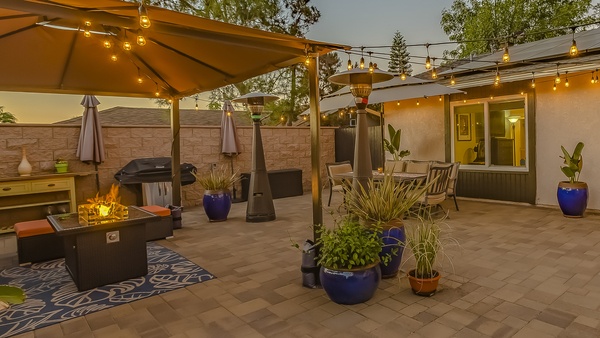 String lights are perfect for creating a romantic atmosphere, while outdoor lamps and lanterns can provide a more practical light source. And don't forget about garden candles! They're ideal for adding some ambiance to your garden seating area.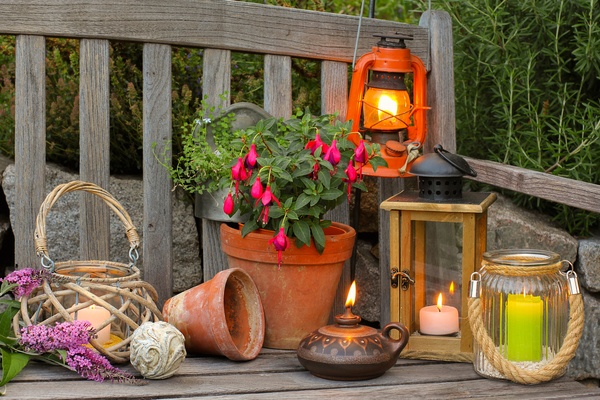 (You might like: Outdoor Garden Lighting Ideas)
---
8. Consider shade and protection from the weather
If you're going to be spending a lot of time in your garden seating area, then you'll need to think about shade and protection from the weather.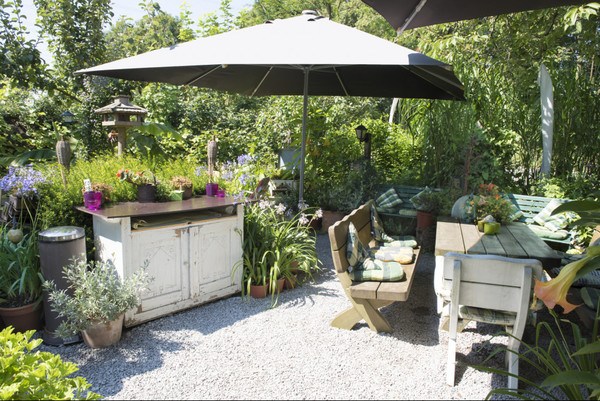 One option is to install a garden canopy or gazebo. This will provide some shelter from the sun and rain, making it possible to use your garden seating area all year round.
Another option is to use garden umbrellas or awnings. They're perfect for providing some shade on a hot day and can be easily removed when the weather is fine.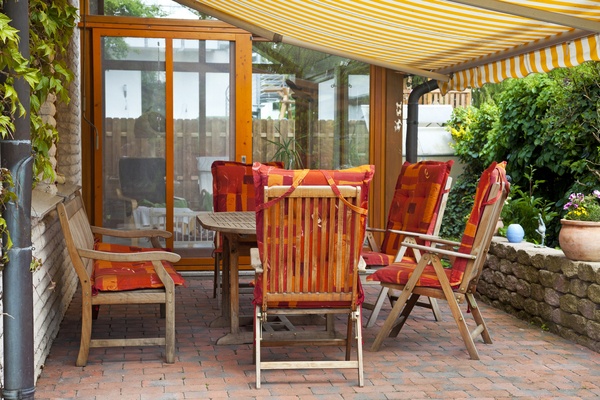 And if you live in a particularly rainy area, then it might be worth investing in some garden furniture covers. They'll help to keep your furniture dry and in good condition, even when the weather is at its worst.
---
Final thoughts
Hopefully, by now you'll be excited to start creating your garden seating area, and perhaps you can already visualise how it might look. The more you can think about how you'll use the space, the more likely it is to be a success and enjoyed regularly.
By following these 8 simple steps, you'll be able to create the perfect garden seating area for your home. So what are you waiting for? Get started today!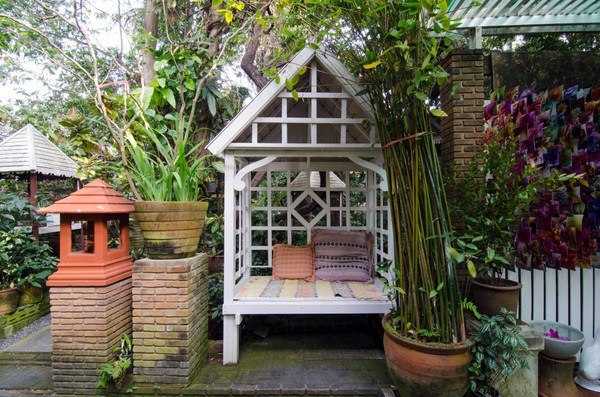 We'd love to hear about your garden seating area ideas. What's the setup in your garden? Are you loving your new Rattan dining set, or happily lazing around in a cosy hammock? Let us know in the comments below.