The patio can be a great place to gather and relax. But without proper shelter, it can be difficult to enjoy all year round. Whether you're looking for protection from the elements or simply want something that will keep your outdoor space looking stylish, there are plenty of options when it comes to patio shelters. From retractable awnings to traditional pergolas, we'll cover some of the best patio shelter ideas for your garden.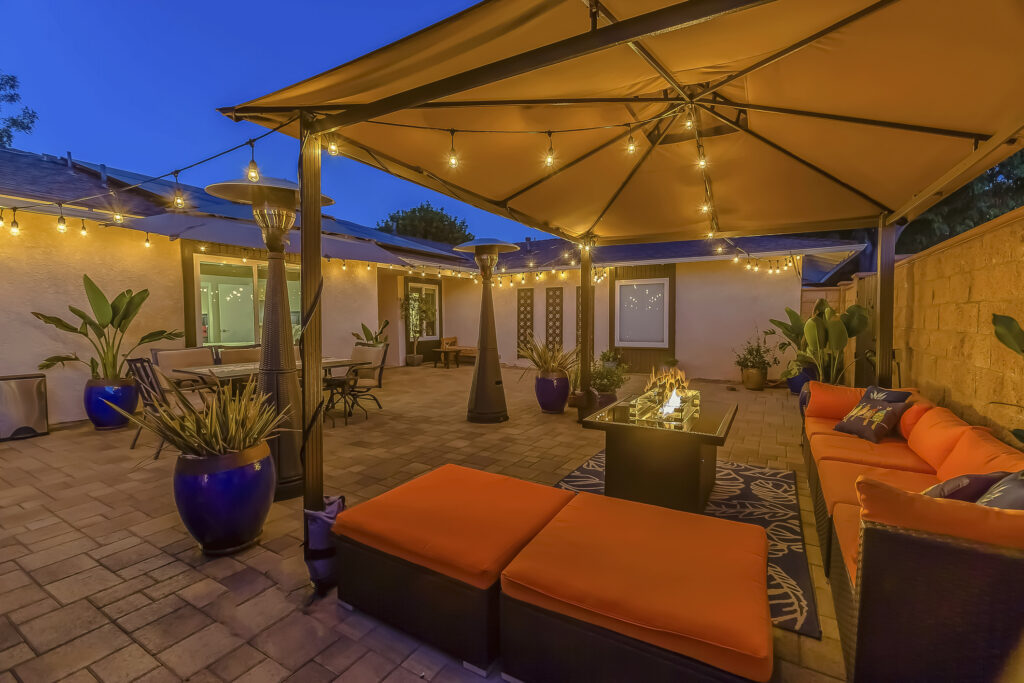 Consider What You Need in Patio Shelter
While it might seem obvious, it's worth noting that there are several reasons why a patio shelter might be beneficial.
Before going to any expense, it's worth considering exactly what you're looking for in a shelter, to make sure you get the right solution for your needs.
Are you getting too hot in the sunshine? Do you enjoy dining out? Maybe you're just getting fed up with it raining every time you seem to organise a barbecue!
Not all shelters are not created equal, so you'll need to decide what it is exactly you're sheltering from when using your patio.
For example, consider the following list…
Sun – Keeping Cool When It's Hot
Rain – Keeping Your Patio Dry and Usable, Even When It's Wet Outside
Wind – Protection for Breezy Spots
Privacy – Create a Secluded Place to Relax
Cold – Keeping Your Patio Warm and Cosy in All Weathers
Do you want to create a cool, shady and secluded spot? Or do you want to let the sunlight through but keep the rain and wind out?
---
Patio Shelter Ideas to Consider
Pergola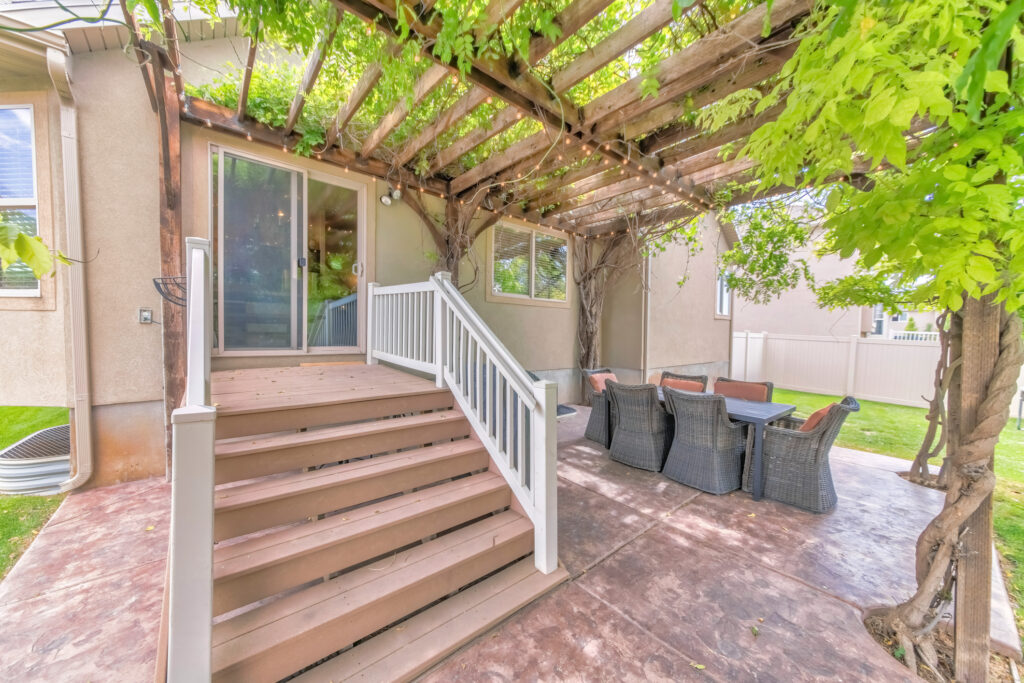 A pergola is like a partial roof made of timber beams and posts connected to each other, forming a structure that's open on one side and supports climbing plants. These are typically found in gardens for shade or privacy and can be attached to the house or stand on their own. A pergola can create delicate patterns of light, which filter through the leaves of trees and climbers, perfect for a cool, relaxing atmosphere.
Pergolas don't need to be expensive and can be relatively easy to install. They can be custom designed to suit almost any space but are also available in pre-packaged kits. These are often easy, cost-effective solutions and installation should not be beyond the skills of a moderately competent DIY'er.
The option to grow climbing plants over your pergola offers some interesting choices. Climbing roses, clematis, honeysuckle and jasmine are all good options for summer flowers and fragrance.
While you could choose something evergreen for year-round cover, you might also choose something that will fill out in the summer but then die back in the winter. This gives the benefit of shade and privacy in the warmer months, but will still let plenty of light through in the colder winter months.
There are even edible options – such as growing tomatoes, cucumbers or even a grape vine over your pergola.
Pros
Offers a cool shaded area in hot weather
Can produce interesting patterns of light below
Elegant structure with a stylish look
Can be used to grow climbing plants and flowers or even a grapevine
Creates a feeling of privacy, but still lets some light through
Cons
Doesn't provide shelter from rain unless the top is covered
Wooden structures will need some maintenance
---
Gazebo
A gazebo is a beautiful feature of any garden, typically round or octagonal with a peaked roof that is open and airy underneath. It makes for an inviting place to relax and enjoy the outdoors with a decent amount of protection from the elements. A solid roof keeps you dry in rainy weather and some have optional side panels – usually made of fabric. This means you can keep dry outdoors, create a very private space, and all without having to face potential nuisances like mosquitoes and other pests.
Wooden gazebos are typically fixed in place and are generally installed as a permanent feature in the garden. These often provide an attractive focal point in the garden and provide a cosy space to enjoy in nearly all weathers.
Some metal or plastic-framed designs are more like miniature marquees and can be dismantled and repositioned as required. These lighter versions are great for summer parties and other occasions but are not usually suited to permanent use.
In particular, be wary of cheap. plastic models, which may be great for entertaining in fine weather, but will turn into a large and dangerous kite on a windy day!
Pros
Protects you from rain as well as the sun
Available in different sizes and styles to suit any garden
Sometimes comes with mosquito netting for extra protection against pests
Can create an inviting atmosphere when decorated with plants or fairy lights
Foldable models are perfect if you're limited on space (and budget)
Cons
Wooden gazebos will require some maintenance
Large, permanent installations can be costly
Foldable versions require some assembly and are not suitable for permanent use
---
Retractable Awnings
Retractable awnings are the perfect combination of modern technology and classic style. They come in a variety of shades, styles, and fabrics – so they can easily be matched to any home while still providing a sun-protective function.
Another great thing about them is that they can easily be retracted when not needed. This comes in handy when you want to enjoy the sun or simply let the light in during winter months – no need to disassemble it! There are manual versions, which can be operated by turning a handle or automatic versions, which can be operated at the push of a button.
This flexibility of an awning means you can have almost-instant shelter during sudden rain or provide shade during hot days; making them one of the most versatile garden fixtures you can get!
Awnings are generally fitted along the exterior wall of the house, so this does limit you a little on where they can be used. But if your patio is right outside your house, then an awning could be the ideal solution.
Of course, awnings will require some maintenance. Perhaps you'll want to wipe down the fabric or even clean it with a pressure washer now and then. Overall though, retractable awnings make for wonderfully effective both aesthetic and practical additions to any outdoor space!
Pros
Provides shade and protection from the sun and rain
Easy to use with manual or automatic operation
Can easily be retracted when not needed
Can be matched to the home's exterior
Cons
Might require some maintenance to keep the fabric looking its best
Generally needs to be fitted onto a wall, so can only be used in certain spots
May not provide the same level of protection from pests as other patio shelters
Can be expensive, depending on the size and style you choose
---
Garden Shade Sail
If you are looking for a unique and attractive way to add some shade and style to your outdoor space, a garden shade sail may be exactly what you need! A shade sail is an innovative piece of outdoor fabric stretched over sturdy poles and fastened securely in place providing shelter from the sun in any open, outdoor area.
Because they hang in an elevated triangle shape, they don't take up any ground space or get in the way of lawn furniture or activities. They also allow natural light and some wind flow while providing relief from the hot sun.
On the other hand, they can be a bit tricky to install due to the need for sturdy posts that will secure them in place. If you live in an area with high winds, shade sails may not be recommended because they can be easily damaged by strong winds. 
Shade sails come in many colours, shapes and sizes, and provide effective protection against both rain and sun. Some claim to offer up to 90% protection from the sun's harmful UV rays.
When shopping for a garden sail, consider that some materials used may break down easily or become torn if exposed to too much wind or rain depending on their quality, so it's important to always check the tags before purchasing one.
Also, rain collected on them needs to be allowed to drain away naturally as pooling water could cause damage.
All things considered though, installing a Garden Shade Sail adds some instant privacy, a stylish look, and some practical protection from the elements.
Pros
Provide useful shade and UV protection
Attractive, stylish look
Doesn't take up much ground space
Some are waterproof
Cons
Materials used may break down easily or become torn if exposed to too much wind or rain
Need sturdy posts that will secure them in place – can be difficult to install
Rain can collect on them if not installed with a slight slope, which could cause damage
Not suitable for very windy locations
---
Parasol
A parasol is a great way to instantly add some colour and style to your outdoor space while providing shelter from the sun. They are available in various sizes, shapes and colours; you can even get ones with LED lights installed for extra illumination at night!
Parasols typically come mounted on either a free-standing base or poles that can be inserted into the ground. As such, they're most suitable for patios or areas with flat surfaces.
While a parasol won't offer the protection of an awning, they're a great option for small spaces or situations where you want to keep your options open.
You might decide to store your parasol away during the wet and colder months. However, they're perfect for providing some shade in hot weather. Swing it over a table for outdoor dining or use one over a sun lounger when you want to spread out and read a book. They're also fairly inexpensive, quick and easy to set up.
Pros
Provides instant shade and UV protection
Attractive, stylish look
Ideal for small spaces or flat surfaces
Easy to set up
Inexpensive
Cons
Can't provide the same level of protection as other patio shelters
Won't offer the protection of an awning
Not ideal for very windy areas
Need to be stored away during wet or cold weather
---
Outdoor Glass Room
An outdoor glass room is a unique structure in a garden that offers protection from the elements while still letting you enjoy your outdoor environment. It has a framework made of metal or material such as aluminium, and the walls and roof are made up entirely of glass or have large panels of glass making it look very modern and stylish.
The best part about these rooms is that they act as a shelter which means there's no need to worry about sudden rain showers spoiling your time outdoors! Glass rooms really are the ultimate way to enjoy the outdoors in comfort. They offer great ventilation, natural lighting, and some insulation to keep you comfortable even when it's cold outside.
Plus, an outdoor glass room can be used for multiple purposes — it could become a gym, an art studio, or even a dining area for special occasions. The only downside is that they can be quite expensive to install properly so if you're on a tight budget then this might not be the right option for you.
It's important to note that a glass room is different to a conservatory or orangery. These traditional structures are often very expensive, require planning permission and are seen more as an extension of the house.
Glass rooms, on the other hand, are all about outdoor living. They offer a way to use your outdoor space in all weather and enjoy the feeling of being outside some protection from the elements.
Pros
Stylish and modern look
Comfortable shelter from the elements
Excellent ventilation and natural lighting
Insulation helps keep you warm in cold weather
Can be used for multiple purposes – creates an outdoor room
Cons
Expensive to install it properly
Potentially offers less privacy than other options
May need to add an optional, retractable blind for use in hot weather
---
Final Thoughts
When it comes to finding a suitable patio shelter solution, there are many options available. Shade sails provide stylish and practical protection from the sun and rain. While outdoor glass rooms offer great ventilation, natural lighting and insulation while creating an outdoor room.
It really depends on your budget, needs and preferences when making your choice as to which one would be best for you. Consider your local climate and weather before making a decision, as well as the amount of space available in your garden or patio.
Remember to think about how you use your patio. From sunbathing to barbeques, entertaining or a secluded spot to relax and read book. Your ideal patio shelter will enable you to do more of what you enjoy, whatever the weather.
No matter what option you choose, you should be able to make the most of your patio area and enjoy your outdoor space even more!
What's sheltering your patio area? Did you choose one of these ideas, or something else? Let us know in the comments!