There are several reasons why you might want more privacy in your outdoor space. Perhaps you're seeking a secluded haven to escape the hustle and bustle of daily life. Or maybe you're just fed up with feeling like you're being watched when sprawling out on the sun lounger with a good book.
Unless your neighbours all live in bungalows, then chances are your garden will be overlooked from at least one direction. Modern, new-build housing estates in particular, can often feel a bit cramped.
If you're feeling a little exposed and on-view to the neighbours and passers-by, then don't stress. With a bit of thought and some strategic placement, you can create your own private oasis.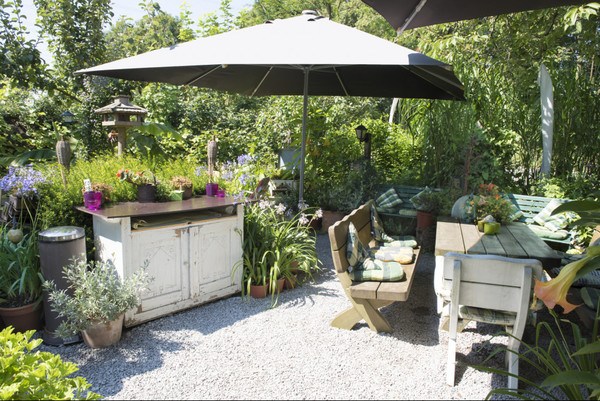 This article looks at 10 garden privacy ideas to transform your space into a hidden sanctuary. Create a secret garden, where you can relax, unwind and be yourself.
---
1. Put Up a Parasol
While parasols are great for some instant shade, they're also useful for instant privacy. Because they're often quick and easy to set up and re-position, it also means that you can create some privacy in different parts of your garden as it suits you.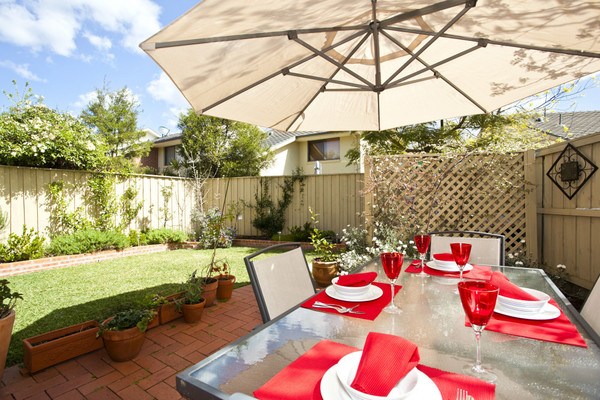 Smaller, lightweight versions are very cheap and there are many colours and styles to choose from. If you'd like to get the mounting pole out of the way, then look for cantilever models or some can even be wall-mounted.
And if you'd like some night-time privacy, check out this Divine Style Parasol with Solar LED lights for those cosy evenings al fresco.
---
2. Get a Gazebo
Perhaps the next step up from a parasol would be a gazebo or pop-up marquee solution. Again these are fairly inexpensive, come in a variety of styles and colours and can be placed anywhere around the garden for some instant privacy and shelter from the elements. The cheaper, lighter versions are more of a temporary fixture and require some caution in exposed areas – they're not suitable for strong winds.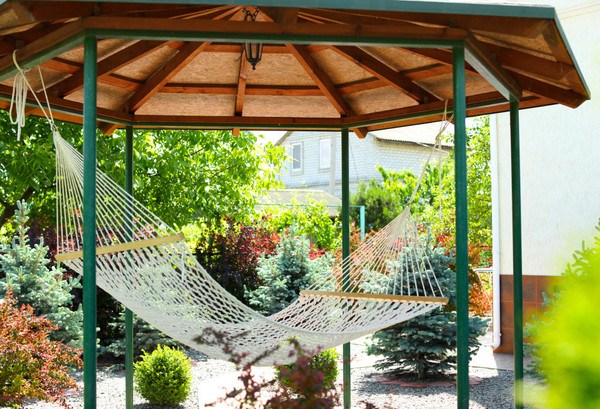 There are heavier wooden or metal framed gazebos, which stand up a bit better to adverse weather conditions. I have known some people who leave their gazebo up as a permanent feature – creating an outdoor room all year round. Many come with detachable walls, providing extra shelter from the wind and rain.
Add some comfy patio furniture and a rug and you'll have a cosy and private, outdoor living space.
---
3. Build a Pergola
Building a pergola might seem a little daunting, but there are easy options. For example, it's possible to buy either wood or metal pergola kit, which are fairly easy to assemble with some basic DIY tools and skills. If you'd like to save some money or want something a bit more customised, then of course you could build your own.
The great thing about pergolas, is that they still let some light through and so offer a feeling of privacy without having to sit completely in the shade. Yet despite feeling light and airy, it's amazing how cozy and private the space can feel beneath a well positioned pergola.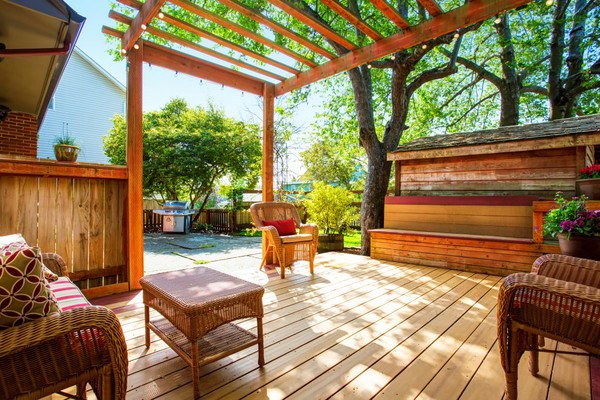 There is also the option to grow climbing plants and training them across your pergola. How about growing your own grape vines for instance? Or if flowers are more your style, then a clematis or climbing rose could be a good option.
Some long kits come with a retractable sun shade for added cover. For those long summer evenings, you might also like to create a lighting canopy under your pergola, with some solar festoon or fairy lights.
---
4. Install A Privacy Screen
A 'privacy screen' is perhaps an ambiguous term, that could mean many things. What we're talking about here, is basically any kind of vertical partition used to block off a chosen area from view – much like a garden fence might do.
While fence panels are usually set in-between posts around the border of a property, a privacy screen could actually be something far less heavy-duty and placed anywhere in the garden.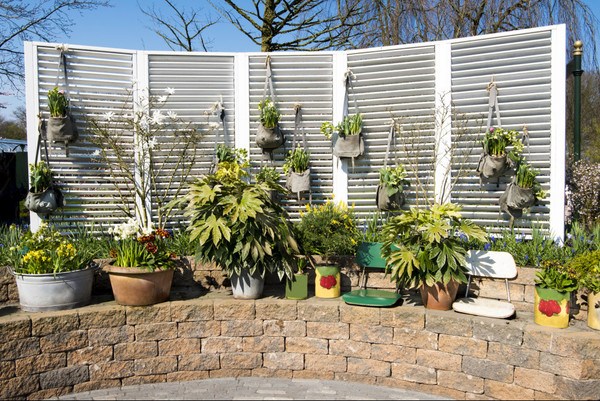 Lightweight screening products are widely available in garden centres and DIY shops, with materials like bamboo and willow being popular options.
You could also create a privacy screen with everyday garden trellis, with the added option to climbing plants as an extra layer.
---
5. Put Up A Shade Sail
Adding a shade sail to your garden, is a quick and stylish way to add privacy and keep cool on hot days. They come in a wide variety of colours, shapes and sizes and can be a very cost effective solution.
Most people will need to install posts to fix their shade sail in place, but there's also no reason why you couldn't make use of existing items in your garden – provided they are sturdy enough. You could attach your sail to fence posts, large trees, sheds, walls or even the side of your house or garage building.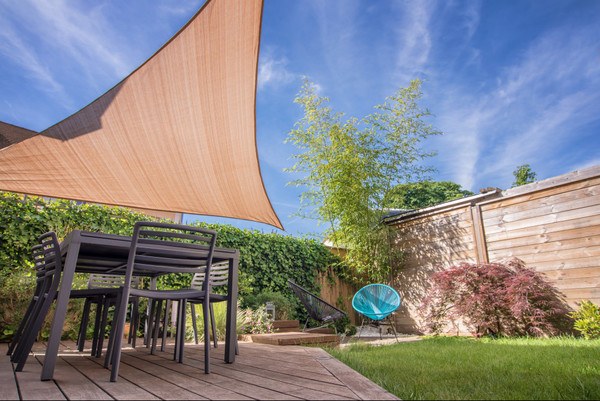 There's also no reason why you'd need to keep your sail permanently in the same place. One of the great advantages of shade sails, is that they are easy to remove or replace. For example, you might wish to take yours down during the winter months when there's a lot less sunlight.
---
6. Add Trees Or Tall Shrubs
Depending on your budget, this may or may not be an instant fix. As a general rule when buying plants, the bigger they come, the more you pay. Therefore, growing trees or tall shrubs might mean waiting a little while for them to grow and fill the space. However, there are sometimes good deals to be had, and adding a tree or large shrub might bring other benefits besides privacy.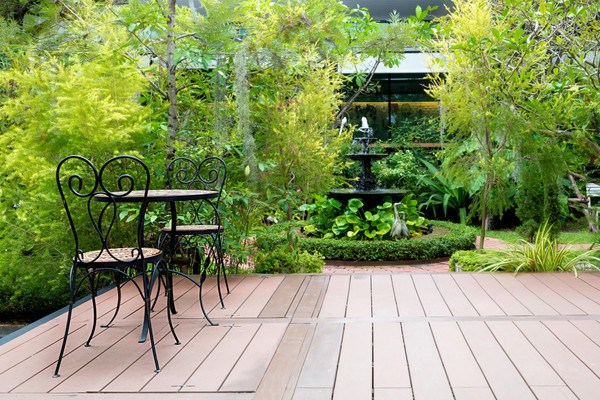 Good for the wildlife, good for the environment, plus adding greenery for privacy can feel a bit more socialble than constructing a new 8ft fence between you and the neighbours!
Fruit trees can be a nice option and dwarf varieties could even be grown in containers and moved around as you require. You'll get the added benefit of attractive blossom in spring and fresh fruit to follow.
Sorbus (sometimes known as Mountain Ash or a Rowan Tree) is another relatively cost-effective option. You can pick up a decent sized tree (around 6ft) without spending a fortune for instant effect. They can do well in containers if required and are also quite fast growing.
Conifers are another great option for privacy. One of the appealing things about conifers is that many varieties are evergreen and so will provide year-round cover, while other tree lose their leaves through the winter. There are many varieties and some can grow to huge heights – choose carefully, especially before planting in the ground.
---
7. Grow Bamboo Or Tall Grasses
Bamboo is a fantastic plant for adding privacy to your garden. It can be grown as a large specimen plant in a container or in a row as a living privacy screen.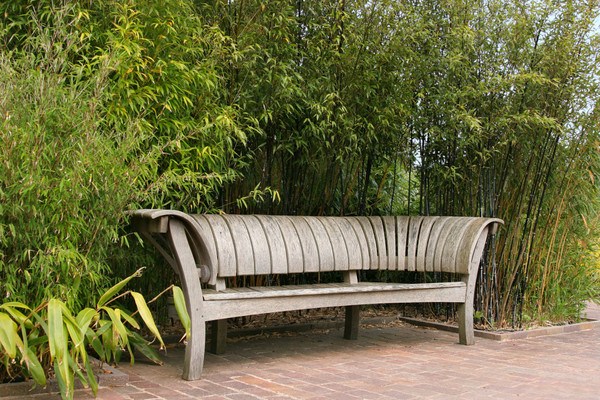 Many varieties are very fast growing and it can grow as high as 5 – 8 metres, with beautifully coloured vertical culms and delicate evergreen foliage.
Bamboo is easy to grow and very hardy – easily coping with temperatures down to -10 degrees Celsius and beyond. It generally likes plenty of watering, especially when grown in a container, but otherwise it a great low maintenance option.
Some varieties of Bamboo can spread and be invasive, so if planting directly in the ground, consider installing some root barrier material.
---
8. Increase Fence Height With Trellis
Garden trellis is a very versatile tool when it comes to creating privacy. Extending the height of you boundaries with trellis can feel a bit less heavy-handed than putting up an 8-foot fence. It will still let some light through and you have also have the option to grow climbing plants along it, which creates a more natural and relaxing vibe.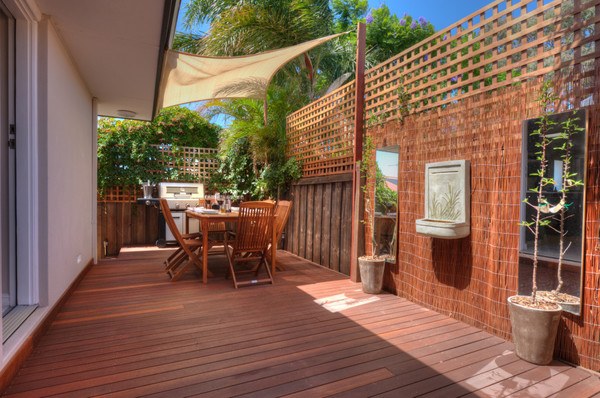 ---
9. Grow A Vertical Garden
If you'd like to add privacy and make better use of your space, then a vertical garden could be just the thing. These clever contraptions can be a much more attractive alternative to a traditional fence or screen – and much more useful too.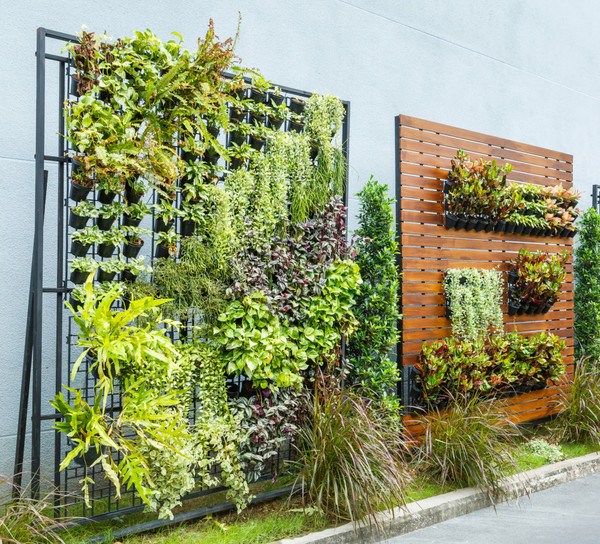 You could grow flowers, fruit and veg' or try herbaceous perennials and ferns for an evergreen living wall.
---
10. Add An Arbour
An arbour can bring an instant private place to even the most exposed garden. They come in all shapes and sizes, some with sides and some without.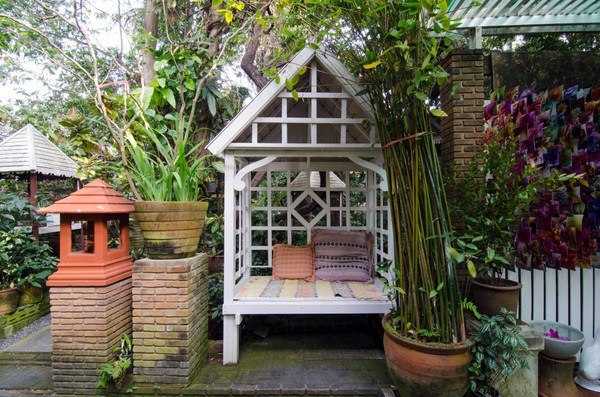 Add a comfy cushion, grab a drink and your favourite book and enjoy a tranquil outdoor experience.
Some arbours might even be large enough to fit some dining furniture, and so make a great space for entertaining. If you'd like to add a bit of extra luxury, then you could even add a swing seat.
---
Final Thoughts
While being partially overlooked can have security benefits, it's nice to know that there are things you can do to shield yourself away from prying eyes. The key is often to add more height in the garden, whether that's using strategic planting or wooden and metal structures to divide up the space.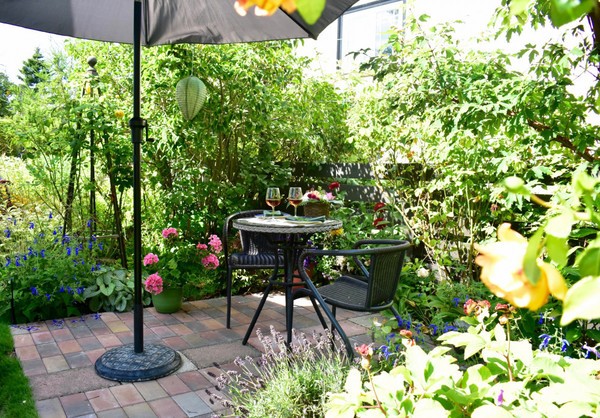 If you're worried about a lack of light in the dark winter months, then consider removable options – such as parasols, pop-up gazebos or shade sails. On the other hand, if you want to keep your privacy through the winter, then go for more permanent structures and evergreen planting.
We'd love to hear about your secret garden. How did you make your outdoor space more private? Let us know in the comments below.