Whether it's filling the after-school downtime or preparing for those long summer holidays, keeping the kids entertained can be tricky. But, if you're lucky enough to have some outside space, then the options are almost limitless.
Besides wanting plenty of fresh air and exercise for your kids, you might also be worried about how much time they're spending in front of a screen. Getting them motivated to try other activities can be tricky, so it's always good to have some fun alternatives on hand to tempt them away from the tech.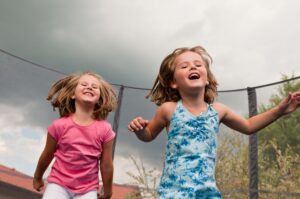 This article explores some of the best outdoor garden toys for kids available today. These 20 child friendly garden ideas are sure to keep them occupied. So, when you hear those immortal words (" Mum / Dad… I'm bored!"), this time you'll be ready…
---
Large Play Equipment

---
1. Trampoline
We spent around £100 on a trampoline for our garden around 3 years ago and it's proved to be incredible value for money. Our two boys are on there pretty much every day, through at least two-thirds of the year.
There are various sizes available, so you should be able to find one suitable for your family – ideally with a little growing room.
Trampolining is great exercise, it's good for balance and coordination and a brilliant way for the kids to burn off some energy!
---
2. Swings
Most kids seem to love swings – sure enough there's always a queue for the ones in our local playground. You might be surprised at the range available these days. And while you don't need a large tree branch to hang it off, if you do have one then that's a great place to start.
While the more substantial wooden frames are more expensive, you can pick up the lighter, metal framed versions from as little as around £35.
Some products have multiple swings included – great for larger families – and also look out for products that are adjustable or have changeable seats that grow with your child.
---
3. Slides
Another playground classic, a slide is a great addition to your child-friendly garden, yet needn't take up much space. They don't tend to be too expensive and they're usually freestanding and easy to move or even store away.
---
4. Climbing Frame
If you have the space and budget, then why not add a climbing fame to your garden?
Besides providing some challenging, physical stimulation for the kids, they can also double up as a fort or even a small playground – often incorporating swings and slides into the design.
---
Creative Play

---
5. PlayHouse
Fuel their role-play and make believe tendencies, with a fabulous playhouse.
Kids will invent all manner of games to play in a playhouse – from pretend cooking to tea parties. They can throw a teddy bear's picnic or even just use it as a cosy place to hide away and read some stories. There are many designs available, with varying themes. If you'd like to try a more affordable substitute, you might also look at popup play tent products.
---
6. Sandpit
You don't need to get to the beach to make sandcastles. A basic sandpit with a bucket and spade can provide hours of creative fun for the kids. Ideally, look for a sandbox with a lid to keep the area clean and dry between use.
Make sure you use designated play sand, which will be washed and free from harmful chemicals. If you'd like to wow your youngsters with something a bit special, check out this brightly coloured Sensory Sand from National Geographic.
---
7. Mud Kitchen
You may not be familiar with this new craze, but it seems that mud kitchen are proving to be a very popular phenomenon. They usually consist of a worktop, some utensils and perhaps a container or two. Your budding little chefs can create culinary master pieces out in the garden…with mud.
Ok, so technically you don't have to use mud. Kids might also like to experiment with other natural materials – grass, leaves, sand, stones, water… Fun games might include tea parties, cooking contests or even opening their mud kitchen as a make-believe restaurant.
There are many designs available to buy, or you could even make your own.
---
8. Garden Tool Set
If your kids are anything like mine, then they might love to help out with jobs in the garden. In which case, why not get them some kiddie sized garden tools and encourage their enthusiasm.
Gardening is a great way for youngsters to learn about the natural world. Whether they're doing useful tasks or just paying at pretend gardening, they'll love having their own tools for the job at hand.
---
Sporty Fun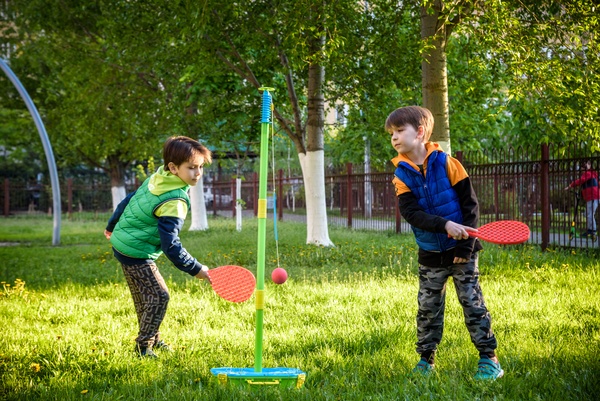 ---
9. Football Goal
Ah, the great, universal game that is football. You can play it almost anywhere, and certainly the garden is a good place to start. While it's fine to throw a couple of jackets on the floor for goal-posts, there's nothing quite like the feeling of driving a shot home into the back of the net.
There are lots of uses for having a pop up goal in the garden. From penalty shoot-outs to 'World Cup Singles', there are many great footy games to keep them busy.
---
10. Basketball Hoop
Shooting baskets is another great garden pass-time. You don't need much space for such a game and there are many types of hoop – to suit different outdoor spaces and varying age ranges.
Wall mounted products are great where space allows. There are also freestanding options which can usually be wheeled around into different positions.
While it's not always the safe, you might even be able to wheel your hoop out onto the front drive and invite neighbours around for a game.
---
11. Swing Ball
Swing ball is a classic garden game that's still just as popular today as it ever was. The clever design of the game allows you to practice your racket skills in a high intensity game that takes up very little space.
Great for developing reflexes and hand-eye coordination.
---
12. Table Tennis
While some ball games can be tricky to contain in a small space, table tennis is a bit more manageable. Sometimes referred to as 'ping pong', it's a fun, action packed game that can even be played indoors where space allows.
You might like to invest in a proper table, but alternatively if you have a reasonable sized dining table, the just buy some bats and ball and a use universal, adjustable net.
---
13. French Boules / Garden Bowls
There are many variations on this game, but you basically just need a reasonably flat lawn and set of balls and you're set for some civilised fun and competition.
The objective s usually to roll your balls as close to another ball as possible, requiring great skill, concentration and aim. This is a great game for all ages.
---
14. Croquet
Another great game for the garden lawn – croquet involves hitting your ball with a wooden mallet through an assortment of hoops.
It's a fun game that just about anyone can enjoy – young or old.
---
15. Archery Set
This might sound s little more dangerous than you'd like, but actually there are many child-safe archery sets that use things like suction arrows – rather than the more lethal, pointy ones you see in Robin Hood movies!
Look out for sets that include targets as well as the bows and arrows to provide a fun, competitive garden game of skill and aim.
---
16. Scooters
t feels like scooters have made a bit of a come-back recently. Every time we go to the local park, it seems there are always a handful parked up and they've even become a common sight on the morning school run.
They can be a great choice for the back garden, where you might not have quite enough space for full size bikes to roam around.
---
Wet and Wild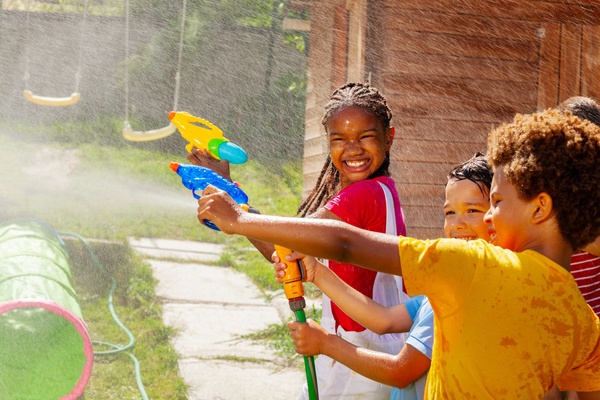 ---
17. Paddling Pool
I'm sure that most of us can remember those dreamy, summer days, where it got so hot that the paddling pool came out.
Jumping, sliding, splashing or just lazing. It seems that all kids love messing about in a paddling pool. There are many sizes and designs on offer. Just don't forget the pump…!
---
18. Water Balloons
My boys LOVE these things. Water balloons – or 'water bombs' as they like to call them are great fun and can be used in various games.
While some kids like to use them as ammo in a water fight, others will just enjoy the satisfying 'splat' that they make on different surfaces around the garden. There are many types, but 'Bunch O Balloons' seem to be one of the current leading brands.
---
19. Water Guns
Whetehr you have a couple of cheap water pistols from the local pound shop, or the latest top of the range 'Super Soaker'… Most kids (and many adults) love a good water fight!
---
20. Water Wall
This genius piece of kit made by Playhouse, allows children to create their own creative masterpieces using an assortment of bits and pieces to guide water down a wooden board. It's almost like a marble run, but for water, allowing your kids to use there imagination and ingenuity to come up with various ways to guide the water through different courses into the bucket below.
This game is both fun and educational, developing both coordination and problem solving skills.
---
Final Thoughts
So, that wraps up this list of 20 great ideas to keep your nippers busy and entertained in the garden. Of course there are so many benefits to getting them out in the fresh air. And with the ever-increasing encroachment of tech in our modern lives, it's never been more important to make sure our kids get a taste for the outdoors.
Which games will you try with your kids? Do you have any suggestions that aren't covered here? Which toys and games are popular in your family garden? We'd love to hear about it in the comments below.