Even if you have a small outdoor space, chances are you'll need to think about accessibility at some point. Adding a garden walkway makes your garden more inviting and helps you to use it in all seasons, no matter the weather.
Even a flat lawn area could become tricky in wet weather and you might have planted areas that you want to avoid stepping on entirely. Besides getting you from one place to another, adding paths can give your garden structure and introduce new shapes and materials that compliment the design.
This article looks at some garden path design ideas that you could potentially implement yourself – without spending a fortune.
---
Bricks / Block Paving
Using bricks or paving slabs is probably one of the most common methods – especially in modern or formal garden designs. However, it can be heavy work to install such a pathway and may need the help of an expert.
That said, there are more rustic versions you could try and you can sometimes achieve good results using basic utility slabs, which are cheap to buy. Alternatively, you might be able to find some reclaimed bricks and lay them on a simple, sandy base, for an informal yet stylish pathway.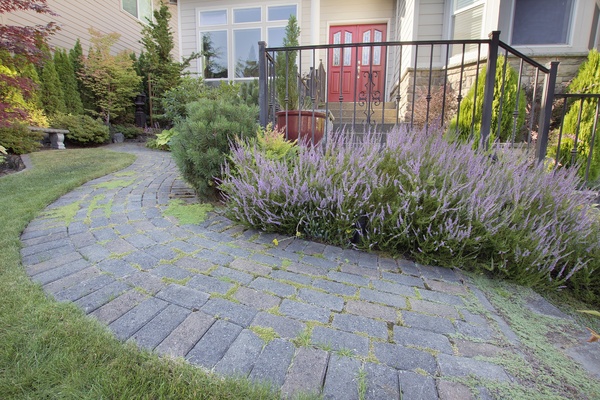 ---
Gravel / Decorative Stones
Using gravel to create a pathway can be a very cheap, fast and flexible option. Materials like pea shingle are cheap to buy and easy to find in DIY shops or builders merchants. Simply dig out a shallow trench to mark your pathway, line it with weed barrier and fill with gravel for an instant garden path solution.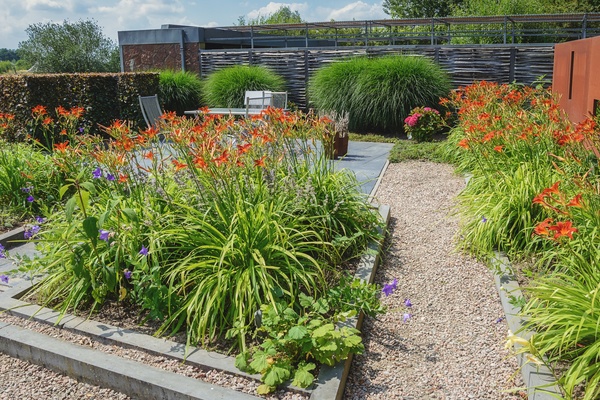 If you have a little more budget, you could also experiment with different decorative stones – selecting different aggregates for their size, shape or colour, based on your preferences.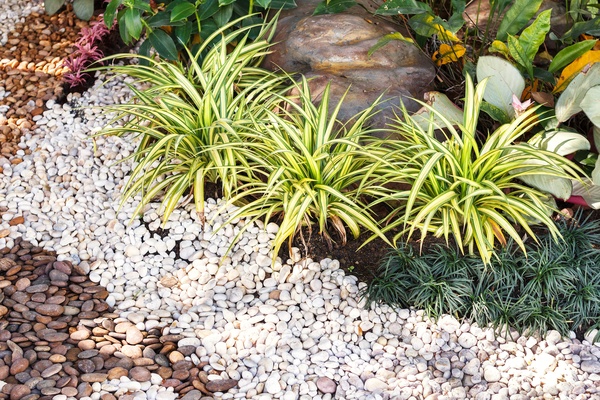 ---
Crazy Paving
As the name might suggest, crazy paving adds an informal, slightly wacky feel to your walkway. Using random pieces of slabs or stones, usually set in a mortar bed, this can sometimes be a cheaper option to regular paving and allows for a slightly more natural vibe.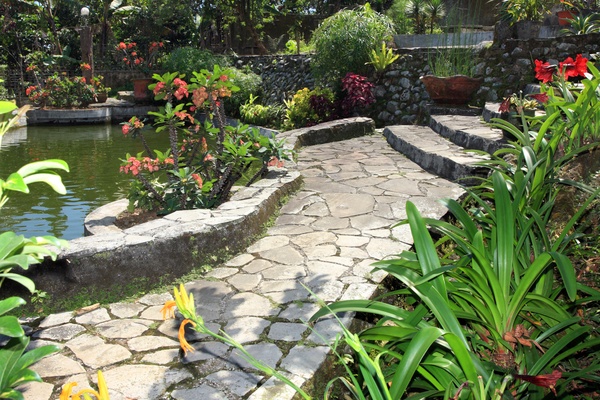 Besides laying the slabs in a mortar bed, you could even set them directly within a lawn area.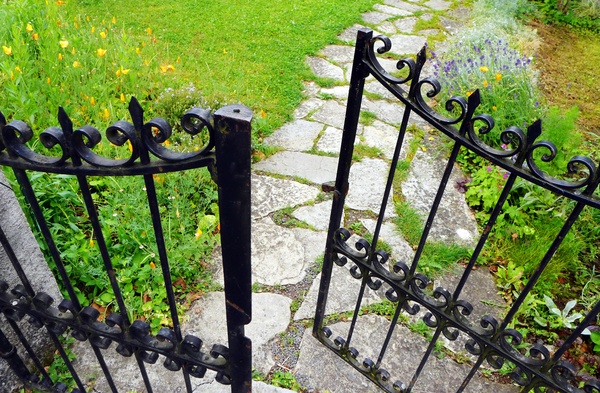 ---
Stepping Stones
Stepping stones are a great way to get across large areas like lawns or flower beds, and there are many options to choose from. Of course, paving slabs is an obvious one, but you could also use pieces of wood, natural stones or even decking tiles to create your walkway.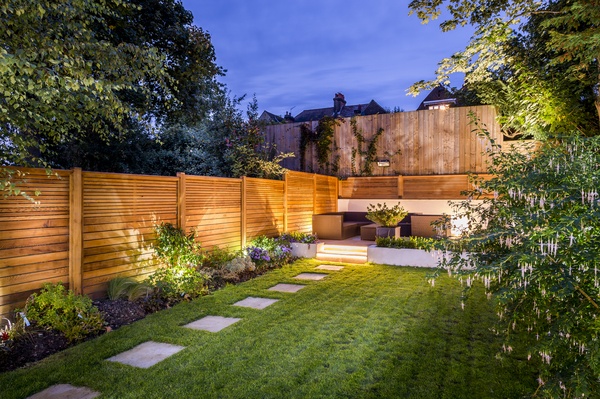 Stepping stones can also be used in conjunction with decorative stones or gravel. This creates a natural path that feels secure underfoot and is cheap to install.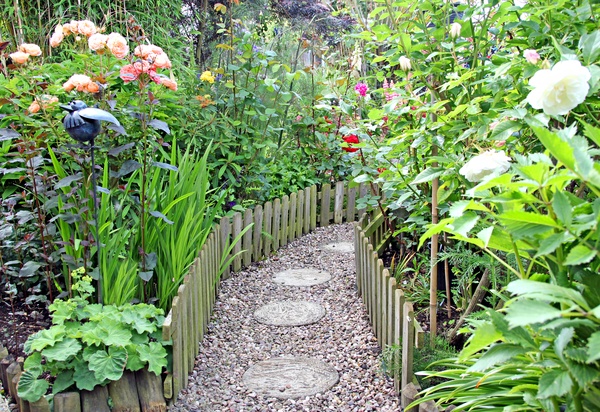 ---
Bark / Wood Chippings
The process here would be similar to creating a gravel pathway – dig a shallow trench, line with weed barrier and then fill. The added benefit with wood chippings or bark mulch, is that it creates an even more natural feel and can be very cost effective.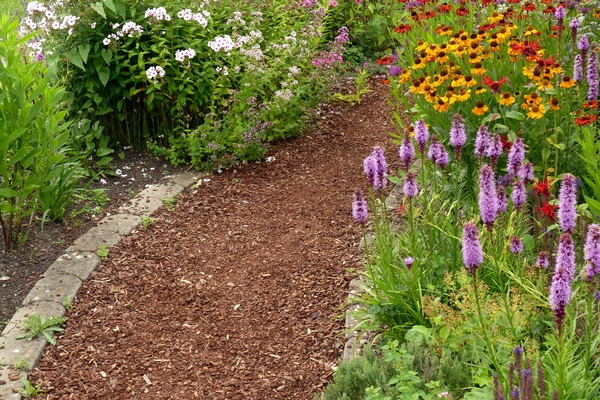 Wood chippings also very good at suppressing weeds, so if you're after a quick, cheap and easy maintenance option, then this could be for you.
---
Grass Pathway
Although it might not be the obvious choice for a garden walkway, grass is actually a decent option in many cases. While it can become a little boggy in wet weather, grass can be grown very cheaply and easily from seed and other than mowing occasionally, is easy to maintain.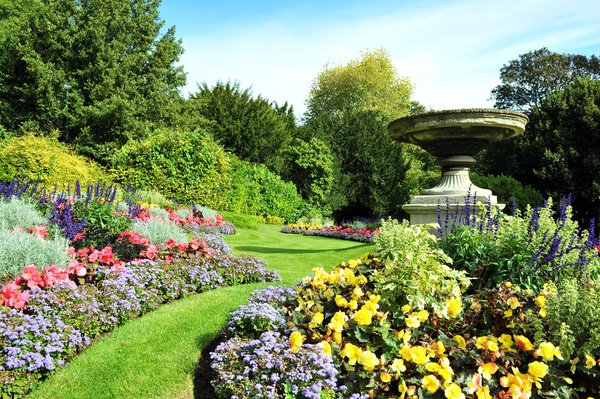 If mowing your paths seems like too much work and you have a larger budget, why not use artificial turf for green walkways that you can use in all weather.
---
Final Thoughts
Hopefully one of those ideas will help you to design your own garden walkway. Even if you have a very low budget, then there should be something here to get you started.
Remember it's usually best to prepare the area well beforehand. A layer of hardcore can be used to create a solid foundation and weed barrier will help to maintain a tidy pathway. This is especially useful when using loose materials like stones or wood chippings.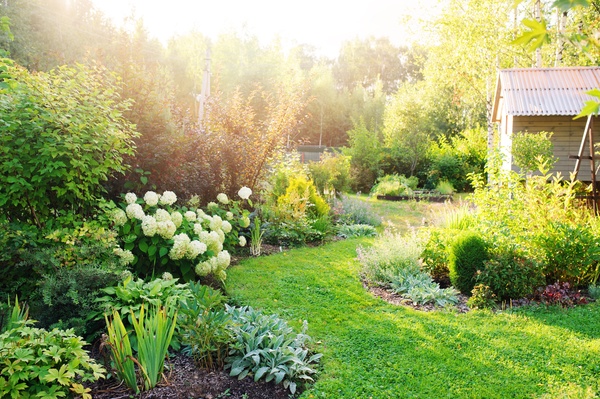 While the most direct route from A to B is usually a straight line, consider using curves in your designs for a more natural feel. It's widely recognised that curvy shapes in garden design can add to a feeling of calm and relaxation, so feel free to get creative and make a feature of your new pathway.
Don't be afraid to 'think outside the box' – where possible use interesting colours and textures to add interest and make the most of your walkway areas.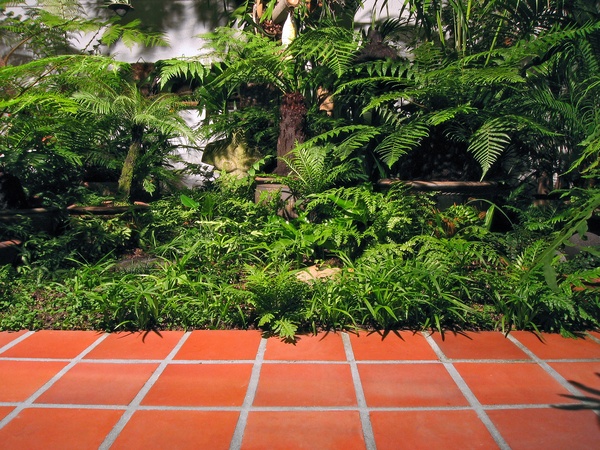 And finally, don't get too hung up on achieving the perfect finish. You could spend thousands having a professional company installing a modern paving solution, but its not always necessary. Provided your path is safe to use and compliments your garden design, there really are no rules.
Let us know what design you went for in the comments below? Do you have any tips for our fellow readers? We'd love to hear about how you get on.