If the shady areas of your garden have been feeling a little neglected, don't worry. There are plenty of flowering plants that thrive in low-light conditions.
In this post, we'll be exploring lots of flowering plants for shaded areas for you to try. You'll find there's something for everyone when it comes to adding colour to those shady corners! Plus we have some key tips for planning out and caring for beautiful blooms.
---
Why Grow Flowering Plants in your Garden?
Flowering plants bring a vibrant and colourful display to your garden that can add beauty and interest. Shaded areas can feel particularly dreary – especially in the colder months, so it's nice to be able to add some colour and interest where possible.
Besides looking nice, flowers can also add a pleasant scent to your garden and bring about a sense of calm and serenity. Many flowering plants are great for attracting helpful pollinators such as bees, butterflies, and other beneficial insects. Such pollinators help to keep your garden healthy and vibrant.
---
Flowering Plants for Shaded Areas in the UK
Shaded areas can be difficult to landscape, as most flowering plants require plenty of sunlight. But there are a few options for British gardeners looking to brighten up their shaded space with blooms! Here are some examples of flowering plants that do well in the UK's shaded areas.
Camellias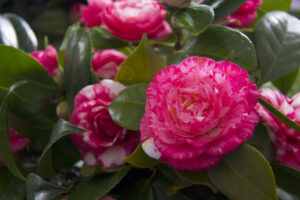 Camellias are one of the most popular flowering plants for shaded areas in the UK. These evergreen shrubs produce beautiful white, pink, or red blooms during the springtime months and can be pruned to different shapes for an interesting display.
Impatiens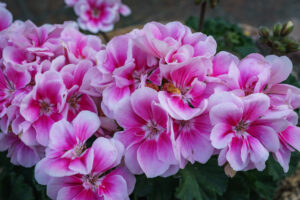 Impatiens (also known as 'Busy Lizzies') are a great choice for adding a splash of cheerful colour to your shaded garden. They come in a huge variety of colours and bloom from mid-spring until the first frost of winter.
Hostas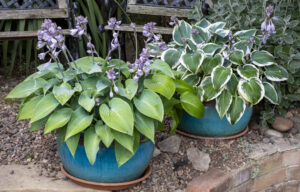 These hardy perennials come in a variety of sizes, shapes, and colours and are great for adding texture to your garden. They're known mostly for their attractive foliage but also their summer flowers.
Foxgloves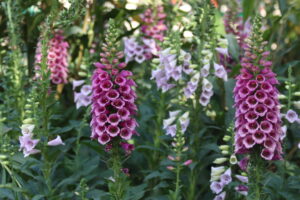 These dramatic blooms do well in partial shade, with their tall spires of bell-shaped flowers making a striking addition to any flower bed.
Astilbes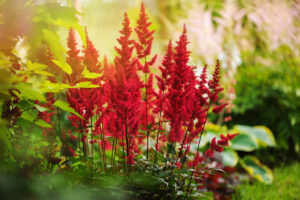 These elegant plants produce feathery plumes of blooms that come in a range of colours including pinks, whites and purples.
Hellebores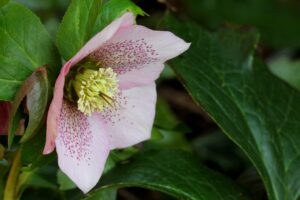 These beautiful flowers have a delicate yet long-lasting bloom and make an attractive addition to any shaded garden.
Lamiums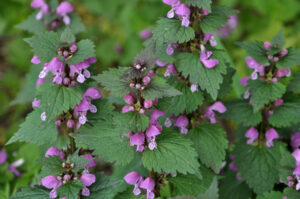 Also known as 'Dead-Nettles', these tough ground-cover perennials are evergreen and provide an abundance of bright flowers in the spring. They're great for bees and come with purple or white flowers.
Ajuga Reptans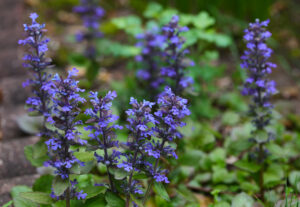 This fast-growing shade-loving plant will spread quickly, covering large areas with its deep purple foliage and small blue flowers. It's sometimes called 'Bugleweed'.
Lungworts

These shade-loving flowers have beautiful spotted foliage and produce clusters of pretty, bell-shaped blooms in the spring. They're scientifically known as Pulmonaria.
Hydrangeas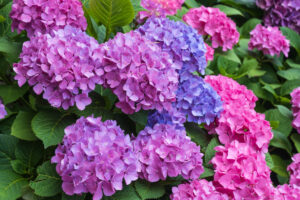 The large hydrangea shrubs are great for adding colour to shaded areas, producing big clusters of pink, purple or blue blooms.
Sedums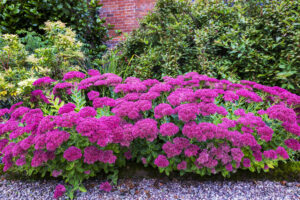 These low-growing succulents are great for adding texture and colour to your garden. They come in a variety of shapes and sizes, from ground cover to tall, spiky varieties.
Bluebells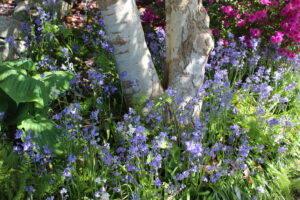 These iconic British wildflowers bring a carpet of vibrant blue to your garden and are great for naturalising in shaded areas.
Fuchsias
These beautiful and hardy shrubs are great for brightening up shaded spots with their colourful blooms. Fuchsias are well known for their cheerful pendulum flowers of bright pink, red or white.
Primroses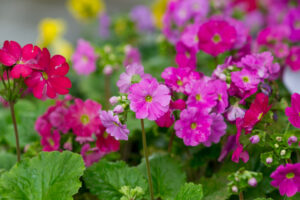 These cheery little flowers are a British favourite and will bring some colour to shady spots in the late winter and spring months.
Violas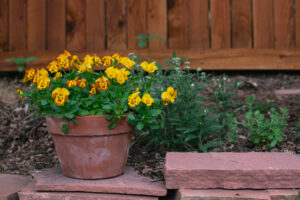 These cheerful little flowers will bring some colour to your garden in the colder months with their dainty blooms of purples, blues, yellows or whites.
So, as you can see, with all these flowering plants available, you can create a colourful and inviting garden even in the shadiest areas of your garden!
---
Caring for Flowering Plants in Shaded Areas
Caring for these plants properly is important to ensure they keep blooming. For the best flowers, your plants will need the right balance of water and nutrients. Here are some tips to keep your flowering plants in good condition:
Mulch
Mulching around the base of the plants helps retain moisture and keeps the soil cool in hot weather. Plants will also benefit from added nutrients that occur naturally as the mulch breaks down into the soil below.
Water
Make sure you water your plants carefully in shaded areas. The water may not evaporate as quickly as in exposed areas in full sun and the soil might be cooler. You could consider watering in the morning rather than the evening.
Fertilise
Feed your flowering plants with a fertiliser designed for shady spots to ensure they get all the nutrients they need. For best results, always check directions for specific plants as indicated on the packaging when you buy them.
Prune
For some plants, pruning is essential to encourage new growth and help keep the plant healthy. Timing is important – especially when it comes to encouraging flowers in the next season. What works well for one plant might be disastrous for another, so always check first.
By following these simple steps, you will ensure that your flowering plants do well in even the shadiest spots in your garden!
---
What's the Difference Between Shade and Partial Shade?
When planting flowering plants in shaded areas, it's important to understand the difference between shade and partial shade. While some might dispute the exact definition, a good rule of thumb would be that full shade is typically classified as any area of your garden that receives less than four hours of direct sunlight each day. Partial shade is a little more forgiving, and usually refers to areas that receive up to six hours of direct sunlight per day.
However, you might also consider whether the area has dappled shade – such as that found under a light tree canopy. This might allow a little more sunlight than the hard shade cast by a wall or building.
---
Flower Planting Ideas for a Shaded Area
If you're looking for ideas to create a stunning flower garden in your shaded area, here are some of our top picks:
Create a Wildflower Meadow
Fill the area with low-maintenance native plants that will bring colour and wildlife into the space. There are many wildflowers that will do well in a small, shady area. Try Red Campion, Angelica or Wood Sage (amongst others) and create a naturally vibrant look.
Plant a Rock Garden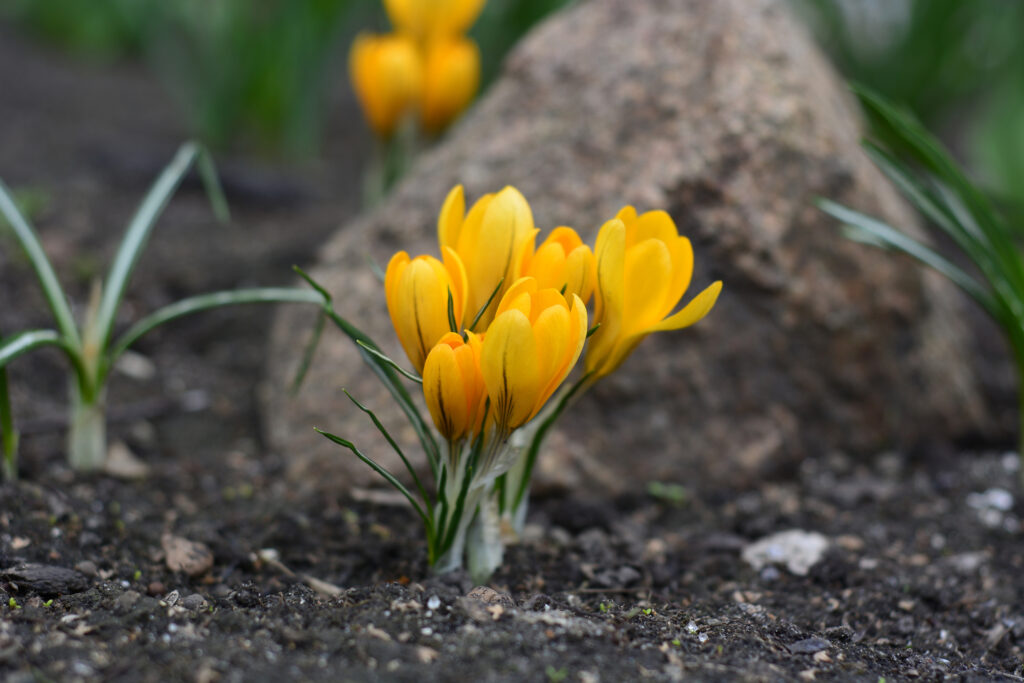 Lay stones or rocks around a shaded slope, with beds on each level cascading down to the lowest point. Plant flowering bulbs such as snowdrops, crocuses or bluebells and add other foliage plants at different heights for an eye-catching effect.
Add a Water Feature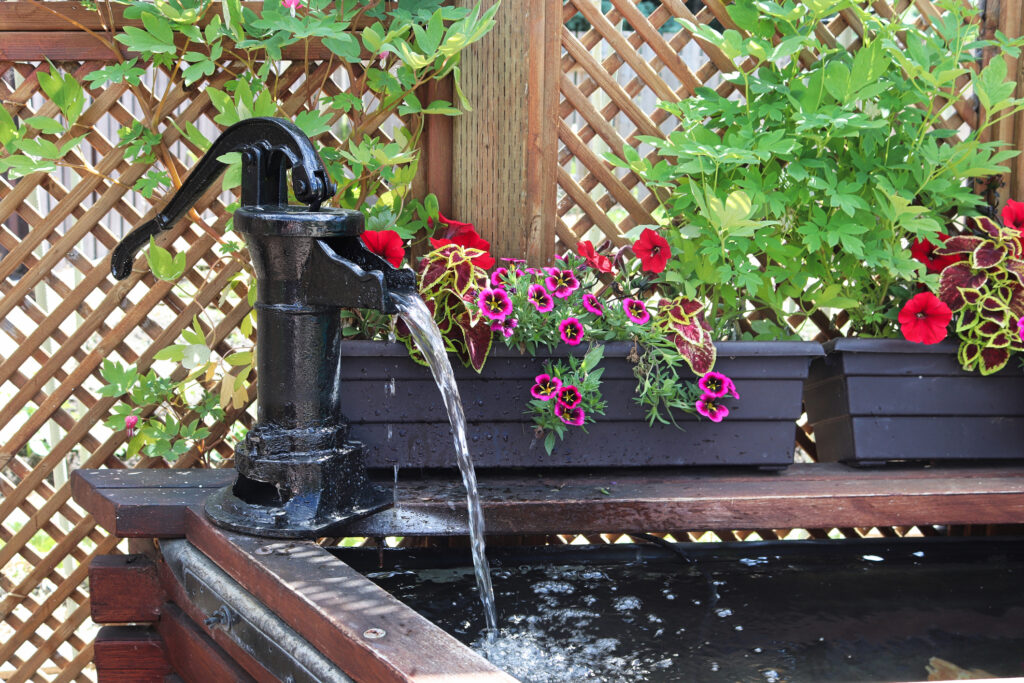 Place a small fountain or birdbath in your shaded corner to provide both sound and interest, as well as help to keep the area cool in summer.
Use Hanging Baskets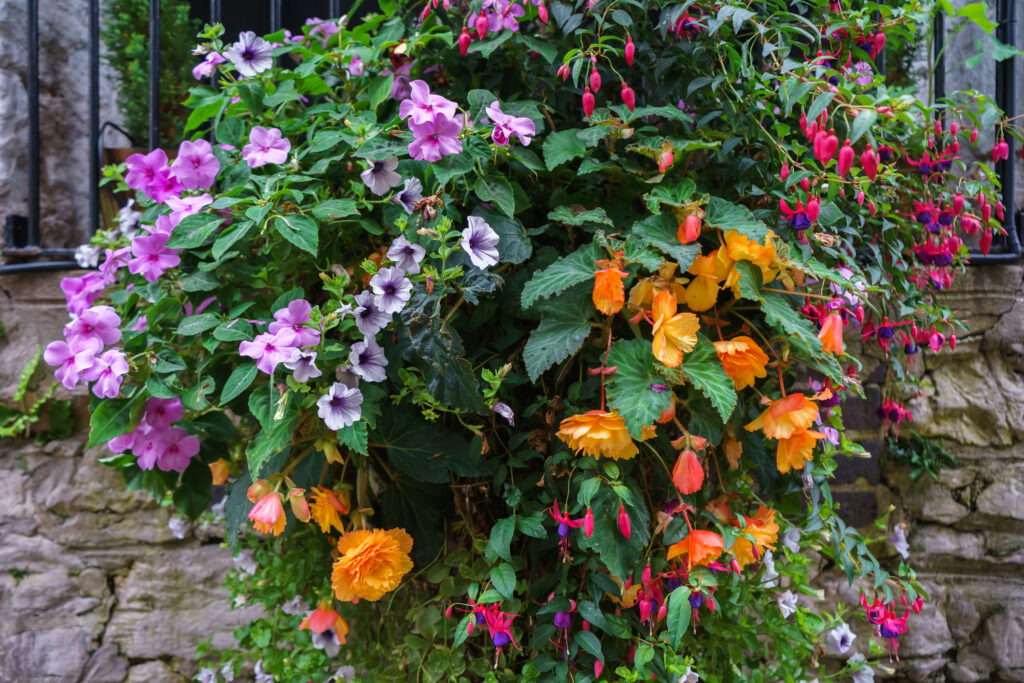 Choose trailing plants with brightly coloured blooms and hang them in baskets from trees or a trellis to add colour and texture. The extra height might even allow for a little extra sunshine for your plants!
Try Coloured or Variegated Foliage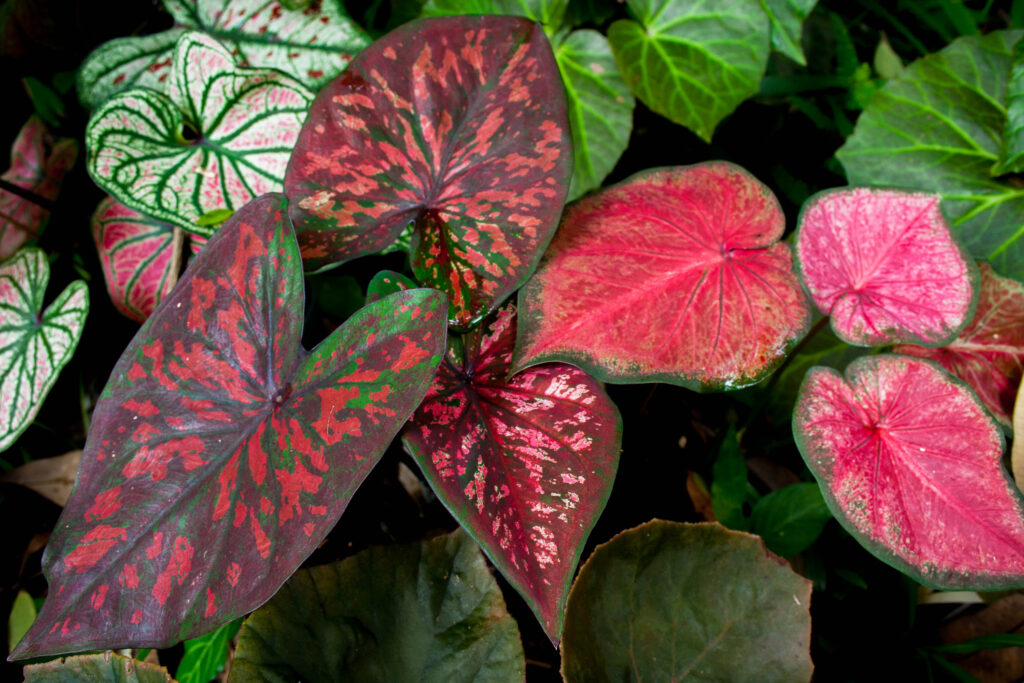 Don't forget that plants with different coloured leaves can sometimes look just as bright and interesting as flowers – just think about Poinsettias at Christmas for example.
Get Inspired by Nature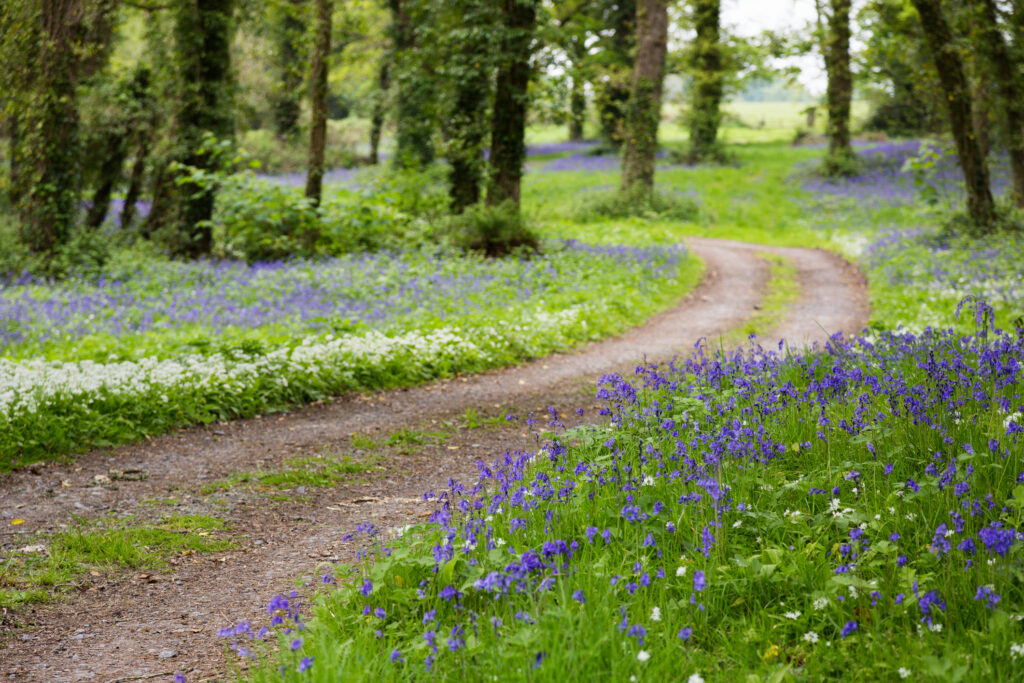 Think about how shade-loving flowers grow in the wild. Such as English woodlands awash with bluebells or delicate yellow primroses under rural hedgerows.
Create a Shady Jungle Area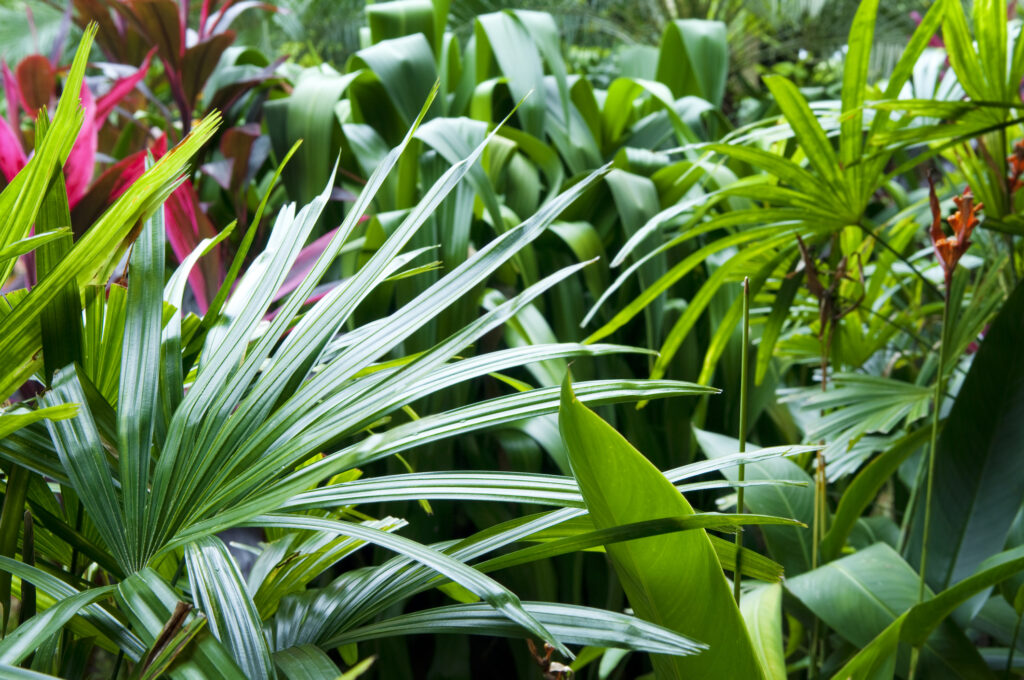 Don't forget about exotic plants from tropical and sub-tropical forests. Mixed with the right greenery as a backdrop, plants like Begonias or Fuchsias might bring a unique jungle vibe to your shady space.
With the right combination of flowering plants, you can create a beautiful shaded area in your garden that will be the envy of your neighbours!
---
Final Thoughts
Creating a beautiful garden in a shaded area doesn't have to be difficult. With some careful planning and research, you can make the most of this part of your garden with flowering plants that will bring colour and life into your space. Take time to consider factors such as soil type, light levels and types of plants when designing your shaded garden, and you will have a space that you can enjoy for years to come.
---
Bonus Tip: Planting in Containers
If your shaded area is particularly small or tricky to navigate, why not try planting in containers? This way you can easily move the plants around if needed and experiment with different combinations, and you can maximise the area's potential by adding some colourful pots to your space too. Don't forget to water regularly though!
What's flowering in your shady spot? Any tips or ideas to suggest? Let us know in the comments!