Are you longing to bring the quaint beauty of a country cottage garden to your yard? With its fragrant blooms and romantic charm, there's no denying that a charming cottage garden can transport any backyard into an idyllic scene.
Whether you're growing in containers on your balcony or cultivating a plot in your back garden, these country cottage garden ideas will help create a stunning look inspired by traditional English cottages.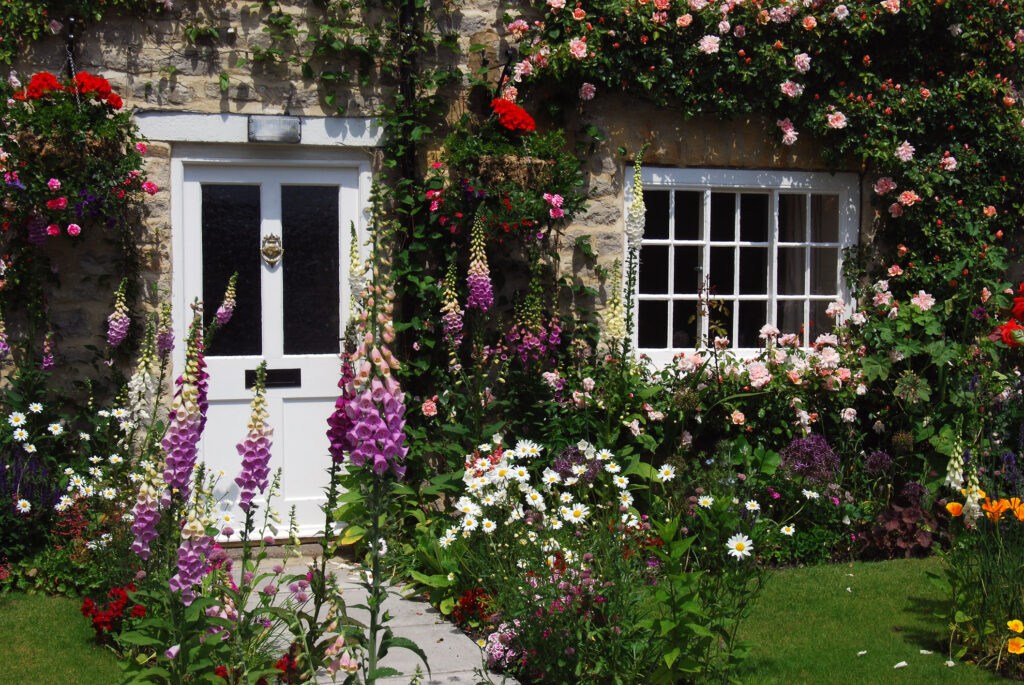 ---
What Makes a Cottage Garden?
First off, it's worth mentioning that you don't have to live in a cottage to create your cottage garden. While the style and planting of a traditional cottage garden might have come from such a dwelling, really you could take the themes you like and use them anywhere.
So what does a Cottage Garden typically look like? Well, it's usually a bit of a jumble, with plants of all shapes and sizes spilling over each other. The key is to create a sense of overflowing abundance and charm. This can be achieved by choosing a variety of different flowering plants that bloom in succession throughout the year, so you have colour for most months.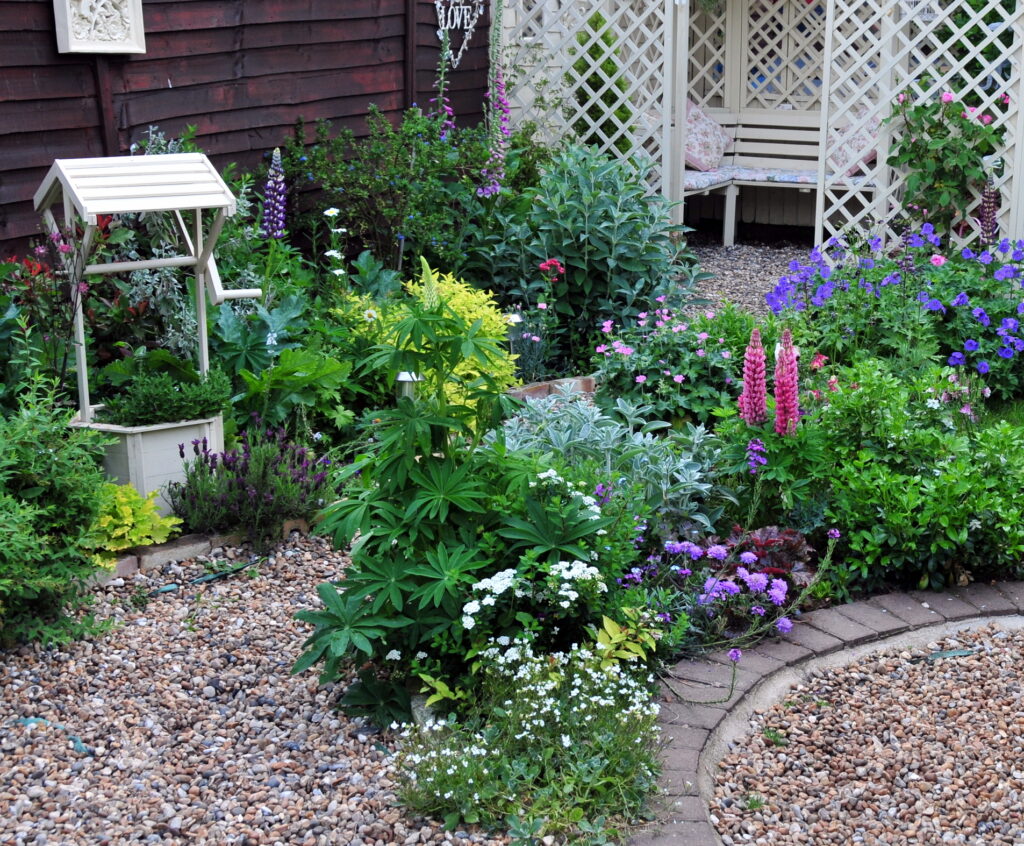 If possible, combine both perennials and annuals to maximize the impact of your cottage garden. While the vibe is generally informal, cottage gardens do quite often pack a lot into the space. This means carefully planning out growing spaces and allowing for access with rustic paving and structural features. This busy, yet vibrant style can be productive and exciting but does leave less room for open spaces, such as large lawn areas.
---
Flowers for a Cottage Garden?
When it comes to picking the right flowers for a cottage garden, you're only limited by your imagination. However, some classic favourites are known to work particularly well.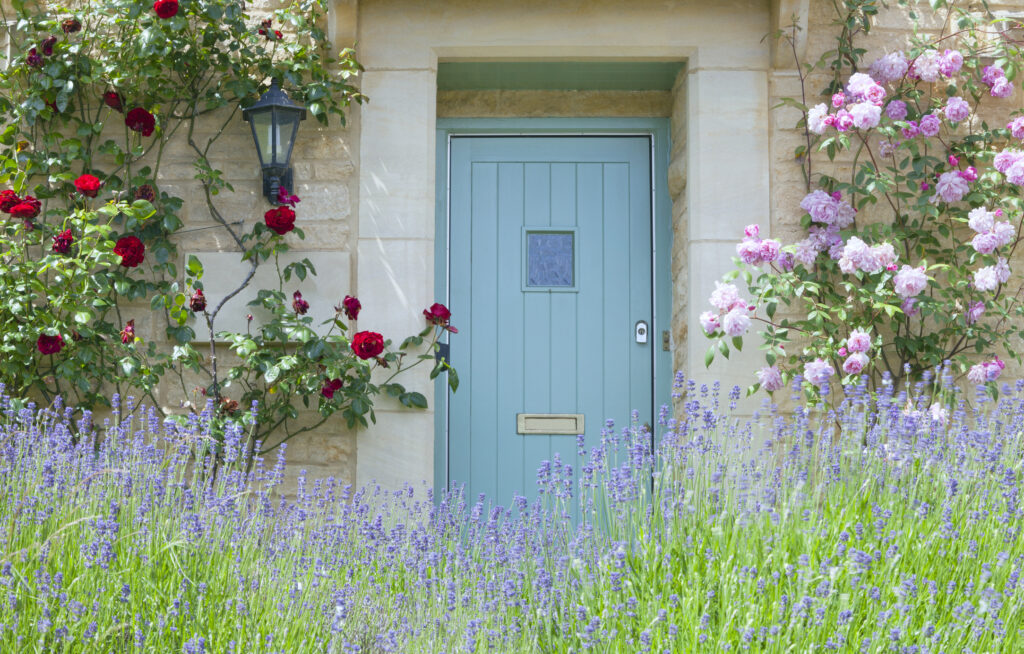 Roses are always a great addition as they bring fabulous colour and structure to your garden. They can be trained up walls, arches or over pergolas for vertical interest.
In terms of perennials, use classic staples such as lavender as key ingredients. For spring colour, consider adding tulips, forget-me-nots or pansies. Summer is the perfect time for hollyhocks, cosmos, foxgloves and lupins. To carry you through autumn, try adding dahlias, asters or colchicums.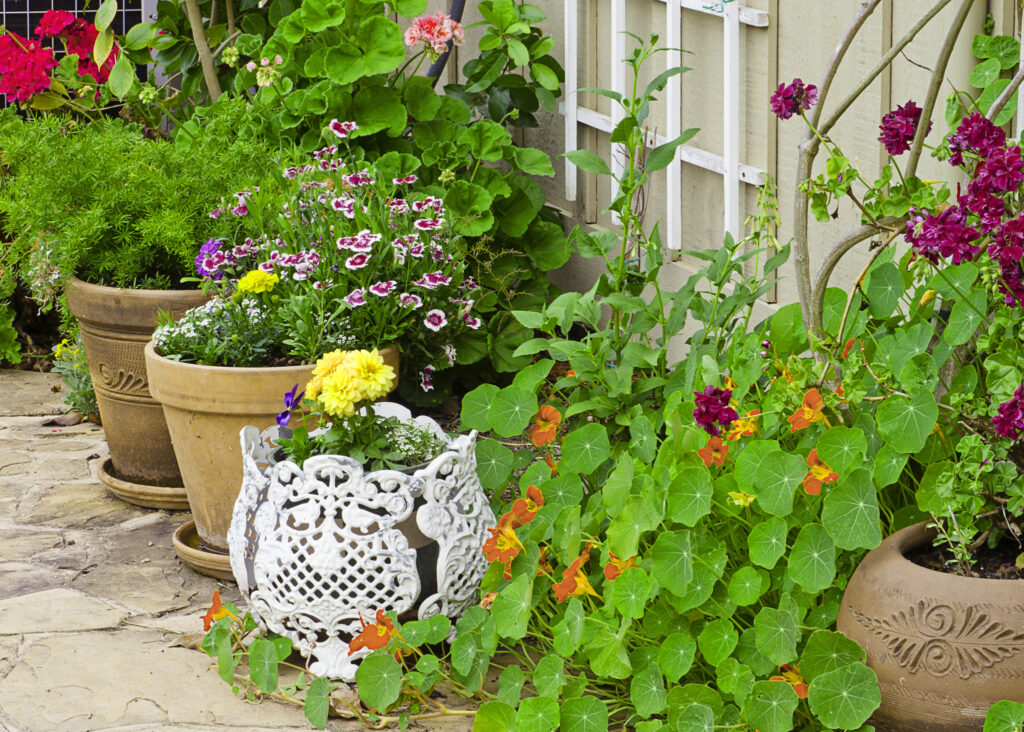 Another good tip is to try intermingling vegetables with flowering plants – this helps to create an even more abundant look. Planting colourful vegetables like red lettuce, rainbow chard or purple-podded peas between other cottage favourites such as marigolds or poppies look lovely too!
---
Growing Your Own Fruit and Vegetables in a Cottage Garden
One of the best things about a cottage garden is being able to pick your own fruit and vegetables. Growing your own produce gives you access to delicious, organic food that's fresher than anything bought in a shop. Plus, there's something very rewarding about picking something you've grown yourself!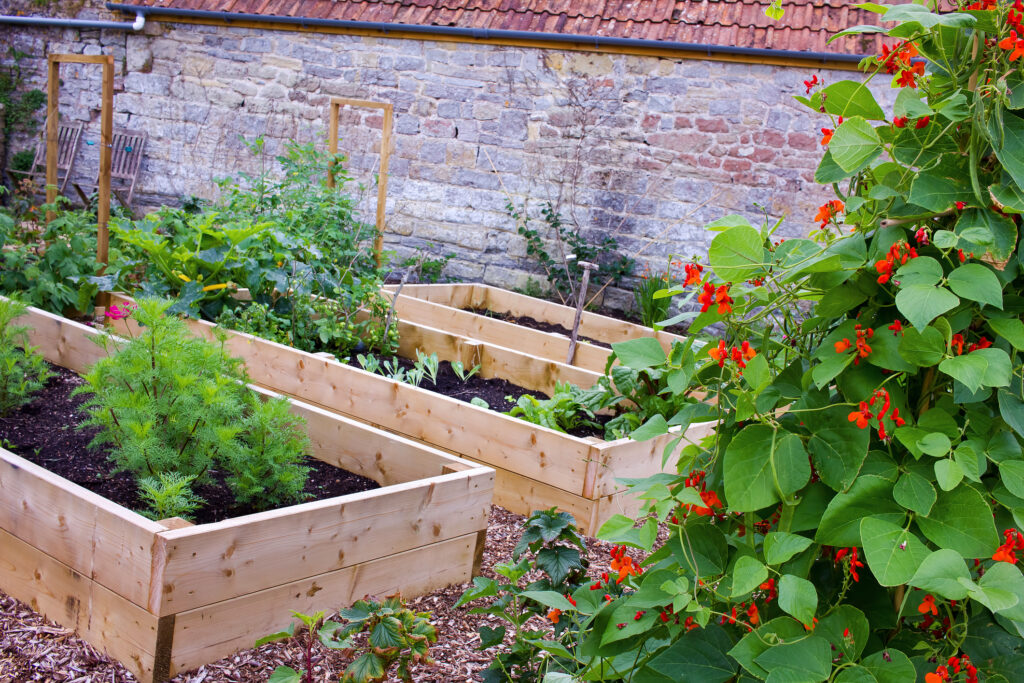 For those with limited space or time, it may be better to focus on one type of crop rather than trying to grow everything at once. Tomatoes, for example, are easy to plant and come in many varieties – from cherry tomatoes ideal for salads through to larger beefsteak tomatoes great for sandwiches.
Berries such as strawberries or raspberries can also be easily grown in containers and provide all the flavour of freshly-picked produce. While they can be a little too invasive for smaller spaces, blackberry bushes can be prolific performers, providing plenty of produce for classic fruit crumbles.
If space allows, you might also wish to add a fruit tree or two. Apples, pears and cherries are all classic options with many varieties to choose from. Besides picking the fruit, you'll also get to enjoy some stunning blossoms in spring.
---
Herbs to Grow in Your Cottage Garden
Herbs can be great additions to your cottage garden. Not only do they look and smell great, but you can also pick them for cooking or for use in natural remedies.
The most popular herbs for a cottage garden are parsley, sage, rosemary and thyme – all of which provide year-round greenery. You could also try coriander, basil or lavender to add interest and fragrance to the garden.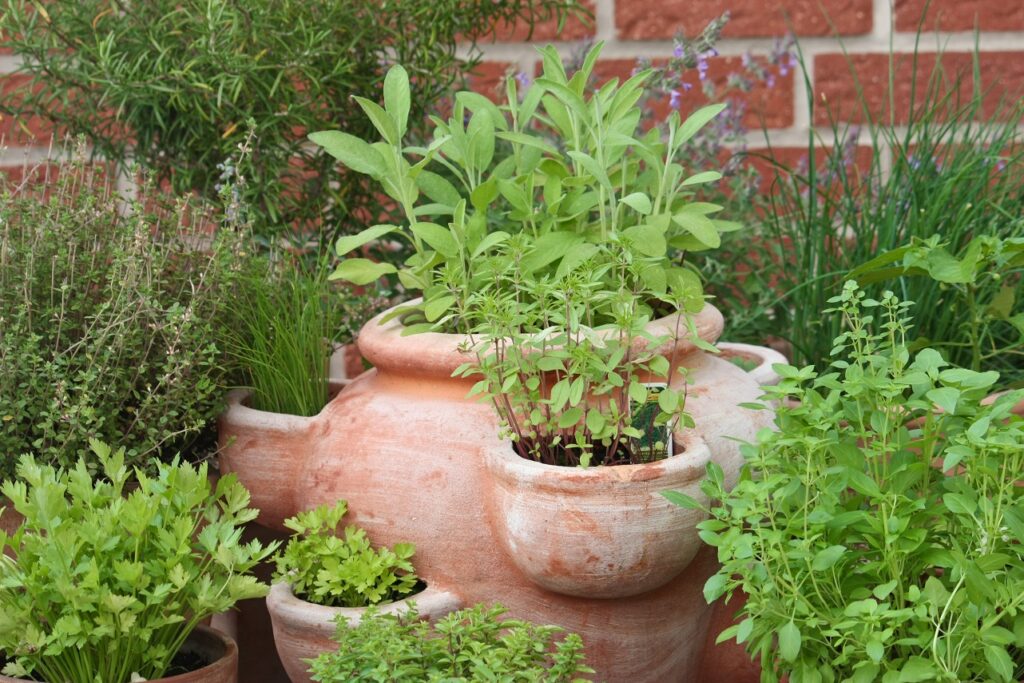 In terms of growing conditions, herbs typically prefer sunny spots with well-drained soil that isn't too rich in nutrients (too much nitrogen will reduce their flavour). If you are short on space, many herbs can be grown in containers so even if you don't have a lot of garden space (a window sill will do), you can still include some of these fragrant plants.
---
Cottage Garden Trees and Shrubs
Trees and shrubs are an essential part of cottage garden design. Not only do they provide shelter, but they also have the potential to create a beautiful backdrop that can be enjoyed all year round.
Native trees such as Hawthorn and Hazel are a great choice for cottage gardens, as well as Crabapple or Cherry. As for shrubs, common favourites include Buddleia (butterfly bush), Weigela and Ribes (flowering currant).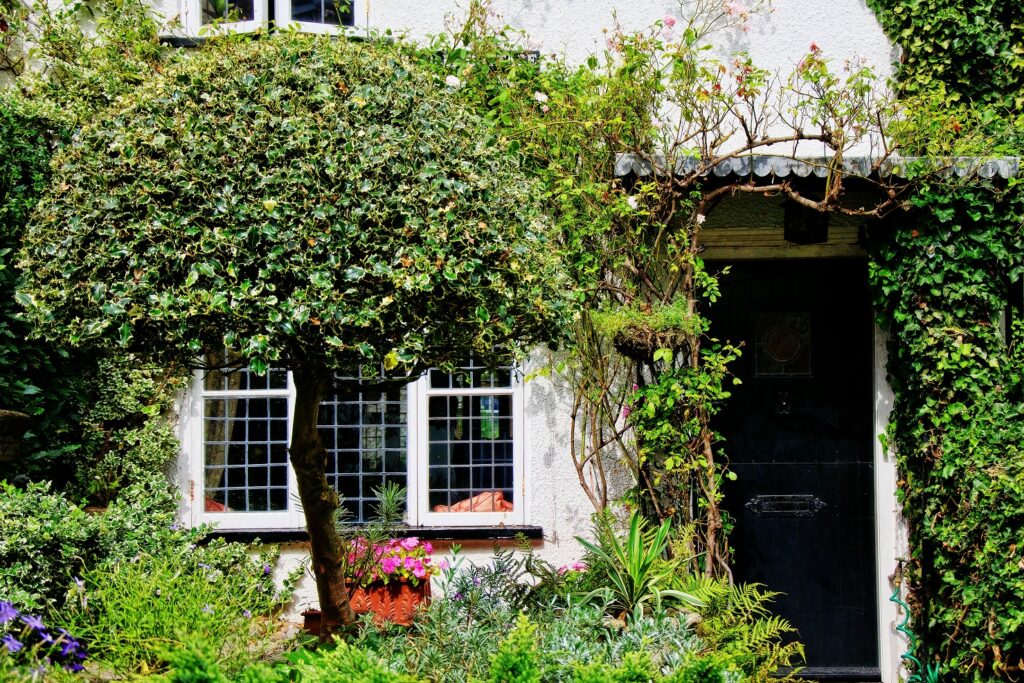 If your garden is large enough you could also try adding an evergreen specimen tree or shrubs such as Yew or Photinia. These plants will add structure to your garden throughout the year while providing habitat and food for wildlife too!
Finally, don't forget climbers like Jasmine, Clematis or even Wisteria – these can be used to great effect when trained up walls or arches. They look stunning in late spring and summer when they're in full bloom and can provide a perfect backdrop for the rest of your cottage garden.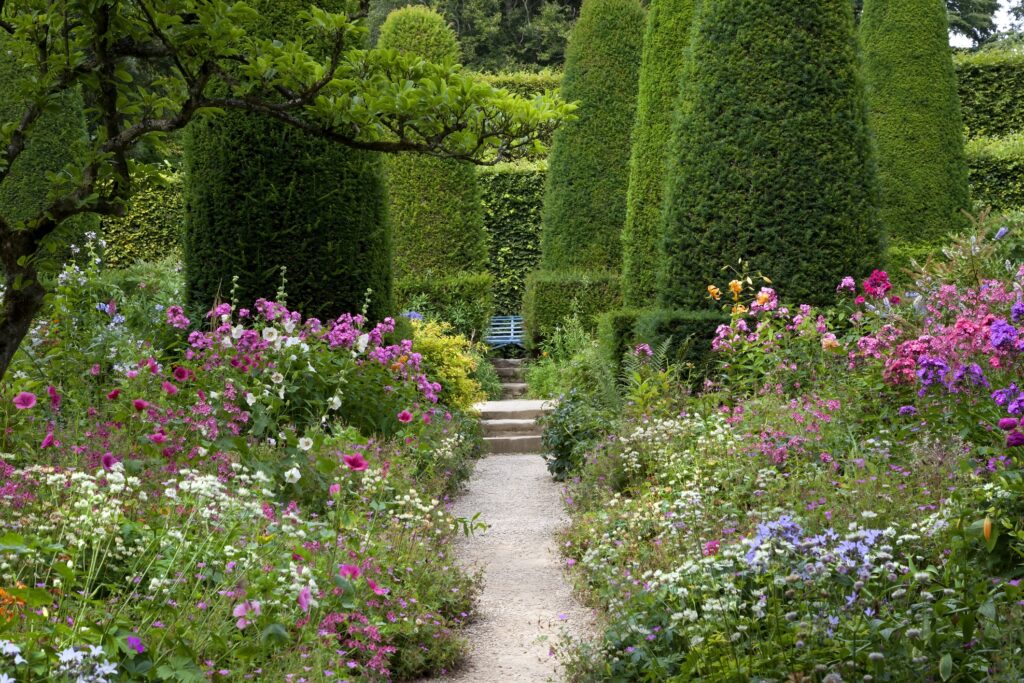 ---
Structure, Beds and Borders
When it comes to beds, go for raised ones if you can – this helps with drainage in wetter climates and will make tending and harvesting your plants easier too. When planning out the design of your beds, bear in mind that a more structured approach (such as alternating rows of different coloured flora) will create an attractive appearance without taking away from the laid-back feel.
You could also incorporate some hardscaping features such as walls, arbours or pathways into your cottage garden. This will help to create a sense of structure and separate the different areas within your garden.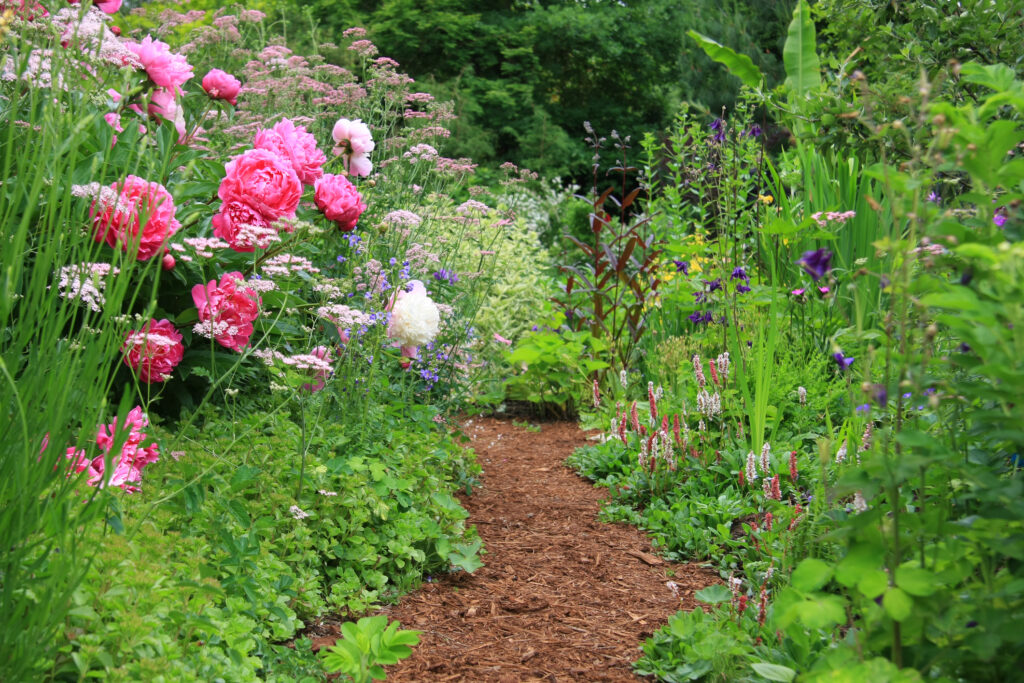 Pathways just need to be functional and needn't be formal or use expensive materials. You might use loose gravel or bark chippings over a weed barrier, or paths made from bricks or stepping stones. It's a good idea to incorporate these pathways into the design of your garden early on. That way, you can plan out where beds and borders should go in relation to them.
When it comes to boundaries, don't forget the white picket fence!
Accessories and Furniture
For the perfect finishing touch, add some stylish accessories and furniture to complete the look. Accessories such as wind chimes or bird baths will give your garden an eclectic feel while adding sound and movement. Garden benches provide a great spot for relaxation – plus if you pick one with built-in storage it also doubles as a practical solution for keeping your gardening tools organised.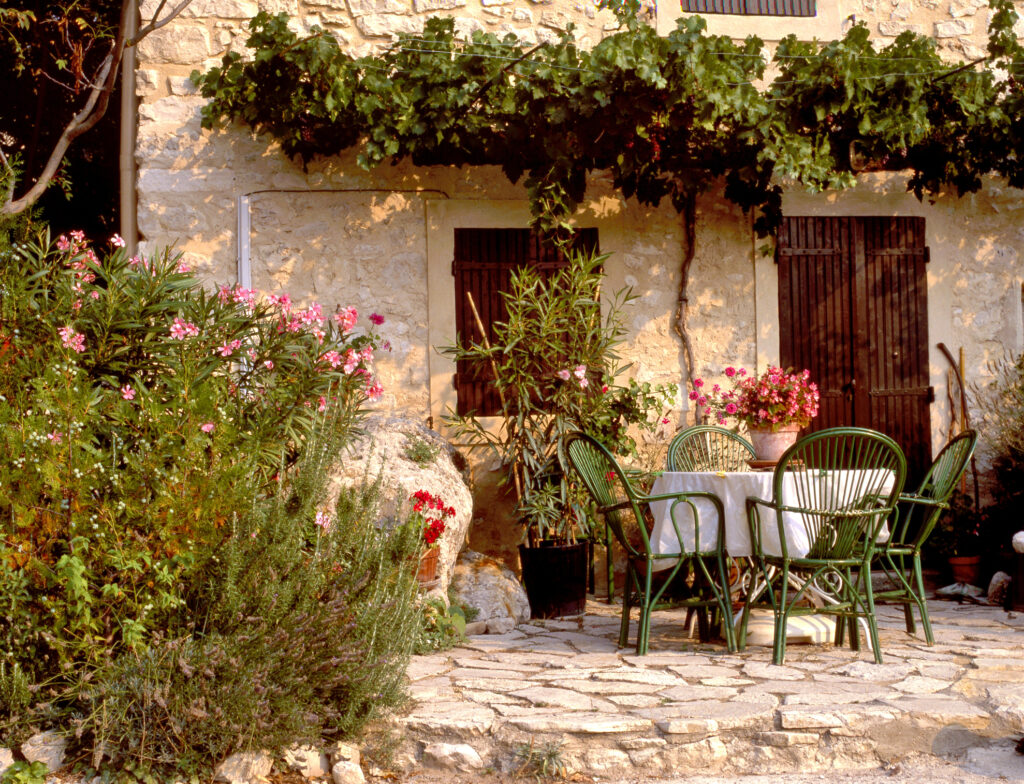 When it comes to furniture, opt for lighter materials like rattan or wicker that won't be too heavy when you need to move them around. Brightly-coloured outdoor cushions will add an inviting touch and make the area much more comfortable – just remember to store them indoors during winter months to protect against the elements.
Consider adding some wildlife-friendly features into your garden like bird feeders, bee-houses and insect habitats – this will help to attract beneficial species and provide shelter for local wildlife.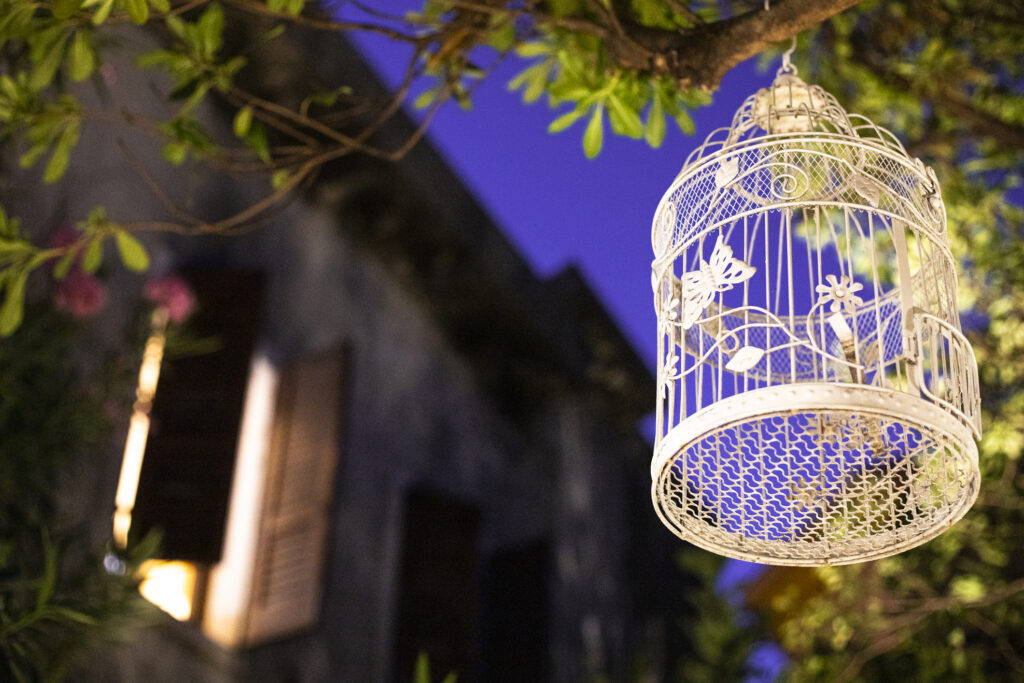 Finally, don't forget about lighting! A few strategically placed solar-powered lights can help create a romantic atmosphere in the evening while enjoying a drink or even a meal al fresco.
Final Thoughts
Creating a charming cottage garden is a wonderful way to make the most of your outdoor space. It doesn't have to be complicated – just remember to choose plants that you can easily maintain and arrange in aesthetically pleasing ways. Add some furniture and accessories for finishing touches, then sit back, relax and enjoy!
We hope you found this guide helpful in designing your dream cottage garden. Now all that's left to do is grab your spade, get planting and watch your garden come alive with colour and beauty. Happy gardening!
What's growing in your cottage garden? Any favourite plants or design ideas you'd like to share? Let us know in the comments!