Tired of spending your weekends tending to a garden? Well, you're not alone! Life is busy and it can be difficult to keep a garden looking its best. The good news is that there are ways to simplify the gardening process without sacrificing beauty. Why not take a look at some low-maintenance garden design ideas that make outdoor spaces attractive while requiring minimal effort? Read on to learn more about creating a beautiful outdoor area with minimum fuss.
Keep it Simple!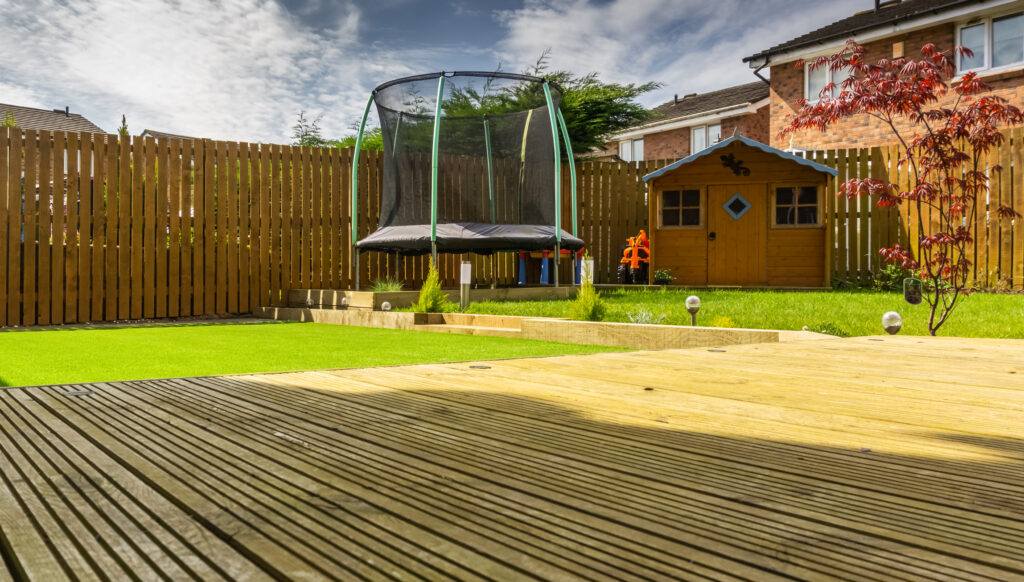 The key to a low-maintenance garden is to keep it simple. Choose straightforward shapes and avoid complicated features like winding paths, ornate fountains or many different types of plants. Instead, opt for clean lines, uniformity and repetition.
Consider functionality – how will you use your garden the most? Besides designated areas for planting, you might include practical seating areas, easily accessible, open spaces and don't forget about storage!
One of the keys to a low-maintenance garden is a simple design, good accessibility and a space that is easy to keep clean and tidy.
Choose Easy-to-Grow, Native Plants
Out of all the ideas on this page, this is perhaps one of the most important. Choosing the right plants is essential if your garden is to be low-maintenance.
In essence, you want to work with nature and not against it. Select plants that suit the environment and climate where you live. Native species will be naturally hardy in winter and require minimal care.
If you can find drought-tolerant plants, then these will also allow for less watering and also consider plant varieties that are known to be good all-rounders.
Here in the UK, it's often worth considering plants that have been awarded 'AGM' status by the RHS (Royal Horticultural Society). This so-called 'Award of Garden Merit' is given to plants that are known to be easy to grow and maintain in normal conditions and have a good natural resistance to pests and diseases.
Plant Trees and Shrubs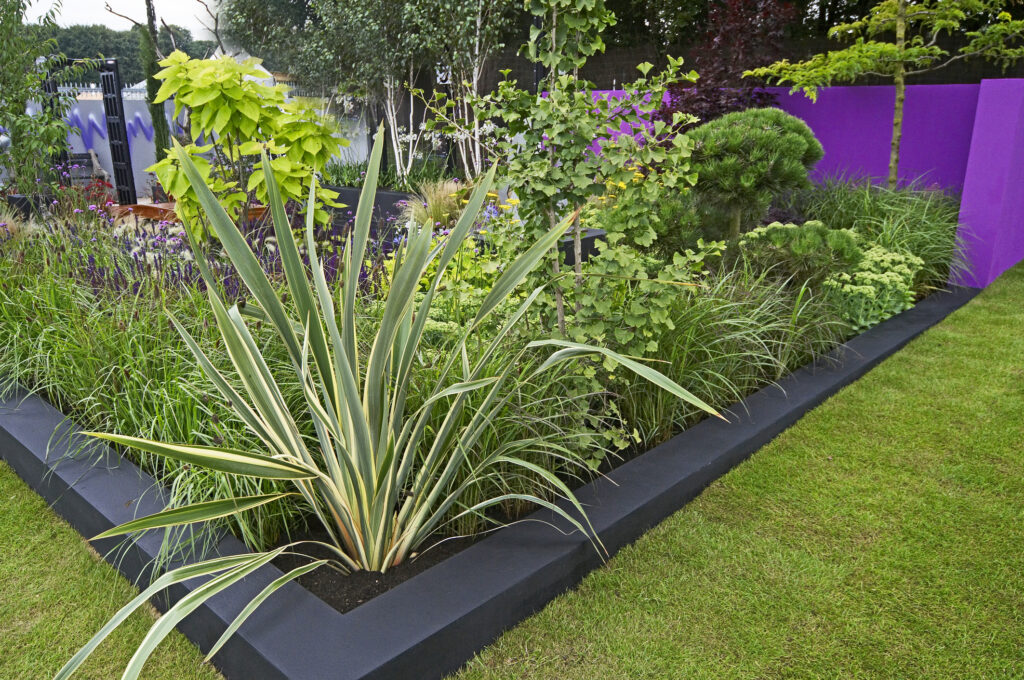 Look for evergreen shrubs and trees, which will remain in your garden throughout all the seasons. They will also help to give your garden some structure and height.
Evergreen shrubs are often low-maintenance, and hardy and can provide a visually pleasing backdrop for the rest of your garden design. Plus, if you choose varieties that bear berries or flowers, then these will provide extra colour in the months ahead.
Grasses can also be an excellent choice as they grow slowly, requiring little maintenance once established.
Use Vines and Climbing Plants on Fences or Walls
This can give your garden a feeling of more depth and also help to soften the look. Completely covering surfaces with climbing plants might also reduce the need for regular maintenance – such as painting or staining.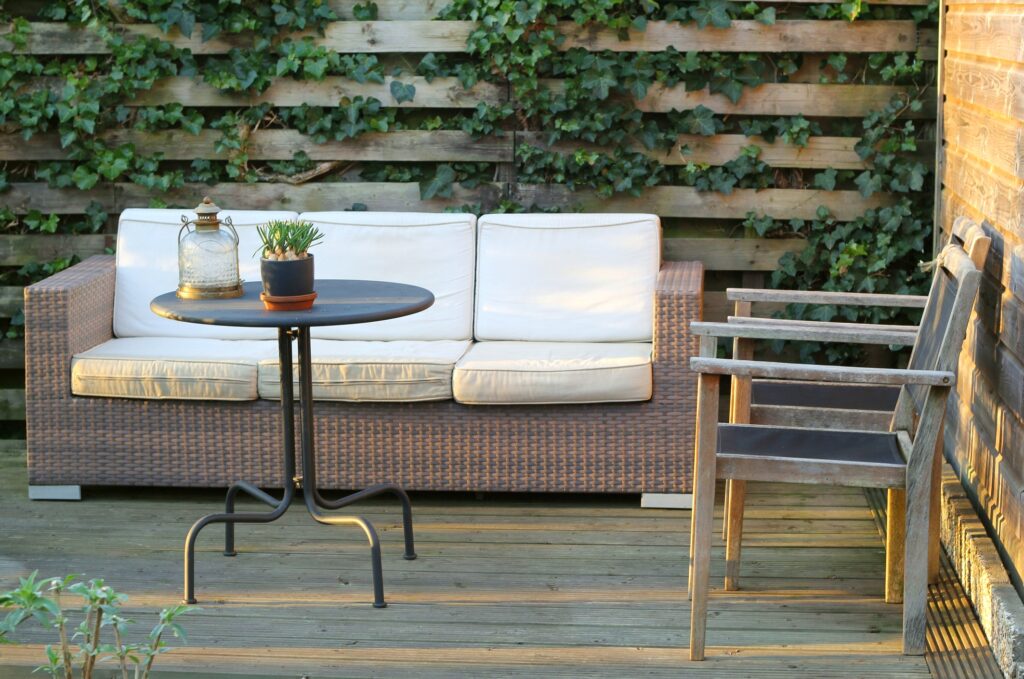 Use Durable Surfaces that Don't Need Regular Upkeep
Rather than using traditional lawns, why not consider gravel, paving or decking for open spaces, pathways and seating areas in your garden? These materials are much easier to maintain than grass and will still look good with minimal effort.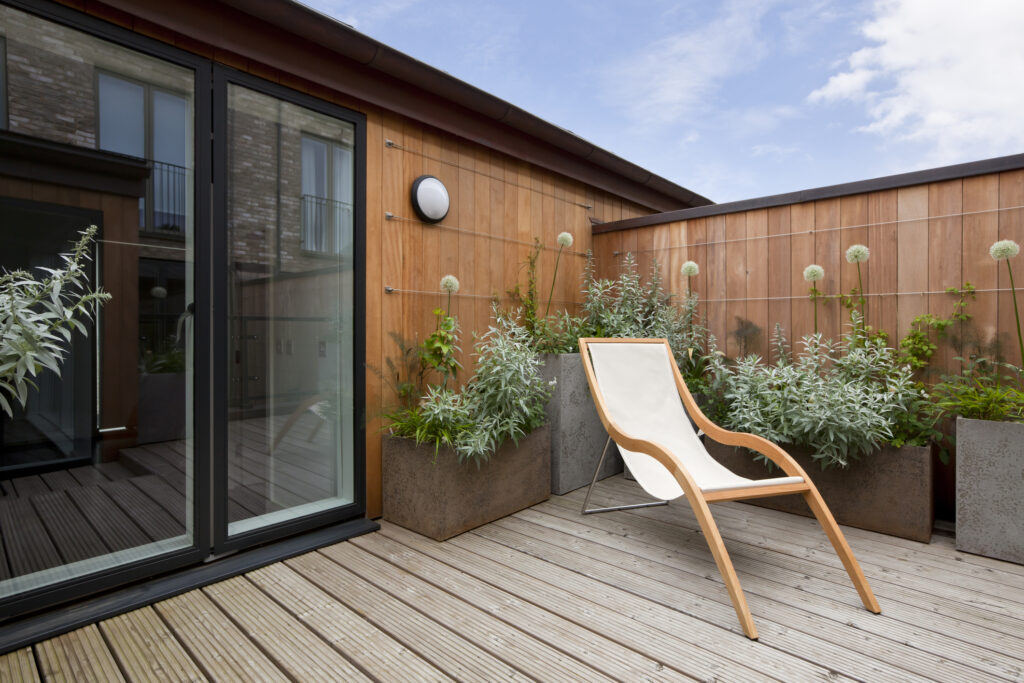 If you have your heart set on a lawn area, then you might consider artificial grass. While it might be more expensive to install than a regular lawn, the trade-off will be never needing to mow or use grass seed and fertiliser in the years to come.
Create Self-Contained Beds and Growing Spaces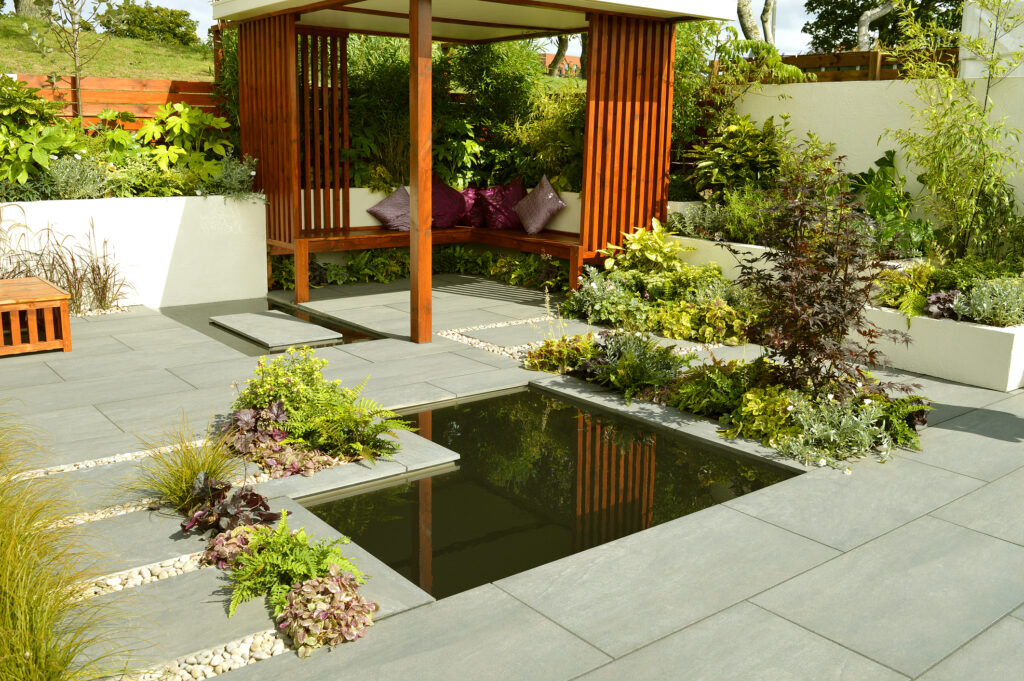 Instead of relying on an extensive network of interconnecting beds and borders, why not group plants in self-contained growing spaces? This will give you a sense of order and make maintenance easier.
You can even opt for raised beds, which are ideal if you find it hard to bend down or have limited mobility.
Use Mulch
The use of mulch or bark chippings in your planting areas will help to reduce the amount of weeding needed. Mulch will also help to keep moisture in the soil, meaning less watering.
As the organic material breaks down into the soil surface, this will also add nutrients back into the soil, which will help to feed your plants naturally.
Use Rocks and Stones in your Design
Adding rocks and stones to your garden can be a great way to break up large expanses of planting while adding extra texture and interest. Plus, they require no maintenance at all!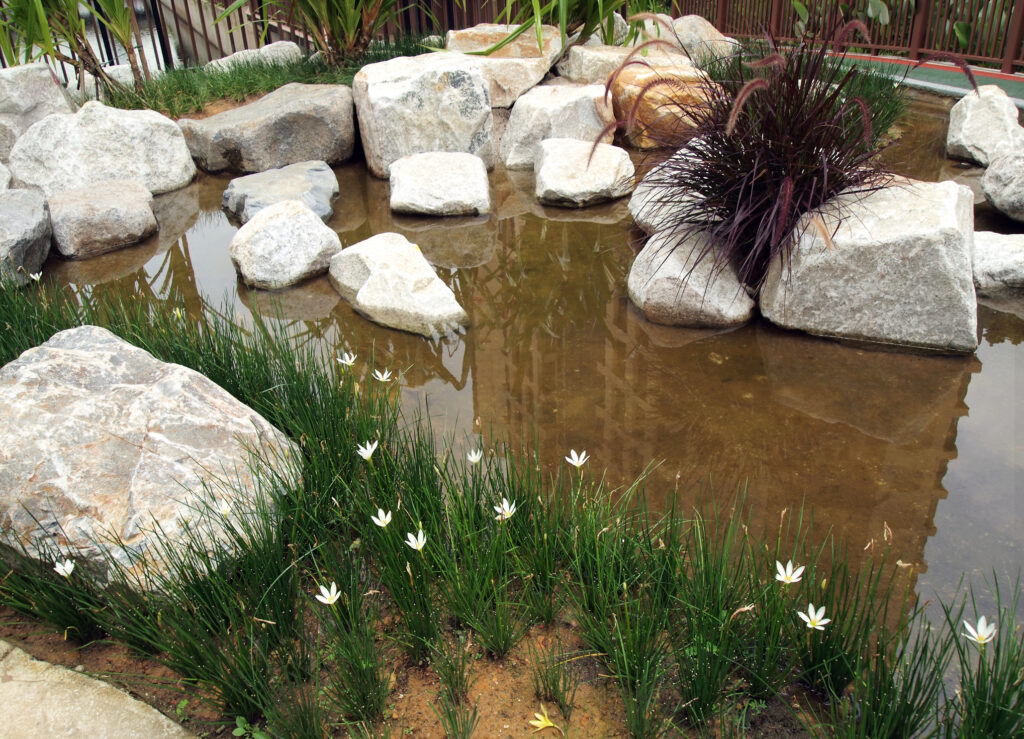 You can do quite creative things with even simple materials, such as sand, pebbles or decorative stones. Natural materials provide a sense of calm, such as raked sand or a dry river bed used in a zen garden. Covering beds with pebbles or stones can help to retain moisture in the soil for nearby plants and hamper the growth of weeds.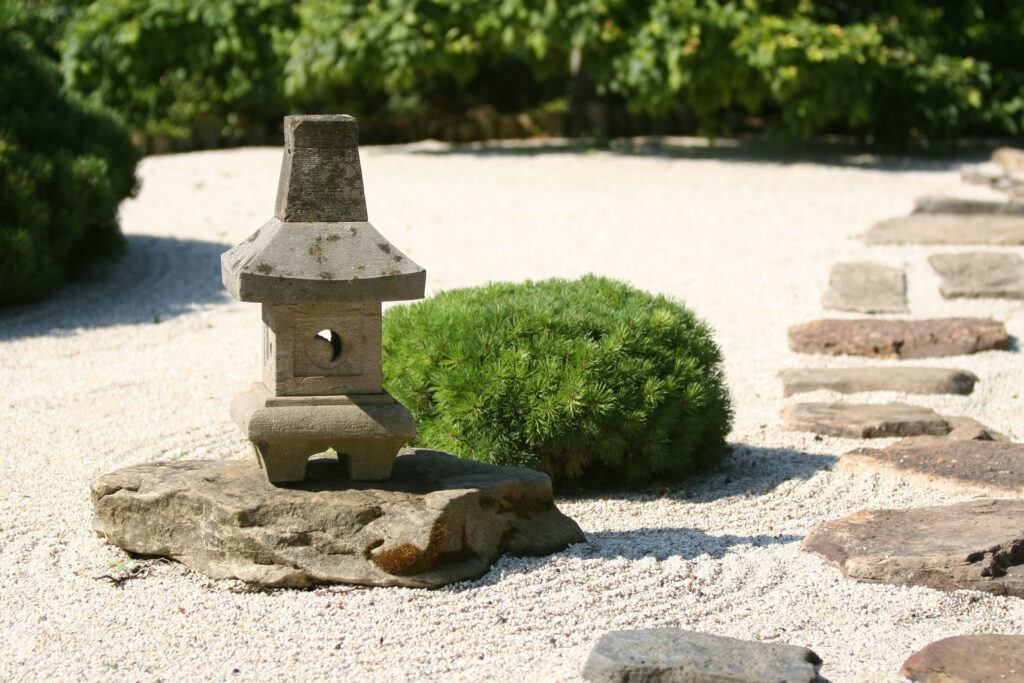 Use Durable Planting Containers like Metal or Ceramic
If you opt to use containers in your design, then choose materials that are more durable and require less repair or replacement. Ceramic pots can look great in a modern garden while metal containers are also an excellent choice if you want something with more longevity.
Pots and planters can come in all shapes and sizes, and provide you with a great way to vary the look of your garden. Ideally, you're looking for something with a timeless style that's finished in a way that won't rust or fade too quickly.
Group Plants Together in Clusters
Grouping similar plants together in clusters can help to give your garden a cleaner, more ordered look. This will also reduce the need for regular maintenance, such as weeding and trimming.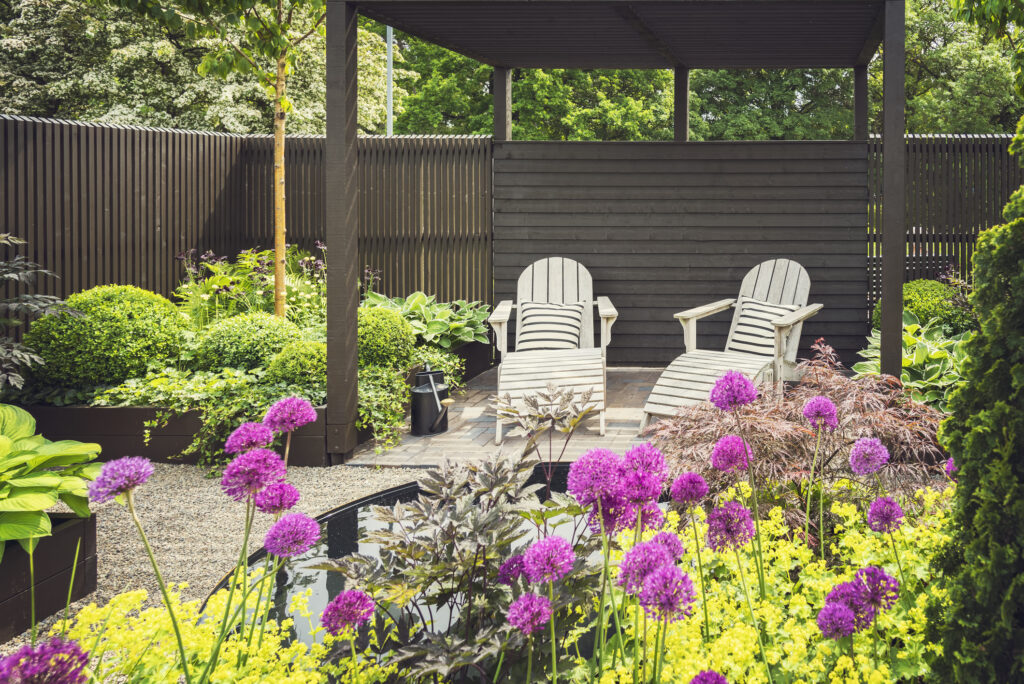 It also makes for easier watering, as everything is easily accessible in the same place. Having everything in one place also allows the use of automated watering systems – such as sprinklers or irrigation systems.
Install Automatic Watering or a Drip Irrigation System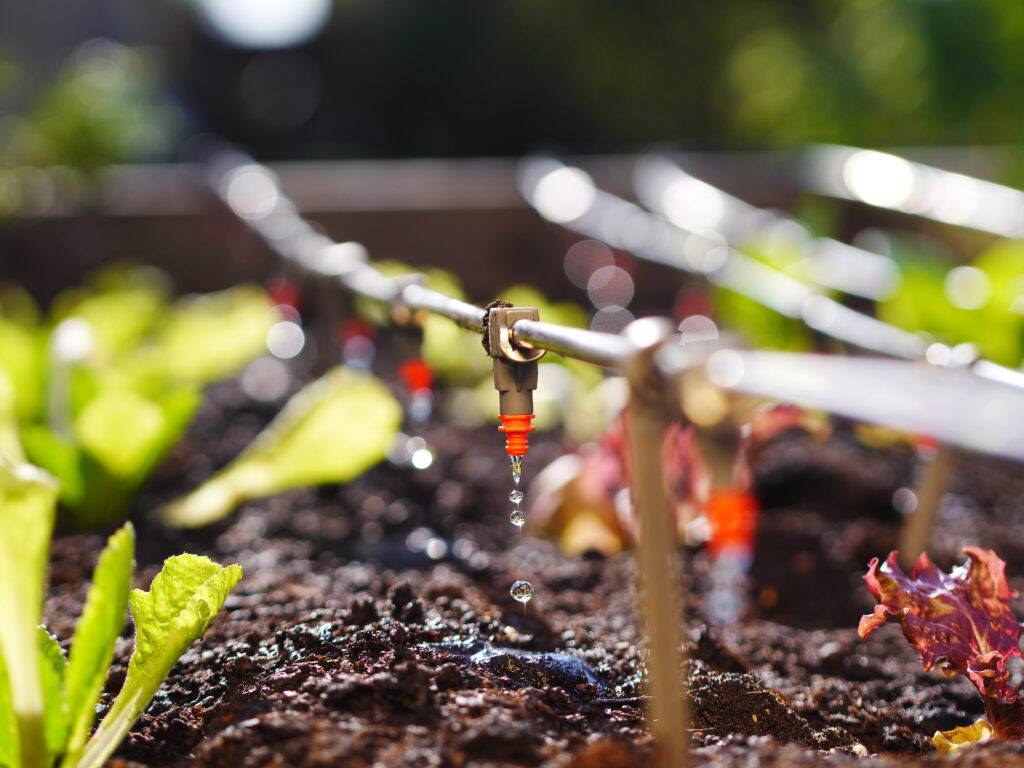 These can help to reduce the time spent tending to plants, as they distribute water at regular intervals throughout the day. Drip irrigation systems are especially useful for watering containers or for areas of your garden where you don't want too much water splashing around.
During particularly warm and dry spells, using an automated water timer means the watering will get done whether you remember or not!
Don't Forget about the Furniture!
When selecting furniture for your low-maintenance garden, try to opt for pieces that are well-built and made from materials that won't fade or warp in the sun. Teak, aluminium and plastic are all good choices for outdoor furniture.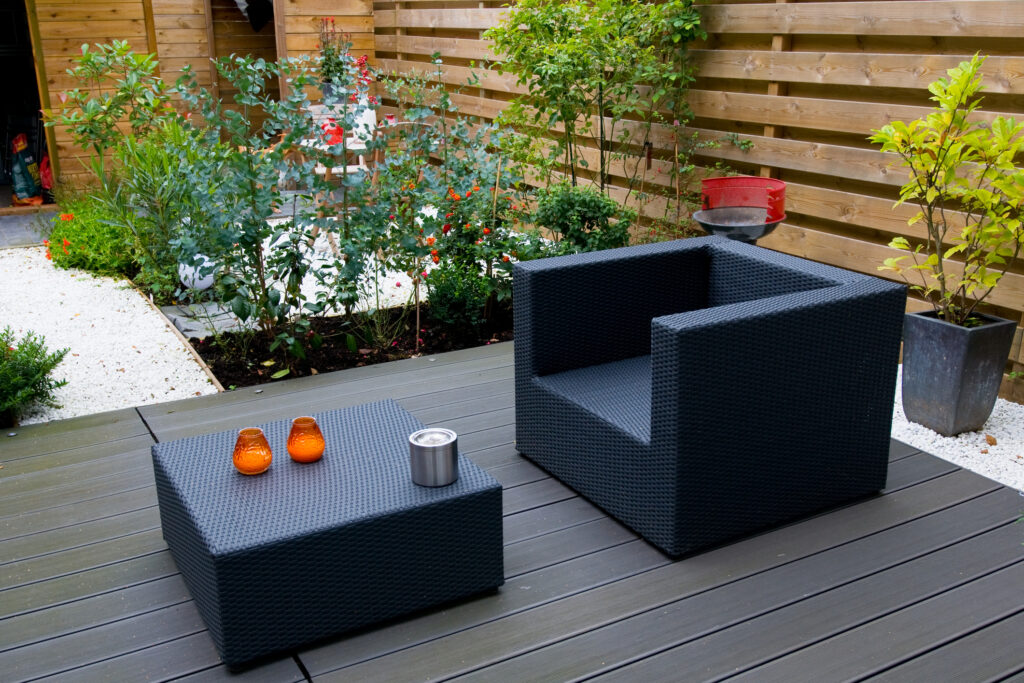 Of course cleaning might be a consideration. Plastics and metals are fairly easy to keep clean but for furniture with fabric sections you'll be glad of removable covers – ideally machine washable. You can also find benches with storage boxes underneath – perfect for storing those items you don't want to be left out in the open air. And of course, if you can, try to purchase weatherproof furniture where possible.
If space allows, consider using an outdoor cover or shade cloth to protect your seating area in windy and wet weather. This will help stop your furniture from becoming too damaged over time.
Make Use of Technology
Like most areas of modern life, there's a myriad of gadgets, apps and electronic devices on offer to help with garden maintenance. We already covered automatic watering systems, but what we didn't mention is that some are now called 'smart' watering systems and can be controlled via a phone app.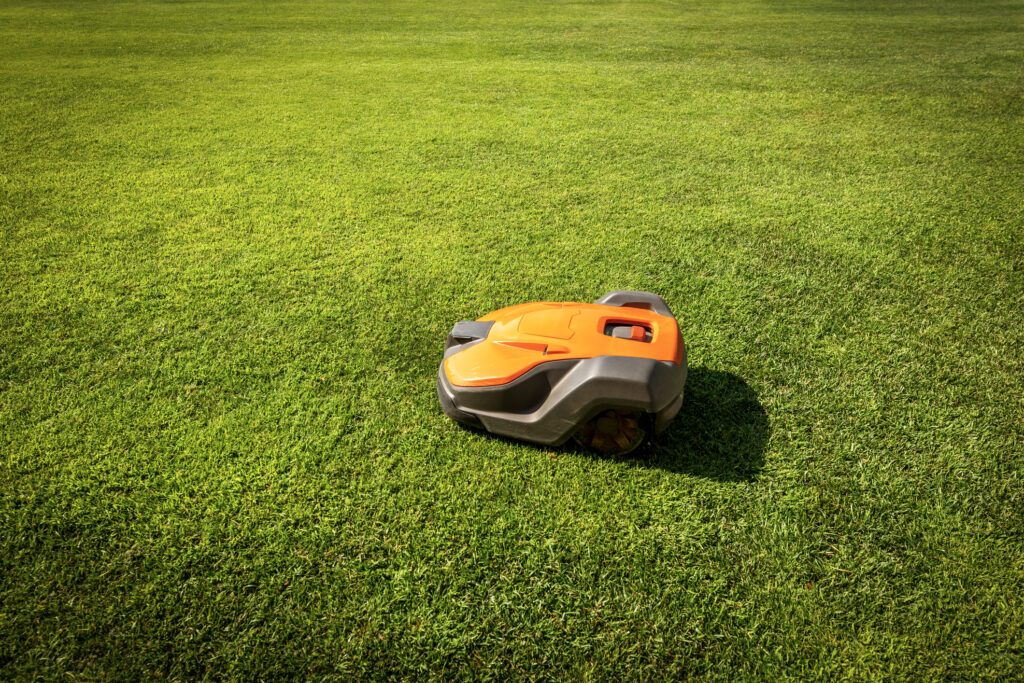 Other nifty gadgets include digital weather stations, self-watering plant pots, solar-powered lighting and If you have a lawn and have plenty of budget, how about a robotic lawnmower?
Final Thoughts
Low-maintenance gardening doesn't have to mean compromising on style or a lack of creativity. By learning to work with nature and putting in place systems that are designed to make life easier, you can create a beautiful outdoor space with minimal effort.
Choose plants and materials that require very little intervention on your part – add plenty of organic matter to the soil, mulch beds regularly and install automatic watering systems to help keep things looking just as they should.
Take your time, do the research and you'll soon have a garden that looks great with minimal effort!
How low-maintenance is your garden? Any garden jobs you'd rather avoid? Let us know in the comments!