Adding the right types of lighting to your outdoor space can transform it into a much more inviting place to unwind after dark. Of course, there are the practical considerations of making sure that you can move around your garden safely without tripping over. But then there's also a more creative opportunity to create atmosphere and highlight certain areas or features. While the choices can be overwhelming, here's a quick run-down on what types of garden lighting are available and some ideas for inspiration…
---
Rope Lights & Fairy Lights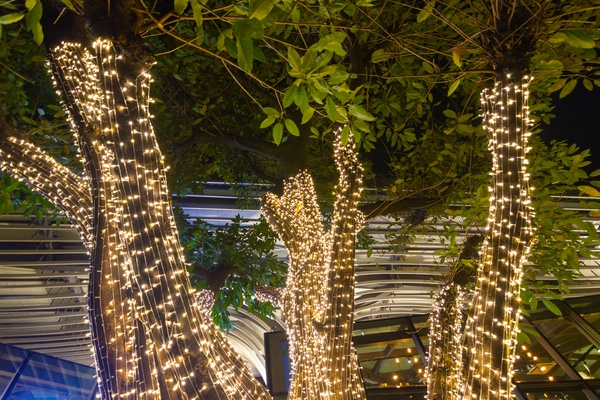 LED rope lights are a great way to highlights specific features in your garden and they're very easy to use. Wrap them around trees trunks, large shrubs or the wooden frame of a pergola. They also look great around lawns and decked areas.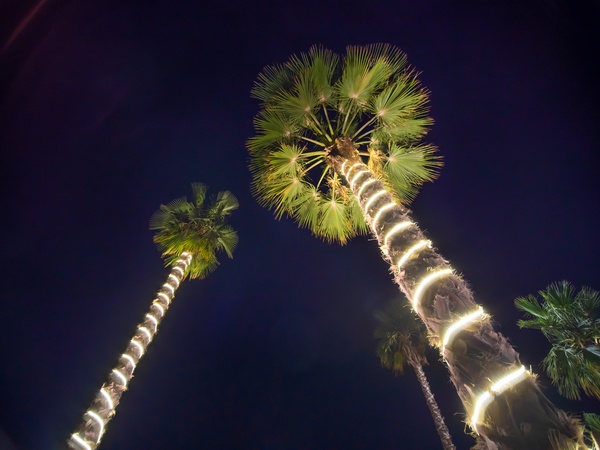 Fairy lights needn't be just for Christmas. There are many types of outdoor fairy lights which will switch on automatically at night and are completely weatherproof. These are great to use all around the garden as they're so lightweight and flexible. Use them to edge pathways and borders or even around the lawn. They can be shaped around any garden feature that you can think of, creating a modern and fun look to your night-time garden.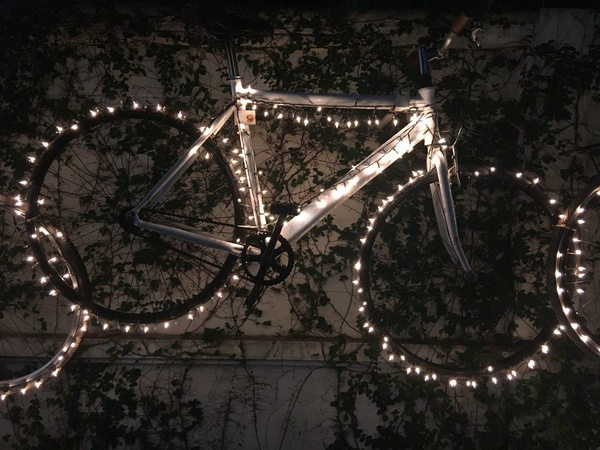 They can also be used to highlight any attractive foliage in your garden, such as a small tree or topiary shrubs. There are both solar and mains powered models available and some have colour changing and blinking modes.
If  you have a tall tree in your garden (and don't mind climbing it), you could create a magical effect by hanging LED string lights vertically from the branches above. Besides creating a stunning glow up in the tree canopy, the LED lights will dance like fireflies in the darkness below. Please be careful when installing though!
---
Festoon Lights
A string of festoon lights can be a quick and versatile way to get lots of light into a space, but without using floods or spot lights.
They're great for running along walls and fences or in-between trees. You could also use them overhead to create an attractive light canopy over a patio or deck area.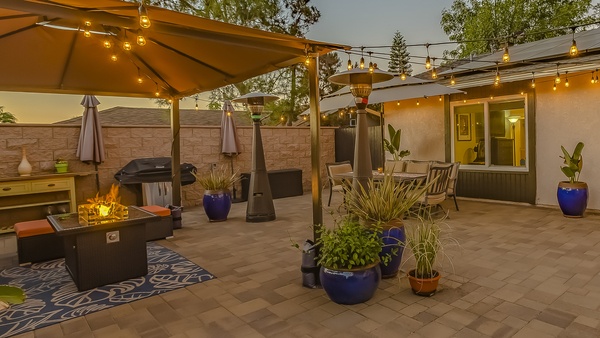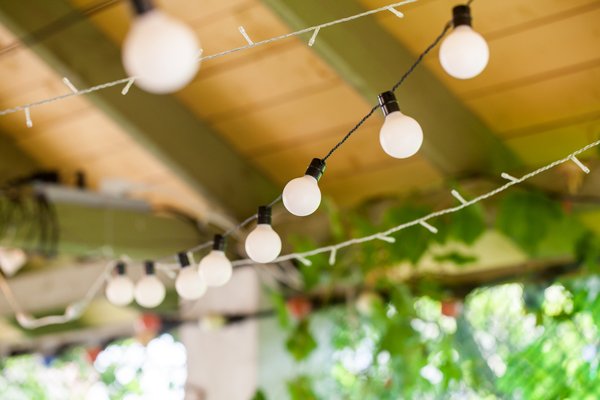 Festoon lights – or 'string lights' as they're sometimes called – are also an easy way to brighten up a garden feature or piece of furniture and while white is most common, there are many coloured options. Lookout for RGB versions with remote control which can be colour changed via a remote control.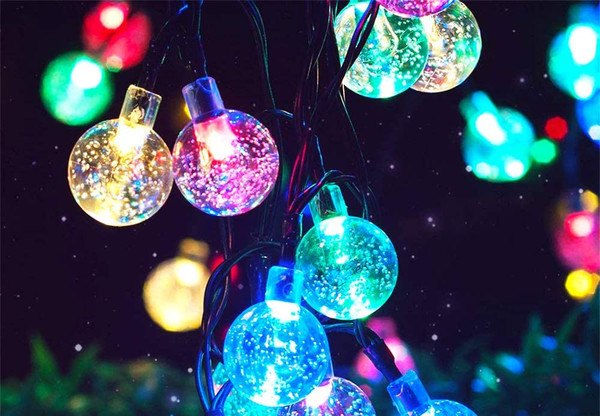 Adding some colour in this way is great for brightening up dull or urban spaces. They can even be used to cheer up your outdoor space on a cloudy day.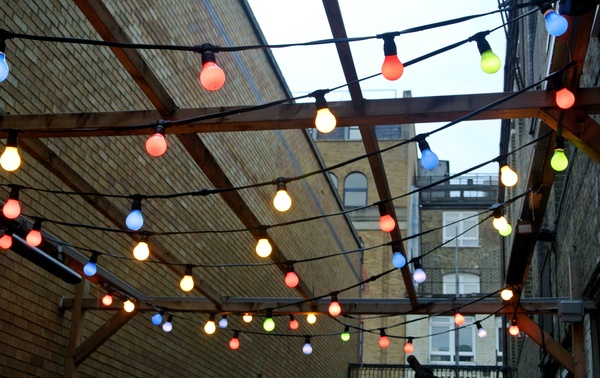 ---
Lamps and lanterns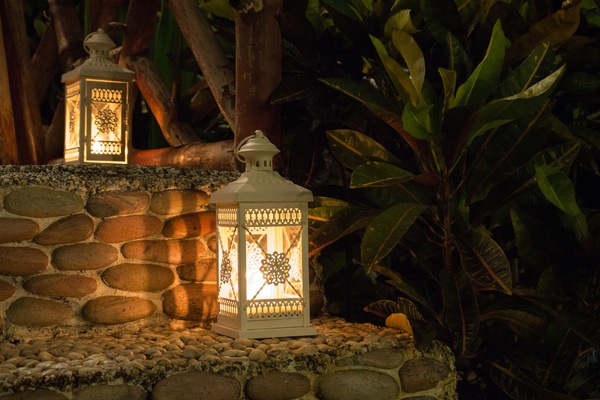 If you'd like the option to change your lighting around regularly, then using a selection of lamps or lanterns can be a great way to get soft, cosy lights around your garden. Hurricane Lamps are a very popular and classic in style – traditionally these were oil lamps in a glass chimney which could be used even in high winds. These days there are many LED battery and solar powered lamps available.

Lanterns are great for getting a soft, warm glow to the surrounding area and look great either hanging from above or even just perched on a garden table-top.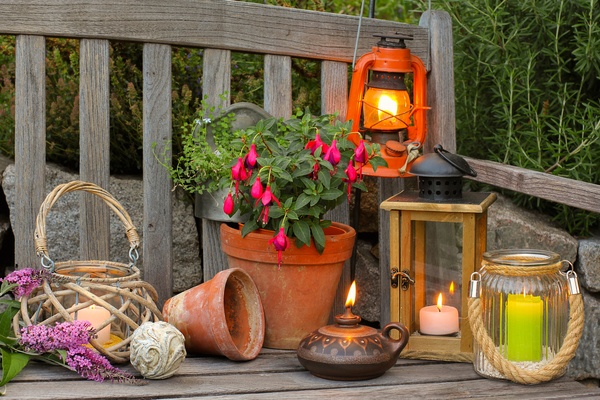 Rather than anything too functional, if you go for decorative designs that tie in with your garden theme, then actually they can look just as attractive during the day.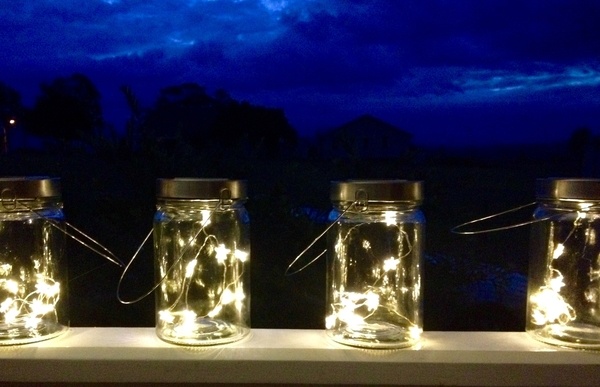 Otherwise, mason jars with enclosed solar powered string lights would make a charming addition to any garden. If you were feeling 'crafty', you could perhaps even make your own lamps by upcycling your favourite glassware or spirits bottles and adding an LED strip yourself – they are easy to find and can be battery operated.
Paper lanterns come in all shapes and sizes, and are light enough to be hung almost anywhere. They can also add colour and charm to your garden during the day.
---
Spots & Uplights

If you'd like to show off a certain feature or plant, then spot lights can be a great way to add some controlled lighting into a space. Besides being more directional and less ambient than most other light sources, spot lights are also good for hiding – so that you see the spill of light but not necessarily where it's coming from. This makes them great for up-lighting trees and large plants, creating a natural yet dramatic feel and showing off your favourite foliage.
Spot lights can really bring out the natural colours within foliage and create vivid contrasting effects, between reds and greens for example. They can also be strategically placed to cast interesting shadows caused by different plants, adding more texture to plain walls and fences.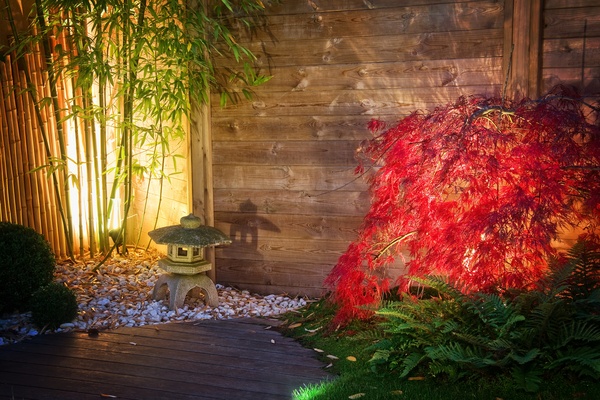 If you'd like more colour in your night garden, look out for colour changing or RGB spots and up-lighters. These can create even more atmosphere and are great for garden parties.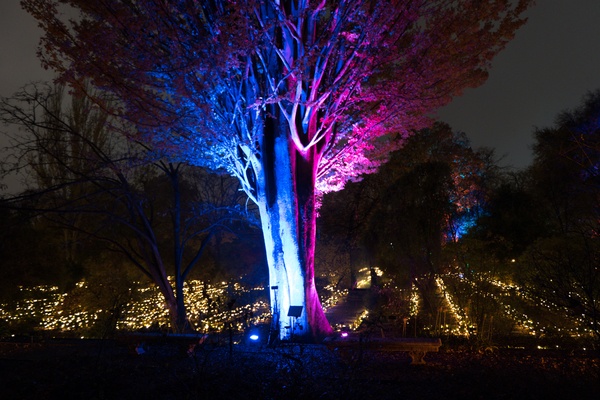 ---
Modern Shapes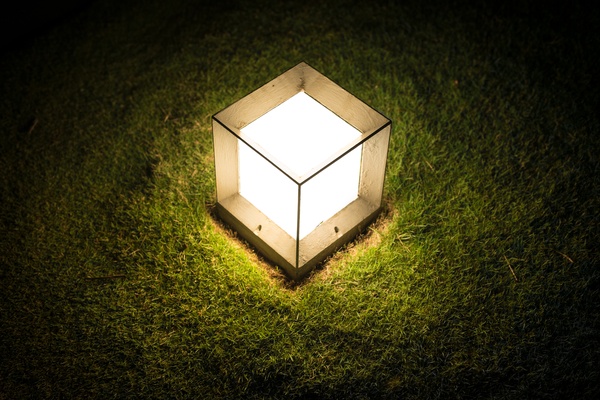 If you're trying to keep a clean, modern or even minimalist look in your garden, then perhaps some glowing geometric shapes could be a good choice? There are various geometric shapes available including cubes, globes, cylinders and even giant pebbles.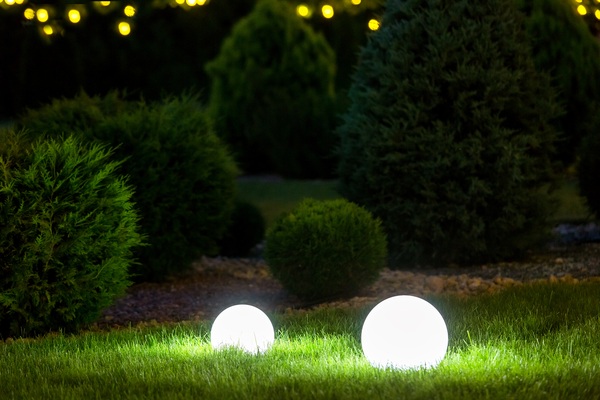 Glowing sphere lamps look great dotted around on a lawn – arrange them to create an artistic feature. Besides adding a cool and contemporary vibe, larger glowing shape lights will also double up as fun yet stylish seating to a patio or decking area.
Glowing cubes can be used as seating or as small drinks tables and there are remote controlled, RGB colour options with both solar and USB charging. They're waterproof too so, should you be lucky enough to have pool in your garden, will even float!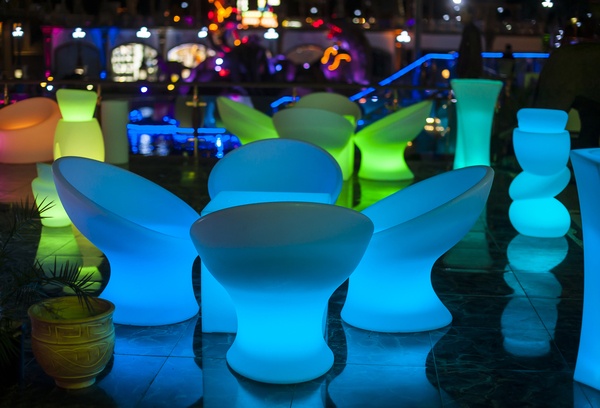 If budget is no problem and you really want to impress visiting guests, then you could splash out on some full-size glowing garden furniture.
---
Wall Lights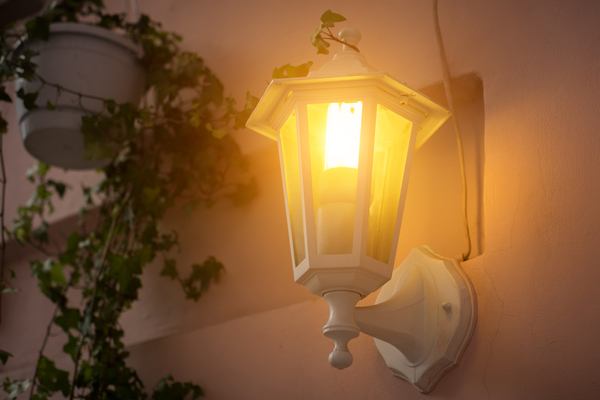 Although wall lights are most commonly chosen for practical purposes, it doesn't mean that they can't be stylish. These Victorian style wall lamps would look great in a rustic or traditional garden. Many wall lights run on mains power but there are solar varieties which are obviously a little easier to position around.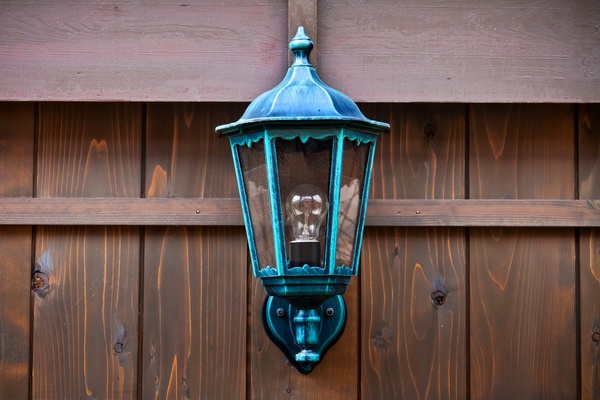 They're usually fairly lightweight so could potentially be installed anywhere – along fences, pergolas or even on garden furniture. If buying modern wall lamps, then a useful feature to look out for is movement detection – usually via a PIR sensor. This is handy for general traffic areas, where you only want the light to come on while you're moving around, for example, near steps or walkways.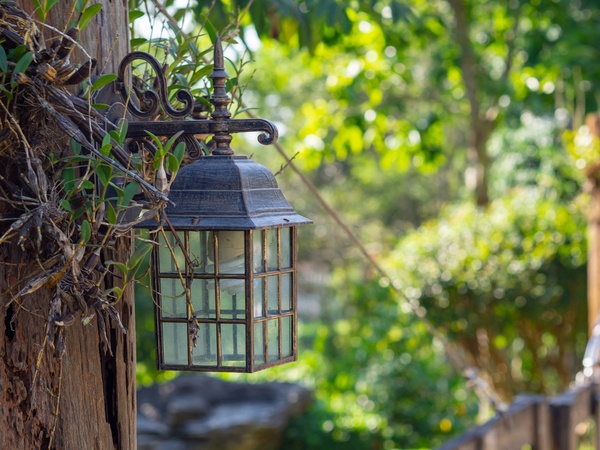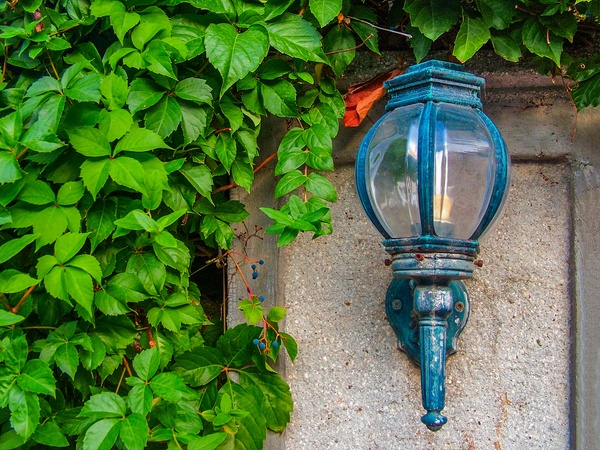 Really, you could modernise most vintage fittings by updating the internal lamp – perhaps adding a solar powered fitting or even an LED faux candle. If you want something really unique, you could visit antique fairs and look out for things like old work lights or car headlamps.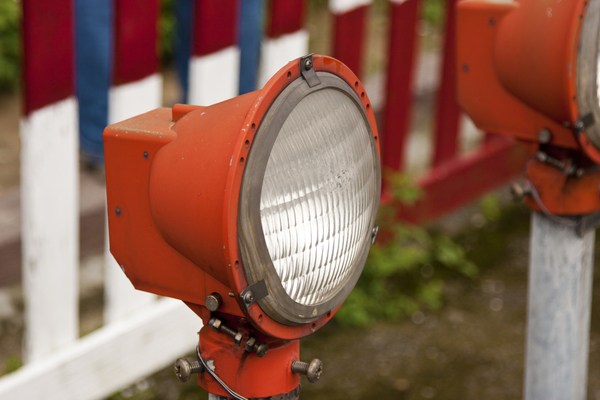 If you're short on budget or don't want to install permanent wall lights, then you could make use of existing lamps and lanterns – sometimes a simple nail in a wall or fence is all that's required. Using hanging lanterns in this way means that you could move a single wall light to different locations in the garden, depending on where you need it at different times.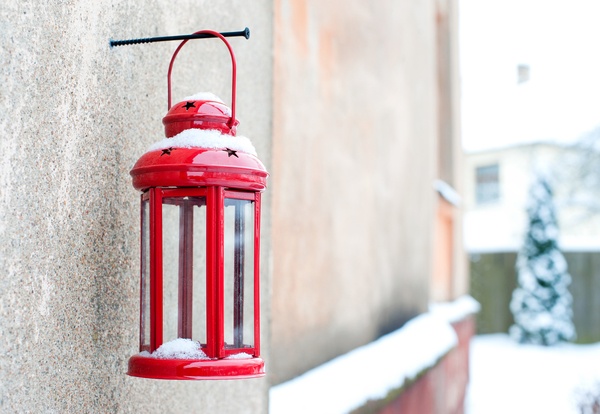 ---
Candles
There's something comforting and timeless about the gentle flicker of candlelight. For thousands of years we've been drawn to the appearance of natural flames, as a source of both warmth and light. However you use them, candles can certainly make your outdoor space more cosy and inviting.

Small tea-light style candles are great for scattering around or placing inside smaller fittings. They can also be used to line pathways or steps. The more classic roman style candles can be used in hurricane lamps or just place them on a table to create the perfect atmosphere while enjoying an evening al fresco.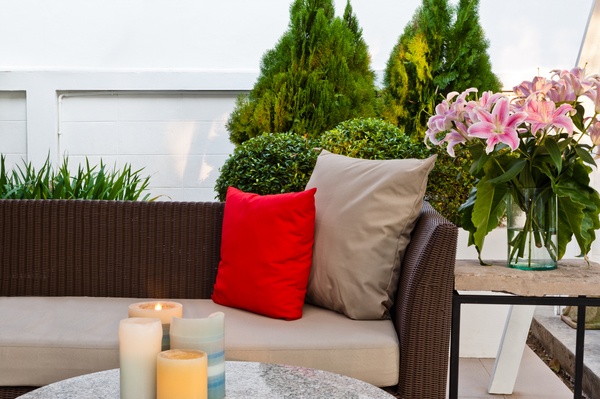 Hanging candles in jars or glass containers creates a modern yet timeless look – use string or rope for a more rustic feel. You could also use coloured glass or even stained-glass decorations.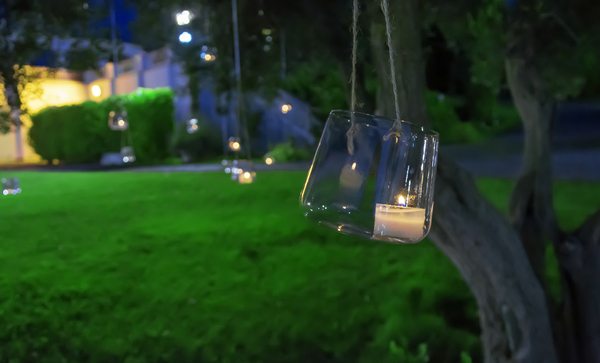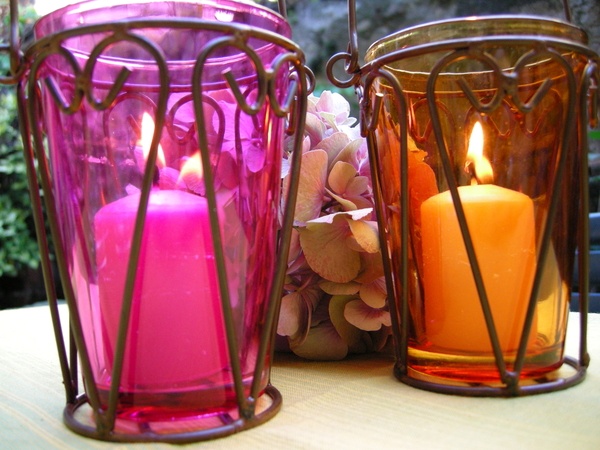 Candles look great around any stoneware you might have – use them to light up garden ornaments and statues. You could also use floating candles in water features and enjoy the reflections as they dance on the water.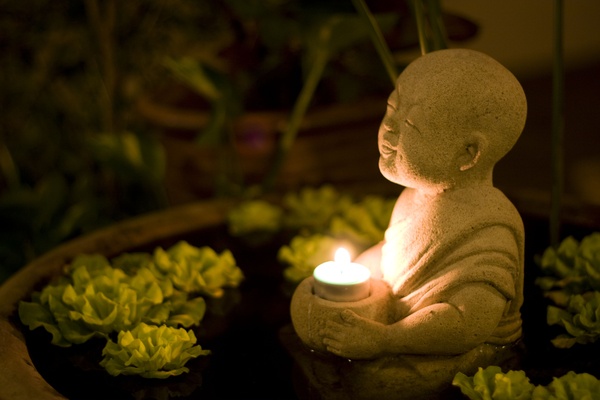 Making use of an oil burner is another great way to relax in your garden. A simple burner using a tea light and some essential oils is sure to add a calm and pleasant atmosphere to your outdoor space.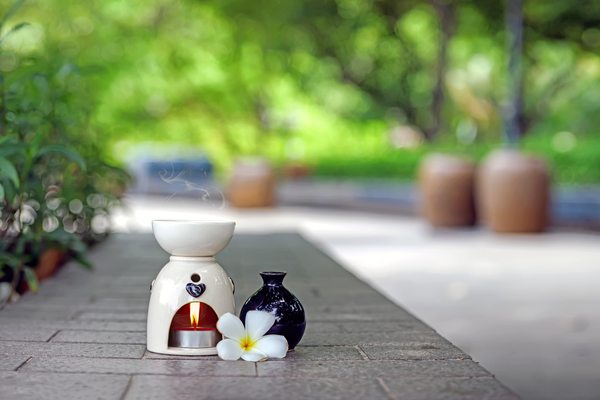 Of course there are obvious drawbacks to using real candles in the modern garden. For example, if you have pets or kids then you might have safety concerns about leaving open flames unattended. Thankfully these days, there's no need to mess about with matches and dripping wax. In fact, Faux LED candles can give you a similar very effect but are much safer and easier to use.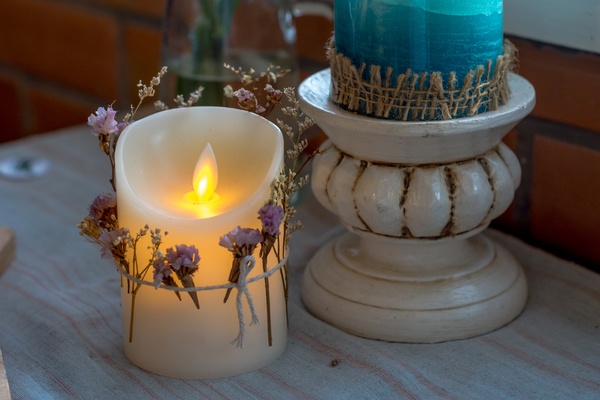 There are many waterproof kinds which are ideal for all weathers. There are also extra features to look out for such as flickering effects, colour changing and self-timers. Some even come with a remote control.
---
Stake Lights / Post Lights

In the same way as wall lights are generally used with a practical purpose in mind, stake lights or post lights can be used to guide you safely around your outdoor space – along paths, beds and other borders.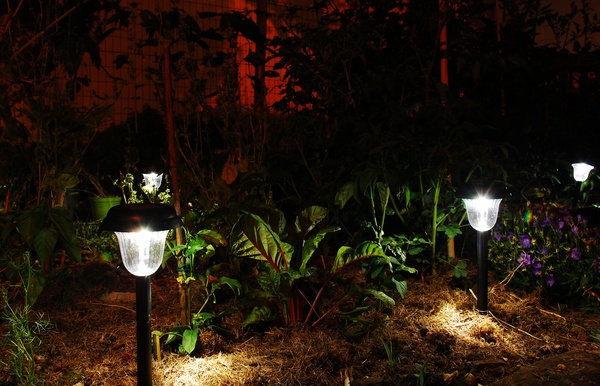 Common designs are modern, with a silver chrome or black finish and when used sparingly can add a tasteful, contemporary look to most gardens. The lighter, plastic models are a very inexpensive way to add some night time interest to your garden and can also be hidden amongst beds to bring your plants to life in the dark.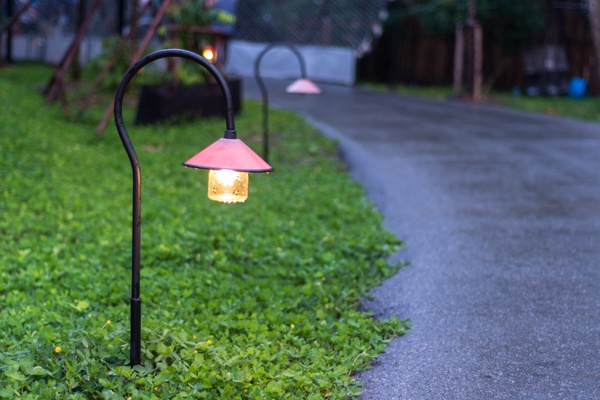 If you have a bit more budget, then look out for more ornamental variations – usually constructed from metal – as these will look more attractive during the cold light of day.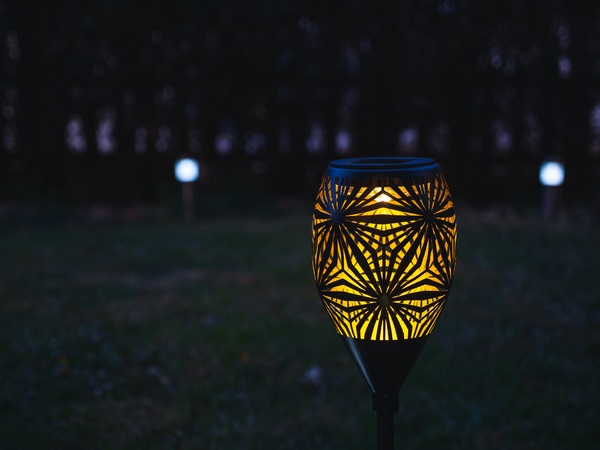 You could also try something like these metal, stencilled decorative lights, which cast interesting shadows across the ground.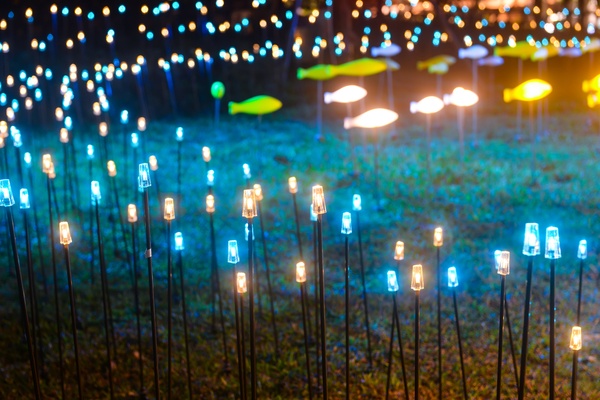 As with most lighting, there are more wacky options available – such as these glowing toadstools, which bring a fun and slightly magical vibe to your flowerbeds.
---
Final thoughts
The way you use lighting in your garden can completely transform how it feels at night. Just as you can shape your outdoor space with shapes and colour using plants during the daytime, you have just as much control over the style of your garden by using lighting after dark.
Of course, there are some precautions to take when dealing with electricity outdoors and it's always a good idea to seek professional advice before installing anything that uses mains electricity. However, with the great range of solar powered options these days, it really doesn't matter which areas of your garden you want to light up – there should nearly always be a solution.
When lit well, your garden will become cosier and more inviting – helping you to enjoy the outdoors even when the sun goes down.
If you have some great garden lighting ideas you'd like to share, then please do post them in the comments – we're always on the lookout for great ideas!