If you're looking for some inspiration for your next garden party, you've come to the right place! In this blog post, we'll share some tips on how to plan the perfect garden party. From food and drinks to games and entertainment, we'll cover everything you need to know.
Plus, we'll give you some ideas on how to decorate your garden for the party. So whether you're planning a small gathering or a large-scale event, we've got you covered!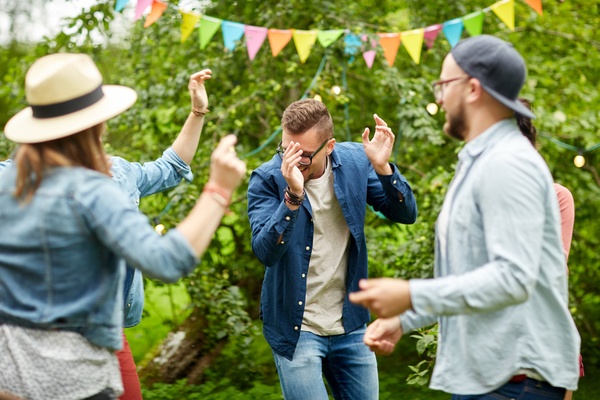 Choosing a theme or style of garden party
Choosing a garden party 'style' is always a great place to start. Of course, this will depend on the guests and the occasion. Will it be a casual affair or a more formal event?
Once you've decided on the overall tone, you might also be more specific. Will you serve food? How will you entertain your guests? Will you choose a theme for your garden party?
Some popular garden party themes include:
Tea party / Afternoon tea
Picnic (or even a teddy bear picnic)
Barbecue
Pool party
Flower garden party
Fancy-dress party
You might also theme your party around a certain event – such as a birthday, anniversary, or perhaps a sporting event, like Wimbledon or a football tournament.
No matter what theme you choose, remember that the focus should be on having fun! So don't stress too much about getting everything perfect – your guests will be more than happy to mingle, chat and enjoy the party atmosphere.
The next step is to start planning the details of your garden party. Here are a few things to think about…
Garden party food: what will you serve your guests?
If you're throwing a garden party, then you'll need to make sure you have plenty of delicious food to keep your guests happy. A barbecue is always a popular option, and there are endless possibilities when it comes to choosing the perfect menu. Burgers, hot dogs, and kebabs are usually very popular and easy to prepare. If you're catering for vegetarians or guests with allergies, then be sure to offer plenty of meat-free options.
Place snack bowls around with nuts or tortilla chips. For the healthy types, you might like to make up some fresh salad. Also, things like brightly coloured carrot sticks, peppers, and cherry tomatoes will look great as part of your spread. Finish off with dips, such as houmous or guacamole.
And if you want to keep the kids entertained, then simple finger foods such as sandwiches and crisps will do the trick. Pizza is another great informal choice and if you want to avoid the work, you could even have it delivered.
Don't forget desserts! You might serve a tray of fresh fruit, ice creams, or perhaps some cupcakes would go down well?
With a little planning and creativity, you can easily prepare party food that will please everyone.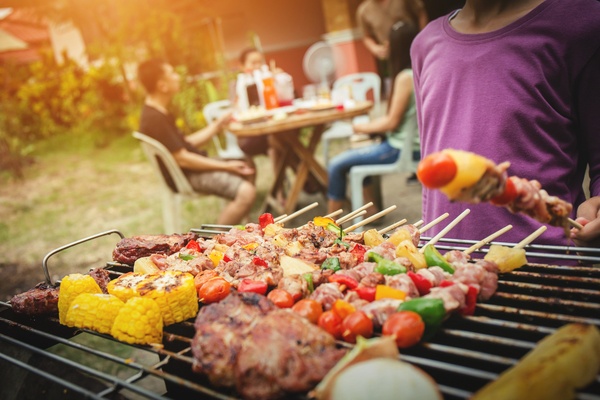 What about drinks?
When it comes to drinks, you'll need to decide what kind of party you're throwing. If it's a more formal affair, then perhaps some nice wine, prosecco, or even champagne. For a more relaxed gathering, beer and cocktails might be more suitable. Soft drinks and juices should also be available for those who don't drink alcohol.
Some guests might also like a hot drink – even in the warm weather. Make sure you have everything you need for making teas and coffees. Don't forget milk and sugar or sweeteners.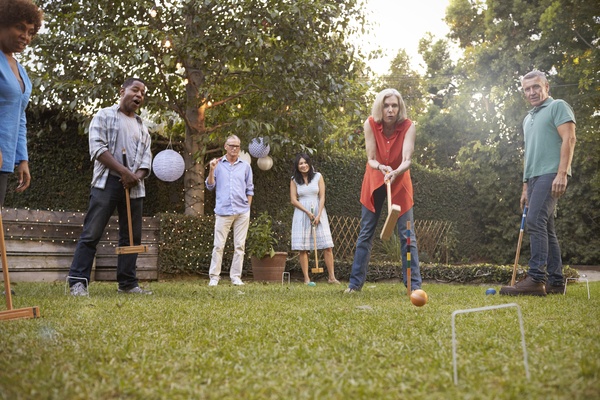 Games and entertainment
Now that you've got the food and drink sorted, it's time to think about garden party games and entertainment.
If you're planning a laid-back garden party, then it might be that guests will just be happy to kick back and chat. At the very least, you might want to think about some background music to create the right vibes. You might like to create a playlist before the party or use a streaming site with curated music to suit your style.
If you want to get people up and about, then garden party games are a must! Classic garden party games like croquet, boules, or badminton are always popular. If you've got younger guests, then they might enjoy a game of water balloons or a treasure hunt.
(Find more tips on entertaining the kids here: Best outdoor garden toys for kids – 20 child-friendly garden ideas)
Making Your Guests Comfortable
One of the most important things to think about when planning a garden party is making sure your guests are comfortable. If you're hosting in the summer, then make sure there's plenty of shade and that you have some parasols or umbrellas on hand.
Give your garden furniture a good clean and perhaps add cushions or coverings to bring some added style and comfort to older furniture.
You could also bring out blankets for grass areas and 'cosy up' tired decking, patio, or concrete areas with a trendy garden rug.
Another top tip is to provide insect repellent and citronella candles to keep those pesky mosquitoes at bay!
Decorating for Your Garden Party
Now it's time to start thinking about decorating your garden party venue. Depending on the theme or style of your party, you might want to add some bunting, ribbons, balloons, or paper lanterns.
It might be worth pausing for a few minutes to have a thorough look around your outdoor space. Are there any jobs to be done, so that your garden will look its best? Tidy up any garden waste, mow the lawn and pull up some weeds where required.
There might not be enough time to do much planting, but there are some little tricks to give your garden a quick lift. For some instant colour, you could buy some flowering bedding plants. Add them to old pots and containers or even place a hanging basket or two.
Plants like Pansies, Petunias, and Geraniums are cheap to buy – often on sale in large supermarkets. These will add some instant festive colour and also look for English Lavender to add some classic summer fragrance to your outdoor space.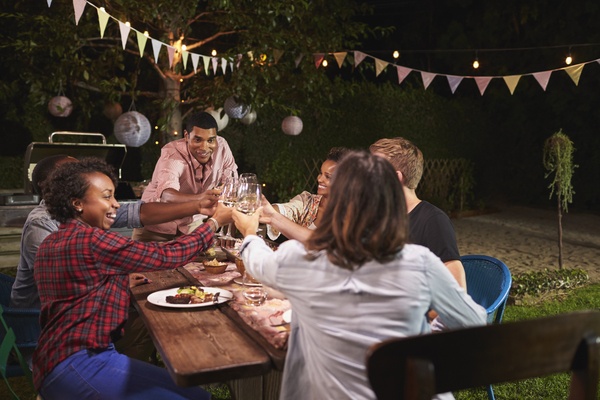 If your party will run into the evening, then what about lighting? Could you light some candles for extra ambiance? Something as simple as a few tea lights in glass jars can have a lovely effect. Otherwise, you might have some outdoor string lights or solar lanterns you could make use of.
(For more lighting ideas, check out this post – Outdoor Garden Lighting Ideas)
Although it's a garden party, your guests may wish to venture indoors – to use the bathroom or wash their hands, etc… Think about which way people will access your home and consider how you can keep the party atmosphere going indoors.
Extra tips
Here are a few last-minute tips that might just help your garden party to be a great success…
Make sure you have enough garden furniture. You don't want your guests to be sitting on the ground (unless that's the vibe you're going for).
Create a 'bar' area where people can have fun making cocktails (or non-alcoholic 'mocktails).
Set up a table with all the necessary items for guests to help themselves. Even if you're preparing food, take the pressure off a bit by leaving snacks and drinks out for everyone to graze.
If you have young children attending, it might be a good idea to have a few garden toys on hand, such as balls and water guns. This will help to keep them entertained.
Do as much preparation as you can before the party starts – especially when it comes to catering. You don't want to spend the whole time in the kitchen.
Final thoughts
Planning a garden party can be great fun. By following the tips above, you should be able to throw the perfect garden party that your guests will love! Just remember to relax and enjoy yourself. Thanks for reading.
I hope you enjoyed this post. If you have any questions or would like to share your garden party successes, then please leave a comment below.