If you go out and buy a plant today – whether that's from a garden centre, a supermarket or even online, chances are that it will be sitting in a plastic pot. We've all heard about the problems caused by plastic around the world, and it's probably fair to say that most plastic offerings could be considered 'eco-unfriendly' plant pots!
The big issue with plastic pots (and other plastic containers for that matter), seems to be the way that they're made and disposed of. It takes fossil fuels to create them and then many will end up being incinerated or left in a land fill – taking years to decompose. While some might be recycled, it seems that facilities to do so are scarce.
So, perhaps by definition, an 'eco friendly' plant pot simply needs to be one that doesn't damage the environment in its manufacture or disposal.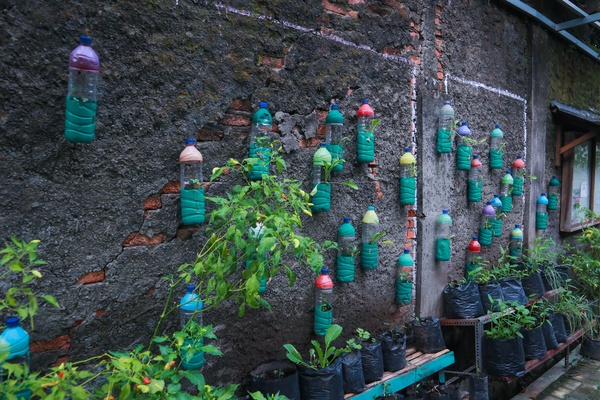 Here we have 10 great ideas to consider…
Tips 1 to 6 are biodegradable options (for direct planting in soil etc…)
tips 7 to 10 offer sustainable solutions (for decorative pots and planters)
---
Biodegradable Options – For propagation / seedlings
Besides being eco-friendy, biodegradable pots have the other benefit of being very easy to plant out or 'pot-on', without disturbing the root structure of your seedling. There is also some evidence to suggest that the increased air flow has a positive effect on healthy root growth.
1. Home made paper pots
This has to be top of the list, as it really does tick all the boxes. If you're looking for a bio-degradable pot for your seedlings that's easy to produce by hand, recycles household waste and costs virtually nothing to make then look no further!
There are special tools you can buy to make the process a bit easier, such as the e-pots paper pot maker (as featured in our 'Top 10 Gadgets for Gardeners' article).
I also found this great video on YouTube, where Tanya Anderson of Lovely Greens demonstrates not one, but two ways to make paper pots without buying anything – respectively named 'the easy way' and 'the origami way'.
2. Fibre Plant Pots
Another great bio-degradable option – fibre pots. They're sometimes also called coir pots if made from coconut fibres.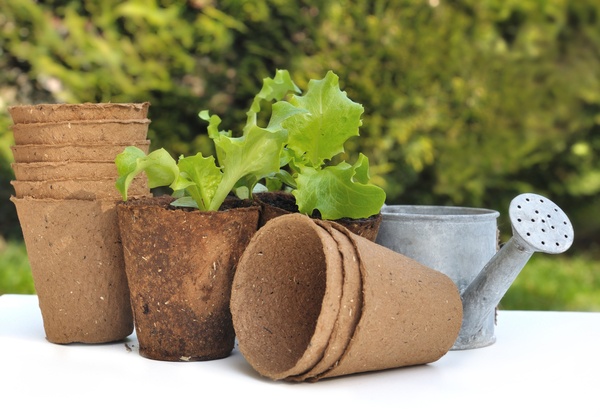 These are usually very cheap to buy and very environmentally friendly, as they'll rot away into the soil once planted. I've seen both round and square varieties and they're usually available in sizes from around 6cm to 10cm. To be extra eco-friendly, look out for the peat-free versions.
3. Seedling Starter Bags
Similar to the other biodegradable pots, these are somewhat of a variation on a theme. They can be a little fiddly to use, but are certainly a valid eco-friendly option. They're generally made from fully biodegradable non-woven fabric and are very cheap to buy. One thing to be aware of though is the sizing – often the quoted size is the width of the bag when laid flat and not the actual diameter when opened out into a cylinder and filled. For example, I bought some that were listed as 14cm width, which were actually only around 8cm diameter when opened out.
4. Toilet Roll Tubes
Another biodegradable option that you might not have thought of! Toilet roll tubes are a pretty handy size for growing seedlings. They're free and by using them in your garden, it means less waste for the recycling bin.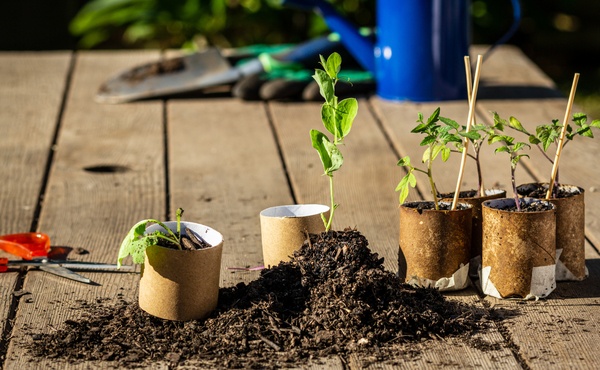 Because they're quite long, they can be great for acting a bit like rot trainers for certain plants, such as sweet peas. However, for other seedlings you might want to cut each roll in half. You can then cut 4 slits in the bottom of each half to make small flaps, which can be folded over and tucked in to make a base for the pot.
5. Posipot
Posipots are a solution meant directly challenge the 'single use' plastic pot. Marketed at both consumers and growers / distributors – the Posipot website makes it clear that these containers are not designed to last long. Instead, they are intended to provide a means of transportation, when buying and moving plants around – thus removing the need for more plastic pots, which will likely be thrown away afterwards.
They are supplied flat-packed but are easy to assemble and once the plant has been transported, can be planted directly in the soil, meaning no need to disturb the roots when potting on.
6. Propagation Pellets
These nifty little things – sometimes referred to as 'coir pellets' – provide an efficient and eco-friendly way to start off seedlings. You just add some water, insert your seed or root cutting and pop them in a tray of some kind until ready to plant out. Like other biodegradable solutions, these pellets will rot down and allow the roots to grow through the outer casing. This means that when it's time to pot them on, you just place the whole thing into its new position – whether that's in a larger pot or outside somewhere, and there's no need to disturb the fragile roots. There are also peat-free versions available, if that's your preference.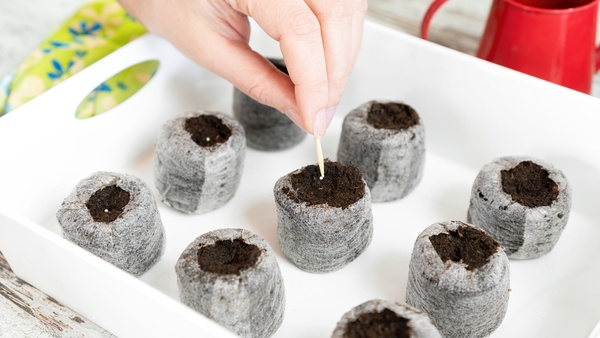 ---
Sustainable Options – For decorative pots and planters
It's easy to see why plastic pots and planters are commonly chosen over ceramic or terracotta, which can be prohibitively expensive. However, if you'd like to show off your plants and flowers without breaking the bank, then plastic pots are not the only option…
7. Food & Drink Containers
There are a plethora of food and drink containers that can be cleaned and reused in the garden. Of course cardboard is a great biodegradable material, but sometimes, you might need an eco plant pot with a bit more longevity.
Things like yoghurt pots, margarine tubs and ready meal trays are great for starting off seedlings.
Tins can also be upcycled into longer lasting pots, with a good clean and perhaps a touch of decoration. These can make a stylish, urban feature for windowsills and indoor herb gardens – and also a great talking point with guests.
Another good item to recycle for the garden is old drinks bottles. Simply cut the top off the bottle (the bit with the lid), add a few drainage holes with a sharp object or drill and there you have a free plant pot!
Extra Tip:
As a side note, I've also found old water bottles useful for watering plants as they can be adapted in various ways to make DIY drip feeders and irrigation systems. Either make a tiny drip hole in the lid with a pin or you can buy screw on drip attachments to make the most of your used water bottles.
8. Bamboo Pots
While they're not as cheap or readily available as plastic pots, bamboo pots are probably about the closest alternative, in terms of their look and feel. The bamboo itself is compostable and biodegradable and the pots often made from recycled bamboo, making the whole process very sustainable. While other natural alternatives like fibre pots will break down very quickly though, bamboo pots typically have a life of around 5 years, meaning that you'll get plenty of use out of them and they're not just for raising seedlings.
9. Upcycled Homewares and 'Curiosities'
Ok, so this category may be a little vague and hard to define, but that's part of the beauty. The only limit is your imagination! From disused watering cans to wellington boots…old colanders to kitchen sinks. Or how about an old brassiere and a coat hanger? Seriously, I actually saw someone fashion these items into a flower planter!
Before you take that rusty old item to the local recycling centre, ask yourself if it might make an interesting planter in your garden? There are various ways to clean up and even decorate these older items to give them a whole new charm and maybe even some 'wow factor' to impress your visitors.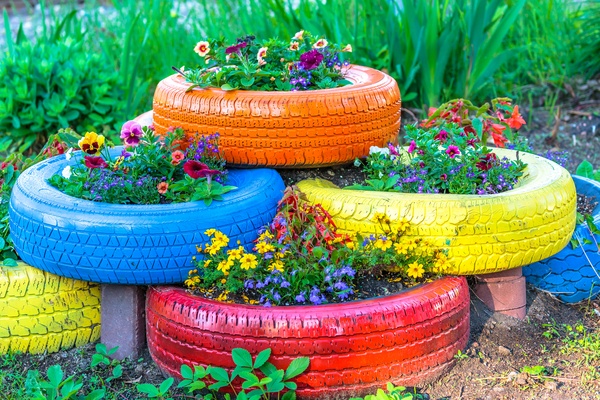 You might give objects a lick of paint to brighten them up or help them to blend in with your garden theme. Things like Hammerite paint (ok maybe this is not so eco-friendly!) can instantly transform plastic or metal work and can even be applied directly over rust. Don't forget to add drainage holes with a drill or centre punch tool and for smaller items, you might also be able to use some string or wire to create interesting hanging planters.
10. Simplelifeco Eco Friendly Veg Grow Bags
Simplelifeco are one of various manufacturers who create vegetable grow bags and garden planters from recycled fabric (specifically, felt). They're lightweight, reusable and easy to move – even when planted. Besides the root, there are benefits for the plants themselves, as the fabric allows better temperature regulation and airflow than traditional plastic planters and grow bags. Apparently, this can help to maintain healthy root growth and avoid root circling – which means bigger, healthier plants and potentially more crops. They also come in a variety of sizes and are widely available – including from Amazon.
They're generally washable and to some extent, reusable. However, when the time does come to dispose of them, it's good to know that they're biodegradable and so won't be a burden to the planet like plastic or other containers.
Final Thoughts
You may already have a pile of plastic pots lying around your garden (as I have). You might plan to re-use these old plastic pots for various things and, in my opinion, we should be re-using these pots. Because as long as they're in use, then they're not being dumped anywhere else, and so they're not actually causing too much harm.
But next time you're' about to buy a pack of new plastic pots, why not have a think about whether there might be a better option? Even growers and wholesalers are now beginning to embrace new eco alternatives with things like Posipots (no.5 in this list). With the explosion of online shopping, we now have a much greater choice and so might wish to consider more eco friendly suppliers when shopping around for new plants.
Rather than having to make compromises, using alternatives to plastic pots can actually bring added benefits to your garden:
Biodegradable containers mean you don't need to disturb roots when transplanting seedlings
Natural or woven materials can help to root train plants and encourage healthier root growth
Upcycling old items and food containers can make unique planters and bring an artistic flair to your garden
Recycling and upcycling containers saves you money
With a little thought and imagination, perhaps we can all challenge the status quo and help to move away from the reliance on plastic pots in the garden. We'd love to hear your ideas about your own eco friendly plant pots. Please comment below and feel free to add pictures!